Customizing SOLIDWORKS Toolbox-V2.0
I had posted a blog article on customizing SW Toolbox a while back and shortly after doing so SOLIDWORKS went and changed the interface on me so after some digging here is V2.0
I recently had a customer who called into support and was looking for a way to add some custom features to Toolbox. In particular they were looking for:
"On a number of Hex bolts that I use, I need to have 3 different styles of same size..
Say Ø1/4-20 X 2" Hex Bolts…, (1) Ø1/4-20 x 2" Grade 5, (2) Ø1/4-20 x 2" Grade 8, (3) Ø1/4-20 x 2" Stainless Steel.
Some of my hardware, I need several more styles for given size.. Different color anodizing, coatings, Zinc plate, Chrome, etc…
All these variations of same size have different part numbers on my end.. So the assembly BOM lists which variation goes in the assembly.
I can only get it to list, configure 1 single "style" per size…
How do I get it to list multiple selections (styles) for a given size?"
The answer to this can be found in the Configure area of Toolbox under the Customize Hardware area and there are few basic steps to get this set up for your application.
1. Find the Standard, Fastener Group, Fastener Category, or specific Fastener Type that you want to apply properties to.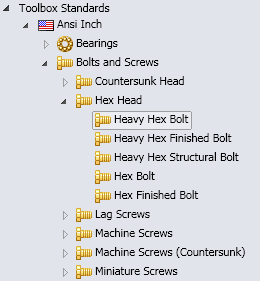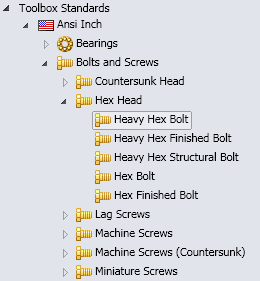 To see the rest of the article please download the PDF from the link below.
Download Customizing SOLIDWORKS Toolbox-V2.0
Josh Altergott
Support Team Leader