Design Library for Drawings?
I hope that everyone reading this post is aware of the SOLIDWORKS Design Library and how useful it is. If you don't, it an easy way to save SOLIDWORKS features for reuse. If you'd like a refresher of how to create Library Features, take a look at the post below.
https://www.cati.com/blog/2015/06/creating-solidworks-library-features-from-scratch/
But did you know that they are just as useful for Drawings? Just about any drawing annotation can be saved to the Design Library. This allows the quick creation of multi-line note blocks and better adherence to company standards.
Setup
You may (or may not) have noticed the Annotations folder in the Design Library. It contains a small assortment of annotations you can drag and drop onto your drawings. If you haven't poked around here, give it a try.
Creating our own
This post isn't about using the existing annotations, it's about adding our own. Below you can see a simple note stating to deburr and break sharp edges. This type of general callout may be used on 100's of drawings which makes it a great candidate for the Design Library. Adding it to the Design Library is a few easy steps.
All we do is:
Select the annotation
Select the "Add to Library" button in the Design Library pane.
Give it a name
Change the Design Library folder if needed
Click OK (the green check mark)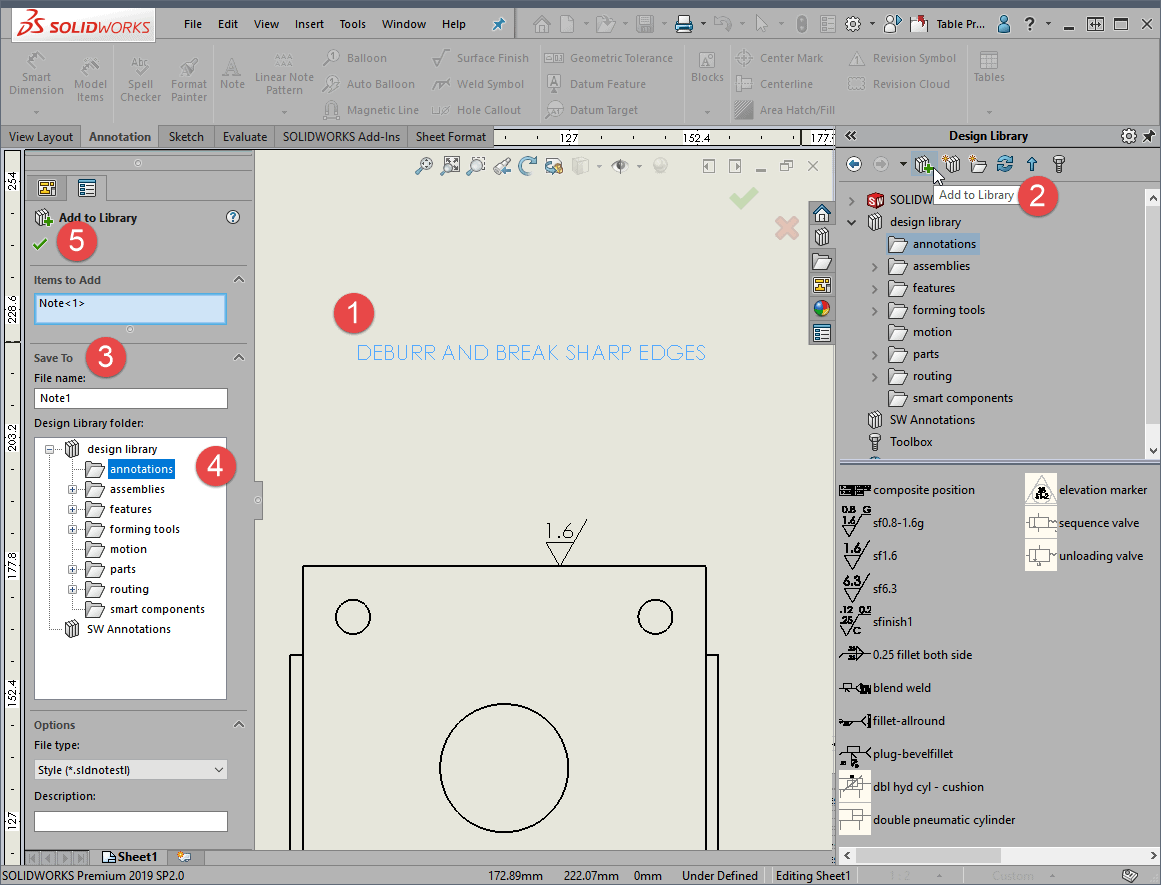 That's all there is to it and the note is part of the library. Simply repeat those steps for any note or annotation you need. I prefer to keep each line of text a separate note, which allows a great deal of flexibility in using them.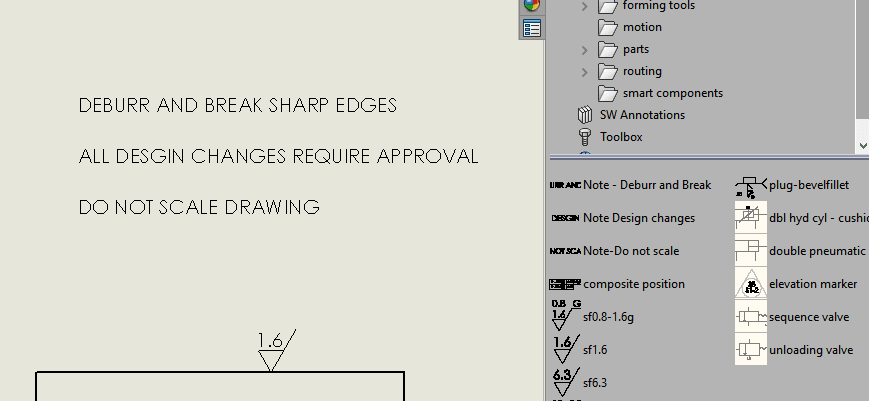 File Locations
If you end up creating custom Library Features, you'll most likely want to share them. Thankfully, this is very easy as well. Behind the scenes, the Design Library is simply a folder on your computer. By default, it's located at:
C:ProgramDataSOLIDWORKSSOLIDWORKS 20XXdesign library
Be aware that ProgramData is a hidden folder (by default) in Windows so you'll need to enable the visibility of Hidden Items in your Windows Folder Options.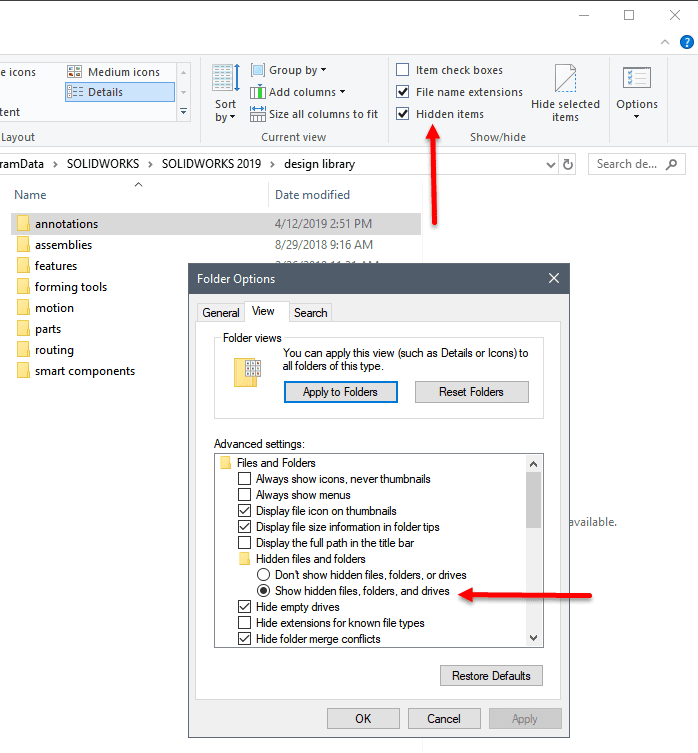 In order to share your new standard annotations, you'll want to copy that folder to a shared network location and adjust the SOLIDWORKS File Location accordingly. I'm using a folder on a local partition in the example below.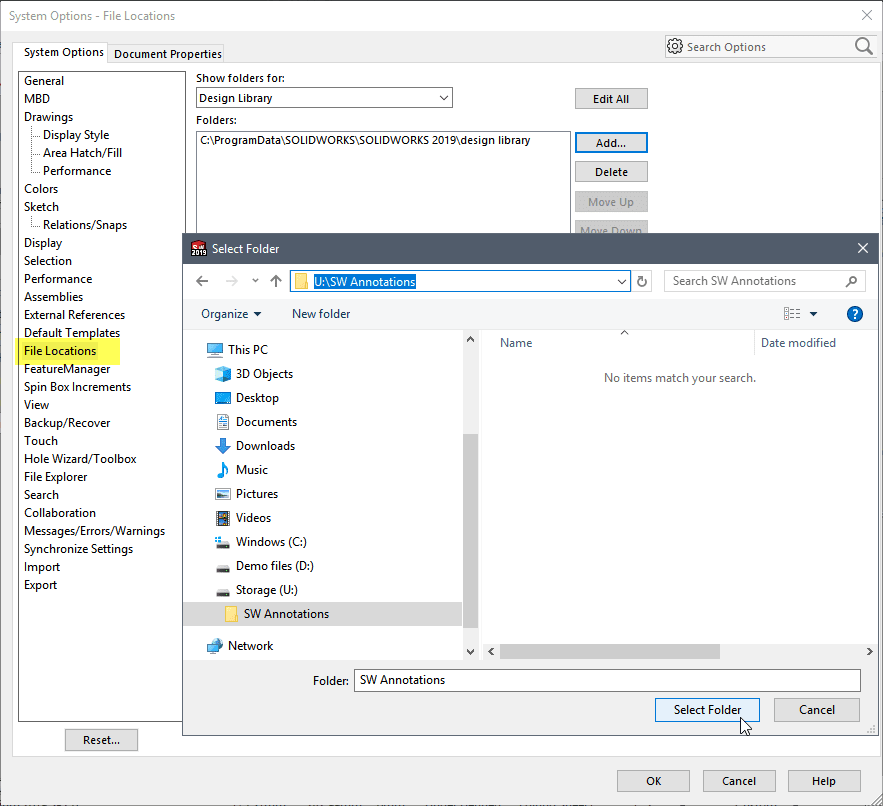 With very little effort, you can really streamline the creation of more complex notes in SOLIDWORKS. This makes it very easy to save time, eliminate steps and decrease errors. I hope makes your drawings a bit easier in SOLIDWORKS.
Kris Dubuque
Field Technical Services Manager
Computer Aided Technology, LLC