Jeff Mize, CEO of PostProcess Technologies | Spotlight Interview
I recently had the opportunity to sit down with Jeff Mize, CEO of PostProcess Technologies to dive into what his team is working on and what's to come. Jeff Mize spearheads a team of over 50 people based out of Buffalo, New York, who are continually developing and reiterating their streamlined and automated PostProcess to 3D printing, consisting of specifically tailored chemistry, hardware, and software.
Jeff is an accomplished technical leader, leading two previous companies to billion and multi-billion dollar acquisitions. Although he is relatively new to 3D printing, there is a theme to his career. First, he digitized maps, then farming data, and now – post-processing of 3D printing. Here's what Jeff had to say during his spotlight interview.
Why should anyone care about the surface finish of a part? Or agitation algorithms?
The driving force behind the growing need for surface finish is having parts that are "customer ready" and even production ready – regardless if those customers are internal or external. Surface finish is fundamental to the performance and appearance and can mean the difference between a parts success or failure. A great example of this would be an uneven surface finish vs uniform surface finish to minimize aerodynamic drag on aerospace parts.
More uniformity and elimination of skilled labor
If this were easy to do, everyone who owns a 3D printer would do it. The problem, historically, is that the methods of surface finishing never generated uniformity because it was all done by hand or by skilled operators with "tribal knowledge." This poses a massive risk to companies that currently employ these people because even though the finish is not uniform, it's better than the raw part, and the knowledge on how to create such finishes leaves with the skilled operator.
Our PostProcess systems are specially designed and incorporate precision energy management procedures such as AUTOMAT3D, our programmable and customizable software that utilizes proprietary Agitation Algorithms (AGA) to tailor the specific, changing geometries of parts that are being cleaned or surface finished.
Eliminates breakage
The goal of automation, or "digitization" is consistency and increased efficiency; even partially cleaning support 50%-80% of the way can dramatically reduce labor costs and throughput. As a bonus, besides the obvious little to no operator interfacing or skill required, an increased visual representation of the part is virtually eliminating breakage, a common occurrence when using hand tools, cleaning tanks, or spray systems. These systems are intelligent, programmable, and offer unprecedented control over your post-printing process that other systems simply do not have. It will allow you and your operators to focus on more important, or perhaps lucrative activities.
What is the basic maintenance that a customer needs to perform on your standard support removal tank and surface finishing system?
One of the biggest hurdles we wanted to overcome when creating these systems was ease of use. Our solutions are designed to require minimal daily maintenance, and that small daily investment goes a long way towards preventing downtime.
Additionally, all of our production systems have automatic basic maintenance scheduling in the form of alerts and warnings. This means that technicians spend less time on maintenance and have less pressure to remember maintenance schedules. The goal, once again, is to optimize time to ROI and available uptime of machines.
Will there be any cloud integration and remote monitoring of your systems for users, similar to GrabCAD Print?
Remote monitoring is already a feature with PostProcess' production solutions, utilizing TeamViewer, which is installed on all machines equipped with an Industrial PC. We go beyond remote monitoring to enable remote control from laptops or tablets.
Cloud integration is an integral part of the overall PostProcess solution strategy, with our CONNECT3D software platform that is under development (next generation of AUTOMAT3D). The overall strategy is to connect through the cloud allowing systems to leverage learning from the entire network in the recipe development for a given 3D part.
This is, of course, optional since your customers in Defense need the flexibility and protection of their data. At the end of the day, you will have machine data no matter what, which directly results in improved machine functionality for your specific process.
Why did you choose to join the PostProcess team? What drew you to this industry?
My career history is varied, and if you could summarize it, there is one thread that connects it all – digitization. First maps, then farms, now post-printing. After my last company acquisition, I was looking for something new and saw the statistics and growth happening in the Additive Manufacturing space and realized that there was an opportunity. After meeting with Daniel Hutchinson (Founder), I then realized that post-printing was incredibly underutilized. PostProcess is essentially a rare opportunity to pioneer an entirely new market space in automated 3D post-printing, and our executive team pairs two proven experts.
What is the most interesting, innovative, or fascinating application you have seen your products used for (without breaching any NDA's!)?
Medical and dental have had notably incredible applications. A major medical company recently visited us here in Buffalo, highlighting how doctors have fully embraced 3D printed implants – in which patient-specific parts are 3D printed for use inside the human body. Initially, they expected a 3%-5% adoption rate on younger patients to "test the technology." They have had such success that they are now running 100 plus metal printers 24/7 to keep up with demand. It's the perfect application for Additive Manufacturing since everyone's body is slightly different. This is the forefront of mass customization in which instead of offering a limited number of sizes, each implant is a perfect fit for each patient.
Additionally, we have found applications where the parts we were given were returned too clean. Thermoforming aligners that were so clean they created a vacuum, and gradient bone porosity replicas in metal medical 3D prints that need a certain rough, textured finish for cells to easily stick to them while simultaneously needing internal channels cleaned. I go back to our precision energy management and highly customizable agitation algorithms. There is no possible way to reach these extremely specific cleaning and finishing requirements any other way, particularly in an automated fashion.
Post process surface finish and support removal success stories are truly inspiring. Check out the latest whitepaper below to learn how revolutionary software-driven innovations for post-print surface finishing deliver increased quality, consistency, and throughput as Additive Manufacturing moves beyond prototyping to produce 'customer-ready' parts at scale.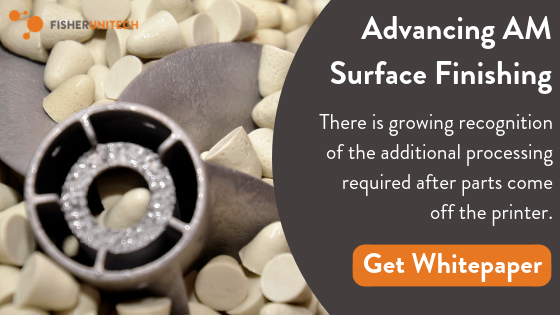 A huge thank you to Jeff Mize for sitting down and chatting with me. To learn more about PostProcess software, chemistry, and hardware solutions check out the articles below.
Related Articles
3D Printing Support Material Removal and Surface Finishing Hardware
Detergent and Media: PostProcess Chemistry
AUTOMAT3D: 3D Printing Support Material Software by PostProcess Technologies
About the Author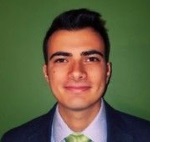 Gerald Matarazzo is a certified Additive Manufacturing (AM) Application Engineer, AM Designer, AM Service Engineer, Project Manager, and Lean Six Sigma Green Belt based out of Boston, Massachusetts. Gerald has a B.S. in Data Analytics and began his career in Additive Manufacturing by starting and leading a makerspace turned service bureau in college. Gerald joined the Fisher Unitech team in 2018 with over 3 years of professional AM experience and is the Lead AM expert for the Fisher Unitech New England territory. Gerald is an experienced educator and presenter providing highly customizable, pre-to-post printing turnkey solutions.