New VeroFlex 3D Printing Material Raises the Bar in Eyewear
The eyewear industry requires a high production rate in order to meet the demands of fashion trends, season changes, and the pure number of competitors currently in the marketplace. However, among those demands are the consumers who continuously search for the latest and greatest products and fashions available.
So how are eyewear companies going to meet these demands while also staying ahead of their competition? Stratasys, the leading provider of Additive Manufacturing solutions, has the answer with their PolyJet VeroFlex 3D printing material that can drastically cut production time.
The process of 3D printing has been used in many industries such as automotive, aerospace, and dental for years now by producing prototypes for all sorts of applications such as concept models, functional testing, and end-use parts. But as for the eyewear industry that uses 3D printing, the new VeroFlex 3D printing material is about to become a real game changer.
What is VeroFlex 3D Printing Material?
According to Stratasys, VeroFlex 3D printing material is, "a PolyJet rigid photopolymer material offering a flexibility ideal for rapid prototyping eyewear." This material is geared to be printed on the Stratasys J750 3D printer, a powerful machine that houses six material bays, can blend over 360,000 color options, and can deliver parts that are accurate down to 14 microns.
VeroFlex Material Durability and Testing
A 3D printed prototype for eyewear can be tested time and time again. VeroFlex material has better durability for drop tests, lens-mounting, and stress tests. The prototypes produced are also extremely realistic due to the wide range of colors, materials, and textures available in the Stratasys J750.
There are six new materials with VeroFlex including cyan, magenta, yellow, white, black, and clear as well as lifelike textures such as wood grain, leather, stitching, bone, and carbon-fiber. With these numerous mixes and matches, any idea can come to life before the final production phase.
Drastically Cut Production Time
Traditional production time in the eyewear industry from concept to production can take quite a while, typically a year and a half before the product hits shelves. With the use of VeroFlex material, over a year is shaved off of production time and can go from idea to product in as little as eight weeks.
World leader in the eyewear sector, Safilo, an Italian eye frame company, has been reaping the benefits of additive manufacturing. They produce 28 high-end brands including Dior, Fendi, and Jimmy Choo as well as their own brand. Even though designers change their mind often, and different models are often created and reworked, Safilo has saved 60% of their original time due to additive manufacturing.
If you are in the eyewear industry and want to make it to the finish line first, VeroFlex 3D Printing material and the Stratasys J750 PolyJet 3D printer will definitely help you get there.
Related Articles
Stratasys 3D Printing Materials: FDM Thermoplastics and PolyJet Materials
Agilus 30 – 3D Printing Rubber – Everything You Need to Know
3D Printing Haute Couture? Fashion Week Says Yes
3D Printing Creating a Better Shoe
Nylon 12CF | Innovative 3D Printing Material for FDM Printers
Don't forget to subscribe
About the Author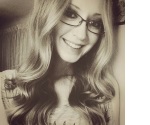 Angelle Erickson writes about how companies are using innovative technologies, such as 3D printers and SOLIDWORKS software to increase productivity, improve product development processes, and maximize business potential.