Learn New SOLIDWORKS Skills with SOLIDWORKS Training
Before the new year begins, take a moment to consider what you want to accomplish professionally in 2017. Whether it's a promotion, or just having more interesting and self-rewarding projects in your current role, learning new SOLIDWORKS skills could help get you there.
Yet often the thought of taking training is followed with the worry of taking time out of the office. You're not alone, like anyone with a new year's resolution can tell you, it's easy to make excuses that hold you back.
So tell those worries to take a hike. You can take SOLIDWORKS training right from the convenience of your office, home, or wherever you wish. Fisher Unitech's 3DU training platform allows you to take online classes that just take about two hours instead of all day. Log in from your own desk and still get quality live instruction from a certified SOLIDWORKS trainer, just as if you were sitting in a classroom together. Some classes are as short as one or two sessions, and some are up to six sessions. The choice is yours.
The 3DU training team ensures that your online learning experience is as close to in-person instruction as possible, which allows you to build a relationship with your instructor so that your individual needs are met and anticipated throughout your experience and over time. The online instruction is also unique in that the sessions are live, so you can participate fully in the lesson by asking questions, making comments, sharing your own screen, doing polls, and working out exercises to reinforce the content of the lessons.
The instructors can even tailor the speed of instruction to accommodate your individual learning style, and work one-on-one after class with you when additional help is needed. Here's what some previous students had to say about the online 3DU courses:
"Everything about this training went very well. I am very satisfied. And I especially appreciate their availability via phone or email if I have any questions at a later time."
"I searched long and hard for an online SOLIDWORKS course and never thought I'd be able to find an interactive one like this with such a good teacher."
"The instruction was excellent. The instructor was very responsive to questions and did not hesitate to demonstrate repeatedly for the benefit of the class."
"Very concise, patient and knowledgeable. Answered questions not covered in textbooks and made me aware of shortcuts that I wished I knew of earlier."
"This is the first online class that I have taken. The interface was easy to use and had good features. The instructor did a great job teaching this class!"
"Very satisfied. Will be back for more training."
"Both the class, and the exercises were very informative and helpful. The instructor did a great job of explaining everything, and answering any questions that we had. I'm hoping to be able to sign up for another class very soon!"
"The instructor did a great job. The pace was appropriate, and the interactive format worked almost as well as being at the training in person."
"Very informative and more than I anticipated."
In addition to getting the training you're looking for, when you take an online or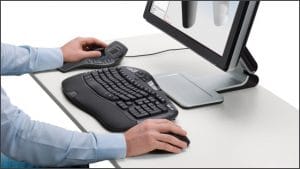 in-person Fisher Unitech 3DU course, you have the chance to win a 3D mouse. One is given away every quarter. All you have to do is complete the course, then complete a very short survey. At the end of the quarter, Fisher Unitech will give one lucky training customer a brand new state-of-the-art 3D mouse from 3Dconnexion, a value of up to $399 USD.
The 2016 third quarter winner was Mike Keller, from Altec Industries in St. Joseph, Missouri. Mike won a SpaceMouse Wireless. Congratulations, Mike!
Now what are you waiting for? Fill that new year's resolution list with all the new SOLIDWORKS skills you want to learn. You can do it with Fisher Unitech's 3DU training. You may even win a new 3D mouse to go with those new skills.
Related Articles
Happy Holidays: Geek Gift Guide
About the Author
Rachael Buhl earned her BS in Technology, Engineering, and Design Education at North Carolina State University. She joined Fisher Unitech as a Support Engineer and is now a dedicated full time trainer. Rachael teaches the majority of the online courses offered by Fisher Unitech and flourishes in her role as an Application Engineer Instructor.