No More Excuses for Poor Assembly Performance
You know that old breakup line from movies and tv, "It's not you it's me"? The person delivering the line never REALLY thinks they're the one to blame for the breakup and what they want to say is "it's not me it's YOU". With that being said, I want you to know that if you've had poor assembly performance in the past it's not you it's SOLIDWORKS…..That's right what I really want to say is it's not SOLIDWORKS, it's you! (Confrontational early and often, let's do this!)
Honestly Large Assembly performance is one of the biggest complaints I hear from end users, but rarely do I see anyone trying to actually DO anything about it. Often I'll hear, "I tried fixing the problem! I tried opening it in Lightweight Mode and Large Assembly Mode, but it's still really slow." Yes Lightweight Mode and Assembly Mode will HELP Assembly Performance, but what I see causing serious performance issues, especially graphical performance issues, is overly detailed parts or subassemblies being used where those details aren't needed.
More specifically, let's take this scenario: I need a [insert common purchased part or subassembly] to use in my overall assembly. I'm not going to design one, for crying out loud there has to be one on the internet I can just download and use. In fact I'll go to my supplier's website and download a model of [insert common purchased part or subassembly] that I can use 1,000 times in my assembly!….cut to 2 weeks later….WHY IS SOLIDWORKS SO SLOW!!!
Well you've gotten yourself into a real pickle huh? Do I waste time trying to design a [insert common purchased part or subassembly] so it is effective and efficient in my larger assembly or do I download one and waste time with performance problems. Plus I'm going to buy the [insert common purchased part or subassembly], so I want to be sure my dimensions are all correct.
Luckily, you can have your cake and eat it too! Just use the Defeature feature.
Take this hydraulic pump for example. I downloaded it from a popular hardware site that gives users free CAD models of the parts they sell.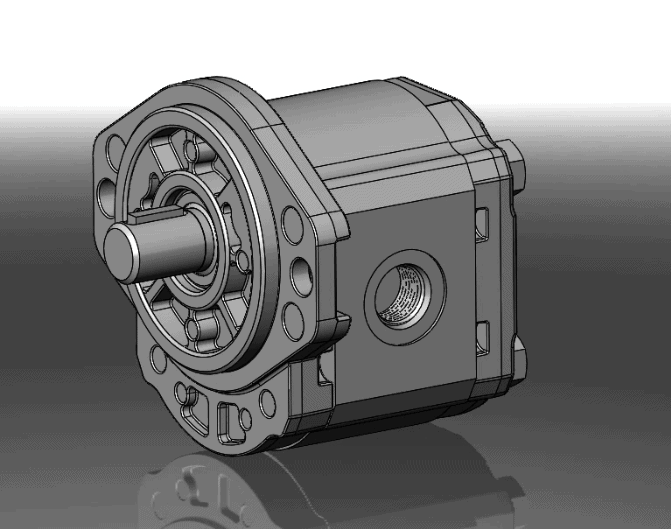 And while this is a really nice pump, it is modeled in such a way that gives more detail than I care to know which is an unnecessary burden in an assembly. I don't care about the threading or cut outs in the face, so I need to simplify this geometry. To do that I'll go to Tools > Defeature and walk through the wizard to remove unnecessary geometry. Really this is about removing unnecessary information in higher level assemblies, so the first step to remove any unneeded bodies (or components in an assembly). There's even an option for "internal bodies" (or components in an assembly), so if a supplier decided to send me his motor model with all the internal gears, bearings, etc. I can quickly remove that geometry, because for my large assembly I'm not worried about the fourth ball size and location in the 6203 ball bearing used to support the output end of the shaft.

The next step is to select any specific features you HAVE to keep, maybe a port hole, or some other critical mating geometry. In the case of this motor, I'm not going to worry about anything for now, so I can go to the next step.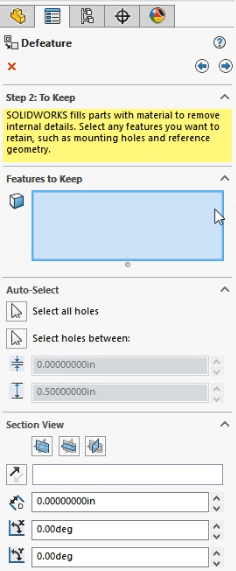 Now we get to the fun part, we can pick faces, features, or bodies that we don't care about and tell SOLIDWORKS to remove that geometry.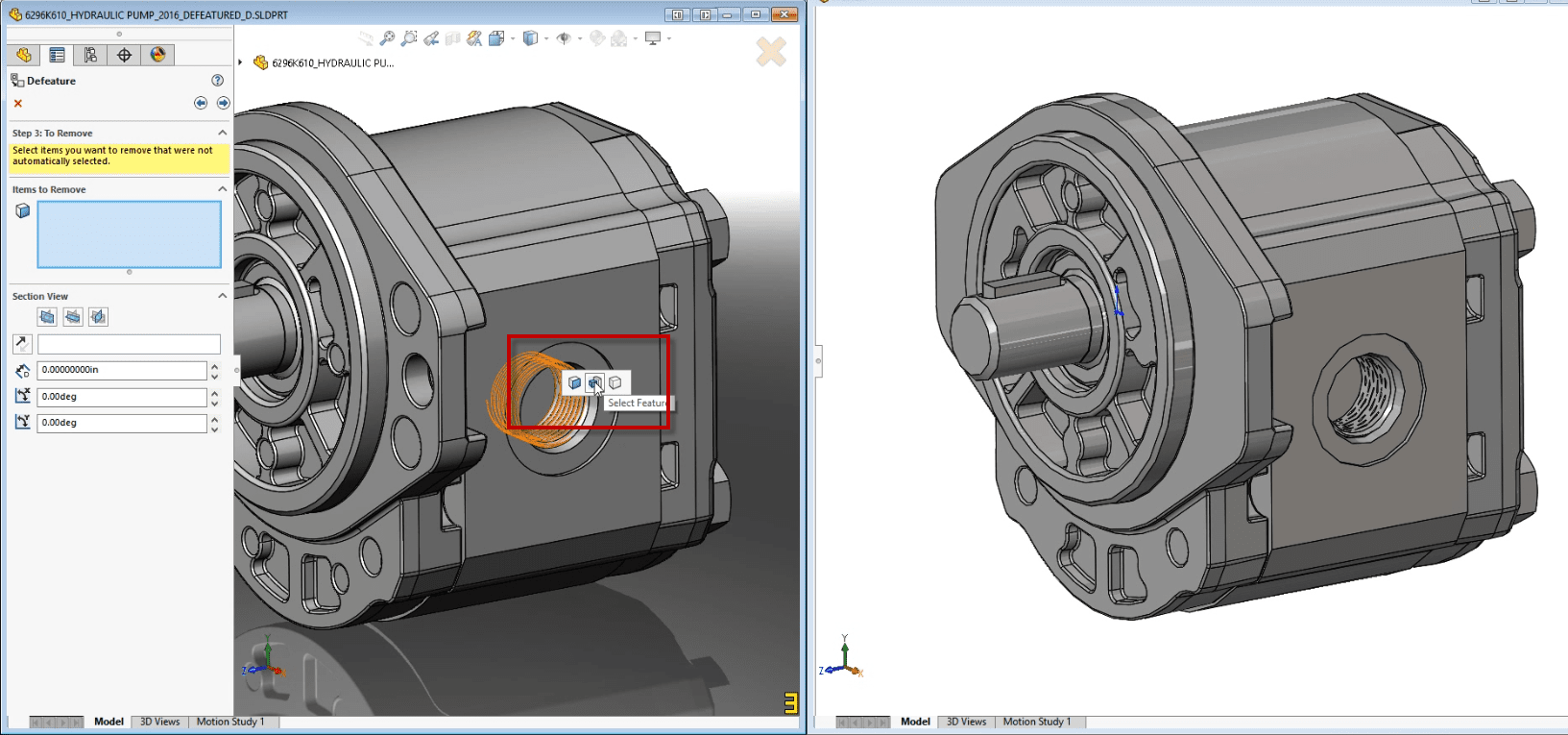 When we select "Next", we see a preview of what our Defeatured part will look like on the right.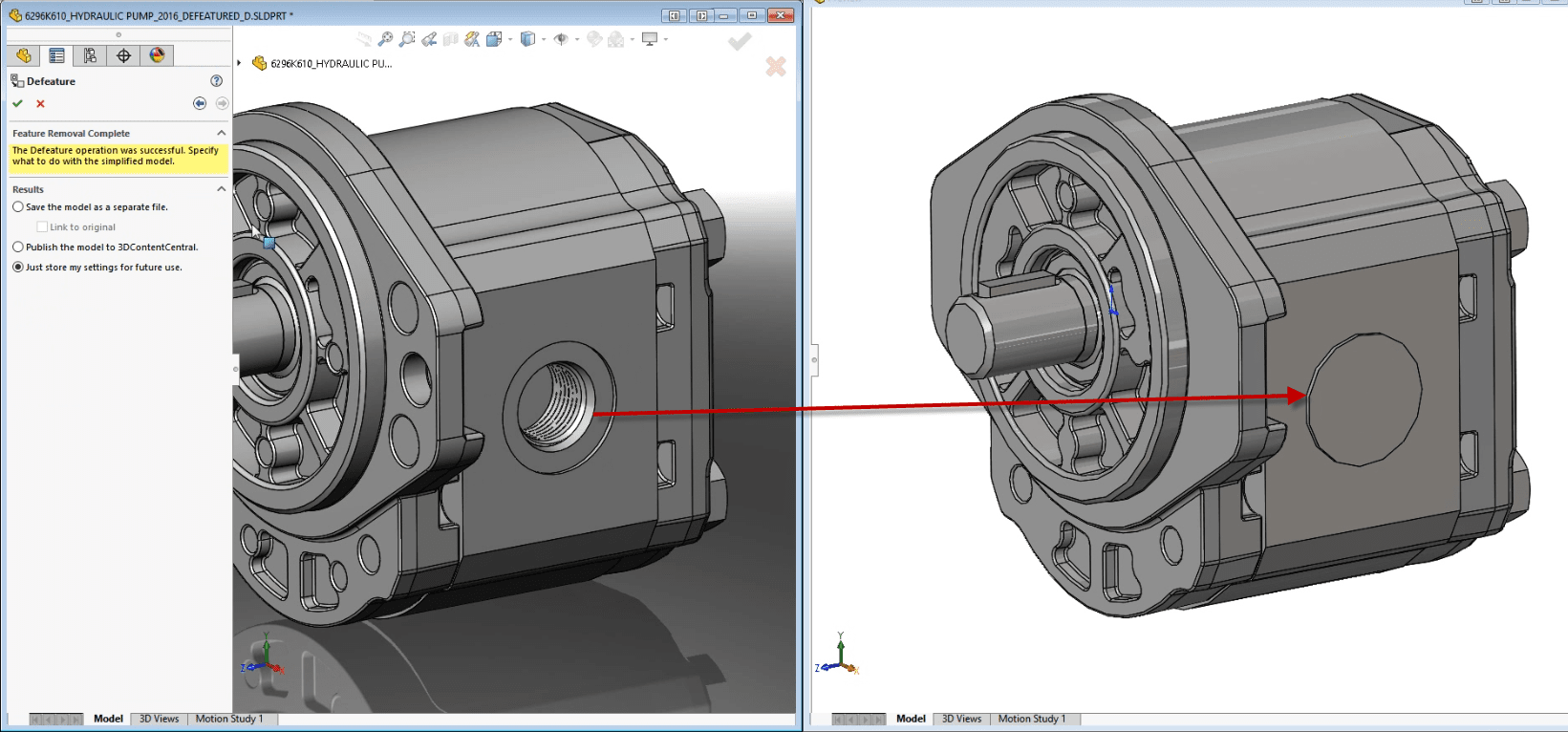 If it's not simple enough, just use the back button. and Add more geometry as needed.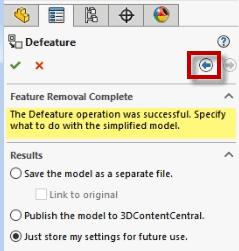 And once we have the simplified geometry we want we can even use the Defeature feature to save out a new separate part that can be used in the assembly without all the extra geometry and features we don't need.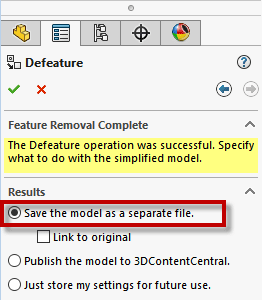 Now you have an easy way of reducing the complexity of downloaded geometry to use in your assemblies with much higher graphical performance. So get to eating that cake!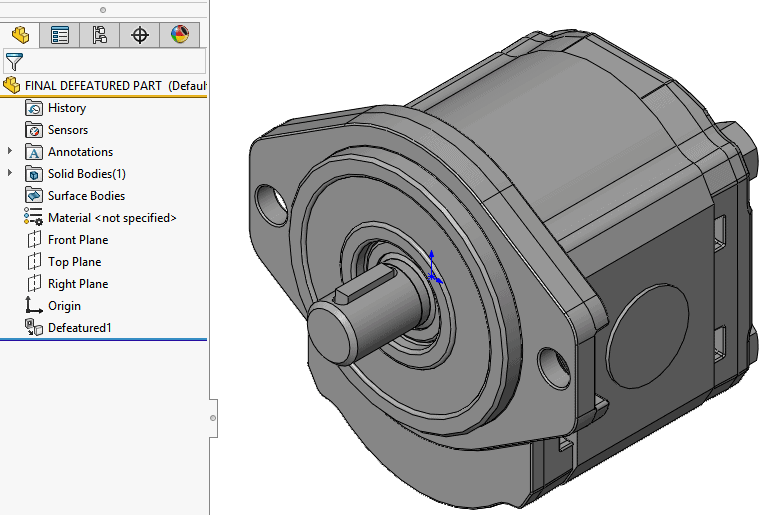 Brandon Nelms
Application Engineer
Computer Aided Technology, Inc