SOLIDWORKS 2017 What's New: Updating Toolbox Components in Assemblies - #SW2017
Updating Toolbox Components in Assemblies

You can save a lot of time by using Toolbox components in your assemblies. These parts usually contain hundreds of configurations to represent the many sizes of available parts. It is common to modify Toolbox parts by changing properties or dimensions. SOLIDWORKS 2017 makes it easier than ever to update toolbox components, if these type of changes require it.
Updating Toolbox components, in previous versions of SOLIDWORKS, would often require opening the sub-assemblies or editing the Toolbox definition of the component. SOLIDWORKS 2017 adds the ability to update all Toolbox components with a single command. This action is found by right-clicking on the top level assembly in the top of the Feature Manager.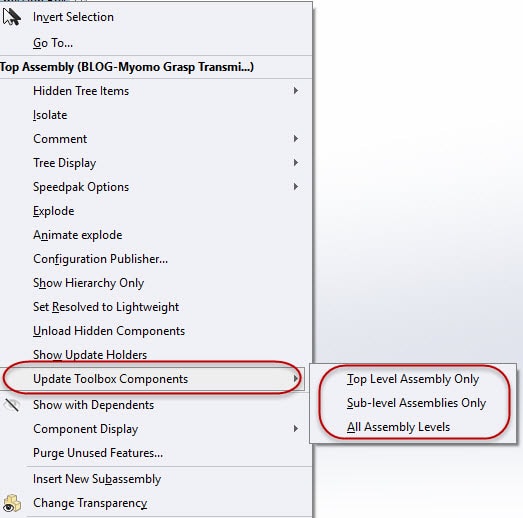 The new flyout submenu gives you the options to select what you would like to update. You can specify to update the Toolbox components in:
Top Level Assembly Only
Sub-level Assemblies Only
All Assembly Levels
This command can take a while if there are a significant number of Toolbox parts. During this process, SOLIDWORKS is referencing the Toolbox master part file. SOLIDWORKS will recognize if there are any updates to this component's data or dimensions. If any are discovered, these changes are applied to the Toolbox part's active configurations found at the selected level of the assembly. Once completed, this action cannot be undone.
There are a few scenarios where the components will not be updated. This update method will not work for Toolbox components that are suppressed, reside in a Smart Fasteners folder, or toolbox components that have had their Toolbox flag removed.
I hope this part of the What's New series gives you a better understanding of the new features and functions of SOLIDWORKS 2017. Please check back to the CATI Blog as the CATI and MCAD Support Teams will continue to break down many of the new items in SOLIDWORKS 2017. All of these articles will be stored in the category of "SOLIDWORKS What's New." You can also learn more about SOLIDWORKS 2017 by clicking on the image below to register for one of CATI's or CATI's Design Summits.
Greg Buter
Application Engineer
Computer Aided Technology