SOLIDWORKS 2018 What's New – 3D Interconnect Enhancements – #SW2018
SOLIDWORKS 2018 What's New – 3D Interconnect Enhancements – #SW2018
One of the greatest additions to the SOLIDWORKS Suite in 2017 was 3D Interconnect. This tool was created to let you (a SOLIDWORKS designer) work with native parts and components that are built in non-SOLIDWORKS programs, but here's the kicker- You don't have to convert the files to SOLIDWORKS format. If you've opened parts designed in other software before, you'll immediately appreciate this tool. Get a file from your supplier, and throw it into your assembly – with no conversion.
Take a look at the blog post from last year, documenting the 3D Interconnect tool in detail:
In SOLIDWORKS 2018, this tool has been developed even more, and we've been given some awesome additions.
First, we added some newly supported file types; STEP, IGES, and ACIS files. The 3D Interconnect tool can even read Reference Plans, Attributes, and Custom Properties directly from these CAD Neutral formats. You can have SOLIDWORKS 2018 directly write these attributes to SOLIDWORKS custom properties, so they look just like normal properties. STEP, IGES, and ACIS files also give you the option to be read as assembly or multibody files – which could be extremely valuable if you need the assembly structure for BOMs.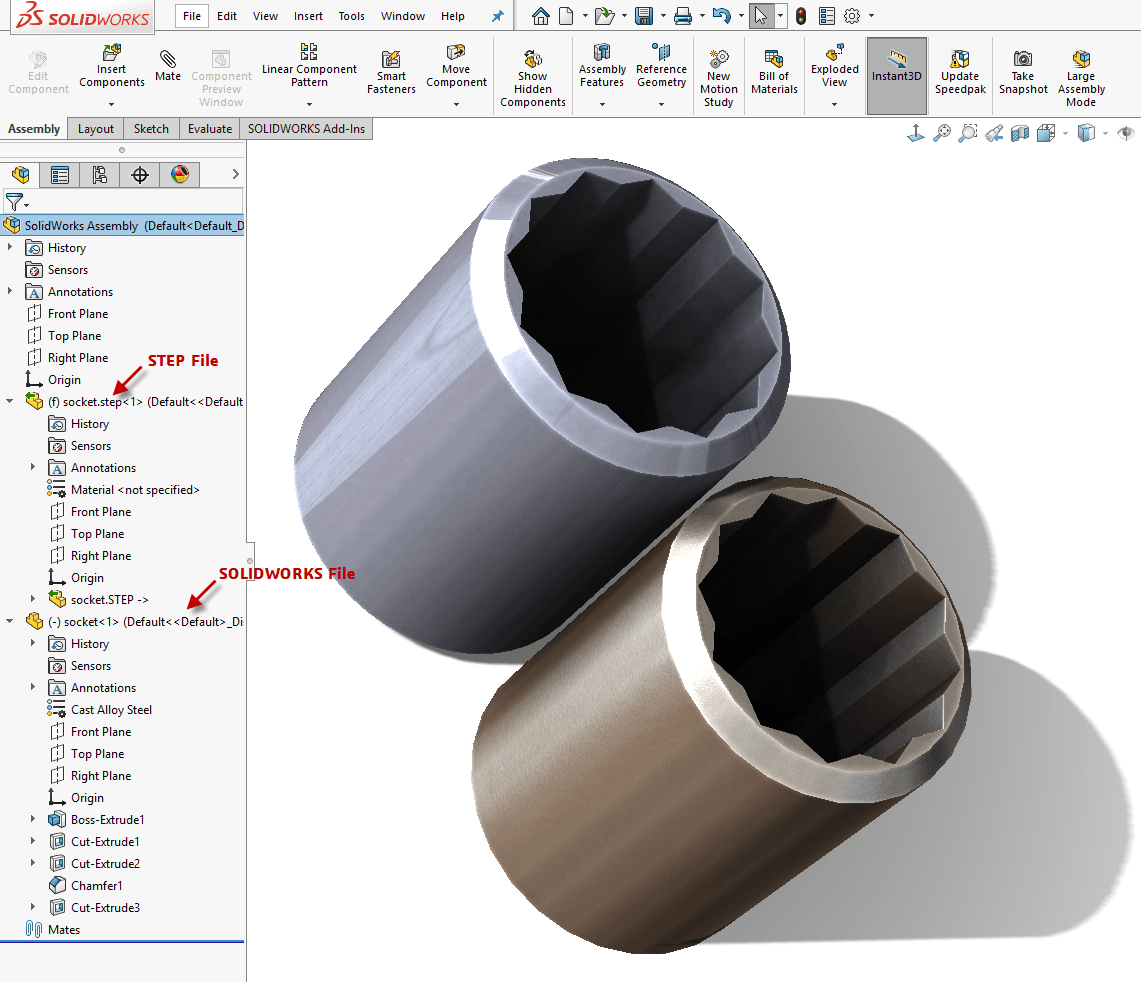 Secondly, we can now read some additional information straight from native 3rd party CAD files. 3D Interconnect can read Assembly Cut Features, Custom Properties, Material Properties, Sketches and Curves from PTC Creo and UG files. It can even read reference axes if the file is coming from CATIA V5.
If you haven't used 3D Interconnect before, I'd be sure to give it shot. Almost everyone has experience working with STEP or IGES files, so 3D Interconnect in SOLIDWORKS 2018 can help even more customers than before.
I hope this part of the What's New series gives you a better understanding of the new features and functions of SOLIDWORKS 2018. Please check back to the CATI Blog as the CATI Application Engineers will continue to break down many of the new items in SOLIDWORKS 2018. All of these articles will be stored in the category of "SOLIDWORKS What's New." You can also learn more about SOLIDWORKS 2018 by clicking on the image below to register for one of CATI's Design Innovation Summits.