SOLIDWORKS 2018 What's New – Assembly Open Progress Indicator – #SW2018
SOLIDWORKS 2018 What's New – Assembly Open Progress Indicator – #SW2018
I think almost all the users I talk with about the new features of SOLIDWORKS and the new features that they would like to see added with each release and each time I think one of the topics that always comes up is users are tools to help monitor and increase the performance. In SOLIDWORKS 2018 one of the new tools they have given us to monitor the performance as we open Assemblies is the Assembly Open Progress Indicator. This new tool comes up with each assembly you open and provides information on the status of operations while you open an assembly. I think one of the biggest advantages to this tool is that for assemblies that take longer than 60 seconds to open, the indicator remains open after the assembly opens and gives us the ability to open the Performance Evaluation tool to help in further understanding the assembly and what we can do to help speed up its performance.
The Assembly Open Progress Indicator provides the following information:
Open Components: Loads the top-level assembly and reference documents. Shows the number of components opened and the total number of files in the assembly.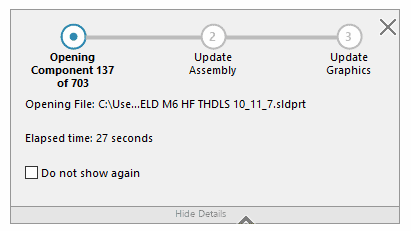 Update Assembly: Updates models including mates, assembly features, patterns, and in-context models.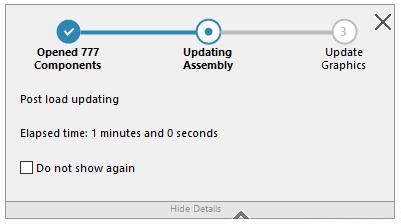 Update Graphics: Generates graphics.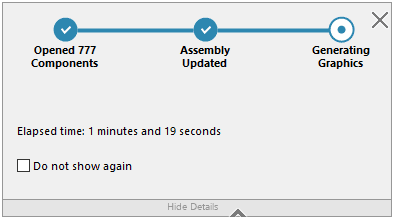 Elapsed Time: Shows the amount of time required to open the assembly.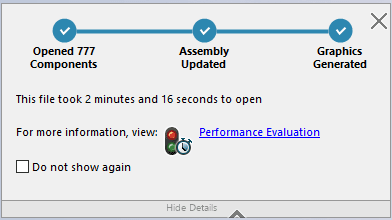 Previous time to open: Shows the amount time required to open the assembly the last time the assembly was opened.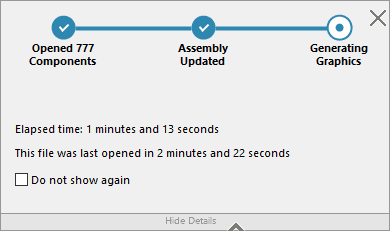 The new Assembly Open Progress Indicator is just one of the many new tools for performance that has been added to SOLIDWORKS 2018 and gives us users some good information about what is happening when we open our assemblies and quick access to the tools that will let us evaluate the files that take a longer time to open so we can work on increasing their performance in the future.
I hope this part of the What's New series gives you a better understanding of the new features and functions of SOLIDWORKS 2018. Please check back to the CATI Blog as the CATI Application Engineers will continue to break down many of the new items in SOLIDWORKS 2018. All of these articles will be stored in the category of "SOLIDWORKS What's New." You can also learn more about SOLIDWORKS 2018 by clicking on the image below to register for one of CATI's Design Innovation Summits.
Josh Altergott
Sr. Support Manager