SOLIDWORKS 2018 What's New – Include or Exclude Suppressed Components in Pack and Go – #SW2018
SOLIDWORKS 2018 What's New – Include or Exclude Suppressed Components in Pack and Go – #SW2018
Pack and Go is a tool within SOLIDWORKS that is used by many people for a lot of different reasons. I've experienced Pack and Go being used for revisions, for sending data to people outside the design process, for backing up, or most relevant to me – sending an assembly to customer support for help. While people send me their work for support, they usually ask me; "What all are you getting here?". And the answer has always been "everything". For support issues, that's great, but in certain situations you may or may not want to include everything.
Now in SOLIDWORKS 2018, you can automatically include or EXCLUDE suppressed components in your assembly. This is a simple check box that has been added, as well as a [suppressed] "tag" showing in the list of components. This simple change could save you more time than you could imagine. In SOLIDWORKS 2017 and previous, if you needed to exclude certain components – your only choice was to search through the list of items within the Pack and Go dialog box, un-checking items manually.
Take a look at the differences below:
SOLIDWORKS 2017: (Notice the suppressed item (Part3.SLDPRT) in the tree looks the same as the items that are not suppressed)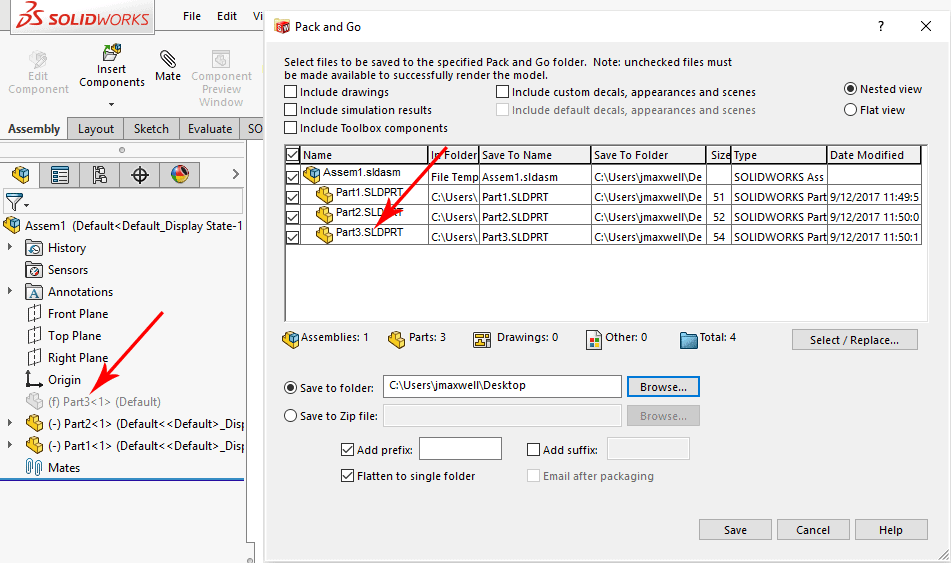 SOLIDWORKS 2018:
I hope this part of the What's New series gives you a better understanding of the new features and functions of SOLIDWORKS 2018. Please check back to the CATI Blog as the CATI Application Engineers will continue to break down many of the new items in SOLIDWORKS 2018. All of these articles will be stored in the category of "SOLIDWORKS What's New." You can also learn more about SOLIDWORKS 2018 by clicking on the image below to register for one of CATI's Design Innovation Summits.
Justin Maxwell
Technical Support
www.cati.com