SOLIDWORKS 2018 What's New – Mouse Gestures – #SW2018
Mouse Gestures have been around since SOLIDWORKS 2010 and this year we see a few new nice additions to one of my favorite ways to access shortcuts within SOLIDWORKS 2018. For those of you new to SOLIDWORKS, Gestures are used while holding down the Right Mouse Button (RMB) while in a part, assembly, sketch, or drawing. This gives you another way to access commands quickly, when you need them, by simply clicking and flicking in the direction of the command you want to use.
If you have ever tried to define mouse gestures in the past, you know how confusing it was the first time you found the customize window. Every command in SOLIDWORKS was listed, and if it had a gesture associated with it, you would see a small icon with an arrow indicating the direction needed to invoke the command.
In SOLIDWORKS 2018, a new Mouse Gesture Guide window has been added to more easily identify which commands are in use on the gesture wheels for each area in SOLIDWORKS, while the old columns and "show only commands…" have been removed. You also now have more options for the number of gestures; there are two options for 2 gestures (horizontal or vertical), a new 3 gestures option, and for those of you who need all the commands at your fingertips a new 12 gestures option! WOW that's a lot of commands!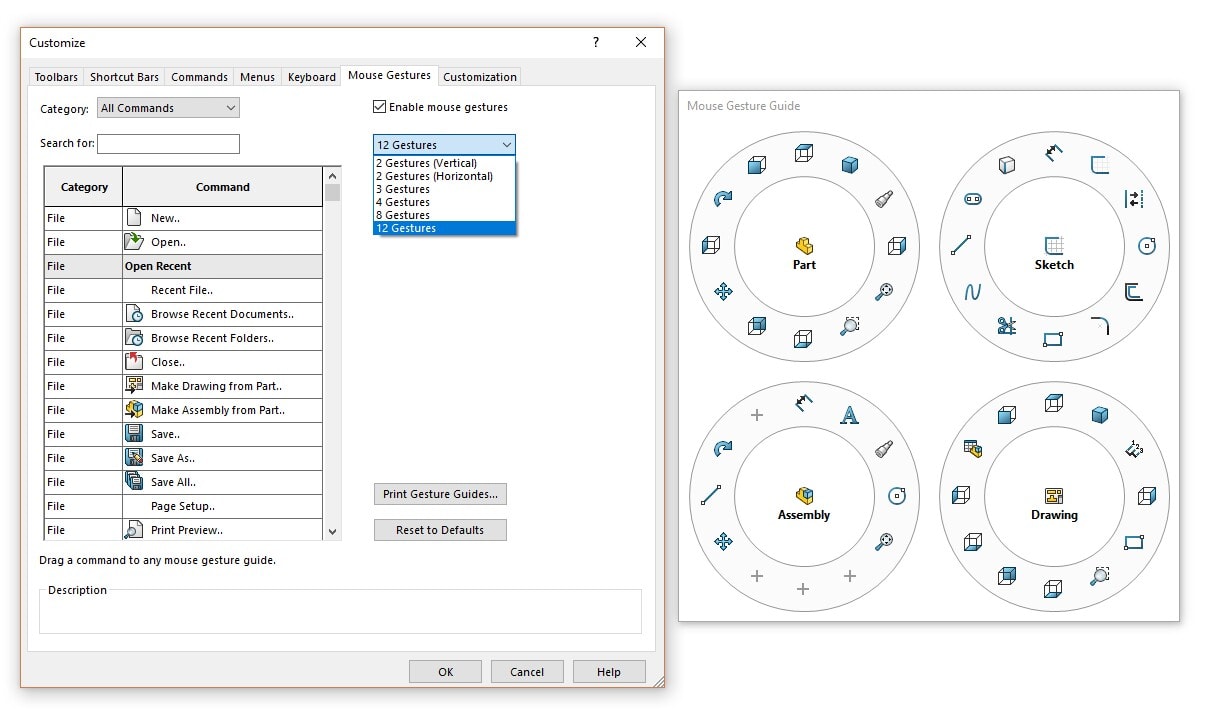 The "Print Gesture Guides…" button results in a handy Gesture Guide just like what you see in the Mouse Gesture Guide window shown above.
Assigning commands and modifications to the Gesture wheels has never been easier; now you can drag-and -drop commands from the list onto open slots, or replace what was there. You can even copy commands to other positions by holding down the CTRL key as you drag-and-drop. And, if you don't want a command in a slot, simply drag-and-drop off the wheel area.
I hope this part of the What's New series gives you a better understanding of the new features and functions of SOLIDWORKS 2018. Please check back to the CATI Blog as the CATI Application Engineers will continue to break down many of the new items in SOLIDWORKS 2018. All of these articles will be stored in the category of "SOLIDWORKS What's New." You can also learn more about SOLIDWORKS 2018 by clicking on the image below to register for one of CATI's Design Innovation Summits.
Alex Worsfold
Application Engineer
www.cati.com