SOLIDWORKS 2018 What's New – New Hole Wizard Options to Match Size or Preserve Options – #SW2018
SOLIDWORKS 2018 What's New – New Hole Wizard Options to Match Size or Preserve Options – #SW2018
With every release of SOLIDWORKS there always seem to be a few enhancements that go under the radar. I'd like to talk about a new option for SOLIDWORKS 2018 that will help control the sizing options you'll see when using the Hole Wizard. These new options are located at: Tools, Options, System Options, Hole Wizard/Toolbox, Hole Wizard settings.
Preserve settings for each Hole Wizard hole type
And
Transfer settings when changing Hole Wizard Hole type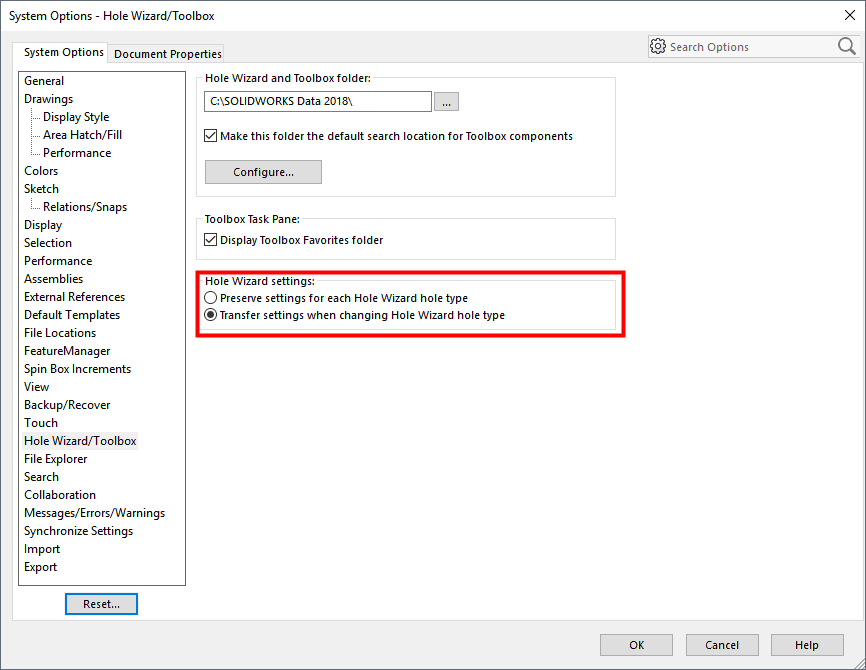 So, what do these settings mean and how do they change the way the Hole Wizards functions? The "Transfer settings…" option will carry the numerical value forward when editing the Hole Wizard feature. In the following example I'm creating a counterbore for an M8 Socket Head Cap Screw.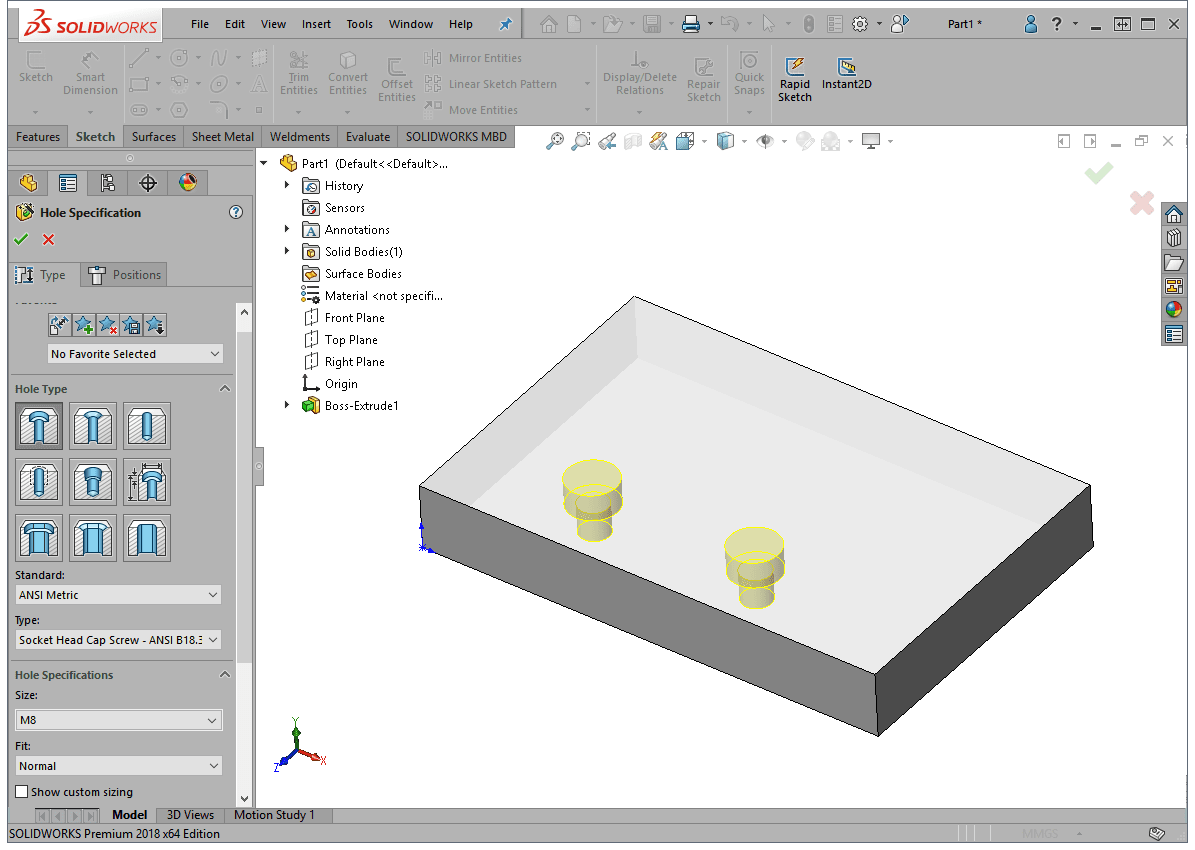 The next time I use the Hole Wizard, SOLIDWORKS 2018 will carry the M8 Hole Specification size forward automatically. This is how SOLIDWORKS 2017 behaves by default and the value matching is done by string comparison.
My design has changed and I need to edit the M8 counterbore to switch it to a tapped hole. All I need to do is select the desired Hole Type and the Hole Specification size is already selected as M8. How easy is that?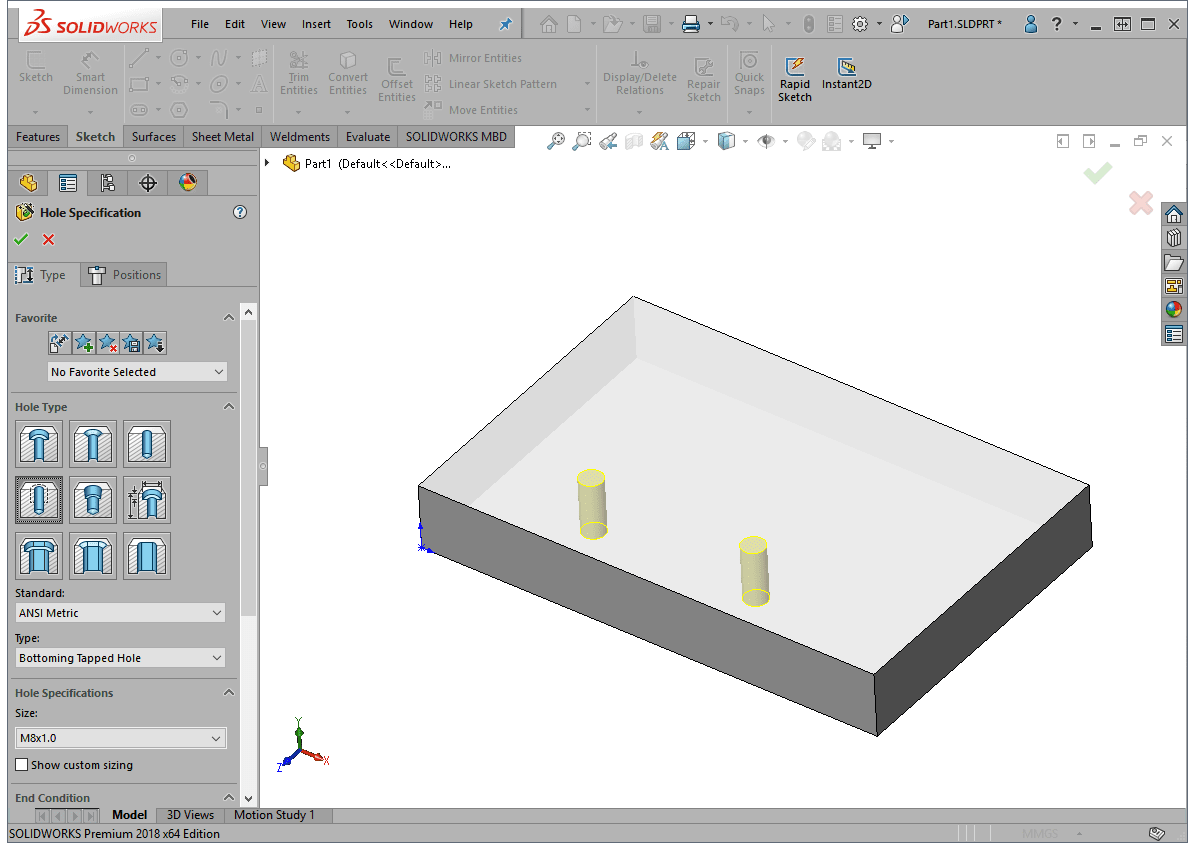 In this example of an M8 tapped hole, there are two possibilities: M8x1.0 and M8x1.25. Whenever there are multiple thread pitches of the same diameter, SOLIDWORKS 2018 will use the first size listed when it matches the value.
If you'd prefer SOLIDWORKS 2018 to not match the value and behave more like SOLIDWORKS 2015 (and older versions), change this setting to "Preserve settings…" With SOLIDWORKS 2018 using this setting, the Hole Wizard will use the last entered value for the Hole Specification size when switching Hole Types.
Because the SOLIDWORKS 2017 Hole Wizard always "Transfers settings," SOLIDWORKS 2018 has this setting enabled by default. Now you have a choice to change the behavior and set the Hole Wizard to function that way you need it to.
I hope this part of the What's New series gives you a better understanding of the new features and functions of SOLIDWORKS 2018. Please check back to the CATI Blog as the CATI Application Engineers will continue to break down many of the new items in SOLIDWORKS 2018. All of these articles will be stored in the category of "SOLIDWORKS What's New." You can also learn more about SOLIDWORKS 2018 by clicking on the image below to register for one of CATI's Design Innovation Summit.
Kris Dubuque
Field Services Technical Manager
www.cati.com