SOLIDWORKS 2018 What's New – Touch-Based Interactions – #SW2018
SOLIDWORKS 2018 What's New – Touch-Based Interactions – #SW2018
Over the last few years we have seen the launch of a lot of brand new touch devices such as the Microsoft Surface Book, Lenovo ThinkPad YogaP40s, and devices like the Wacom Cintiq. The result is more and more users are wanting to design in SOLIDWORKS using the natural feel that touch screens provide.
Believe it or not, touch based gestures were actually added into SOLIDWORKS way back in 2010!
But, if you have tried using SOLIDWORKS on a touch screen device you probably realized pretty quickly that it was fairly limited to just zooming/panning/rotating the model and not much else.
Well, SOLIDWORKS 2018 introduces a new TOUCH MODE that actually makes it PRACTICAL for working on touch enabled devices.
Enabling TOUCH MODE is done either from the VIEW pulldown menu or by a toolbar button that can be added to your interface. Once the mode is turned on you get a vertical toolbar on the left side of the screen. This can be moved to the RIGHT side of the screen if you are left handed… The idea being you will use this toolbar with one hand while you are interacting on the screen with your other hand (or with a pen).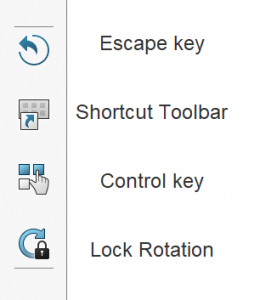 This toolbar includes some buttons that are VERY useful for working on touch screens (especially when you don't have access to your keyboard). From top to bottom they are ESCAPE key, SHORTCUT TOOLBAR, CONTROL key, and LOCK ROTATION. The first three are easy to understand what they do, but the last one, Lock Rotation, is what gives you a lot of control in an assembly. Without this button activated, your interactions on the touch screen will zoom/pan/rotate the model. With this button ON, it stops the ability to rotate, but allows you to actually grab and move, or rotate parts or subassemblies! This is basically what you would normally do with the left and right mouse buttons. You can open and close, swing around, and push away things in the assembly to show how it moves in real life. Very cool…
Also new when you are in Touch Mode if you hold down your finger in empty space for less than 2 seconds it will launch the Mouse Gestures wheel which could give you access to as many as 12 other commands. If you hold down your finger in empty space for 2 seconds or longer (indicated by a complete revolution of a swirly circle graphic) it will launch a new MAGNIFIED SELECTION mode. This is kind of similar to using the "G" key magnifying glass, but in Touch Mode is also a handy selection tool. Whatever part or assembly is directly under the center of the magnifying glass is selected and then you have access to the left and right click menus for doing everything you would ever want to that part like opening or editing! When you are in the Magnified Selection mode two additional buttons will appear over on the Touch Mode toolbar. A plus and a minus for changing the magnification scale.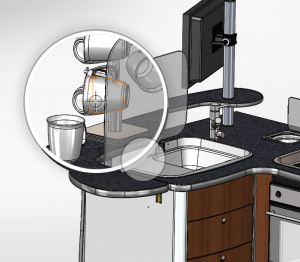 Speaking of editing… How in the heck are you going to change a dimension value for something on a touch screen? Well you could use the big clunky on-screen pop up keyboard that comes with your operating system, but that covers up half the screen. So, in SOLIDWORKS 2018 when you select in any area that needs numeric input, a nice small numeric keypad will pop up to allow you to enter in a value! You can also get to equations, global variables, and functions from this tool. Another editing tool that will show up on the Touch Mode toolbar when you have something selected is a DELETE command.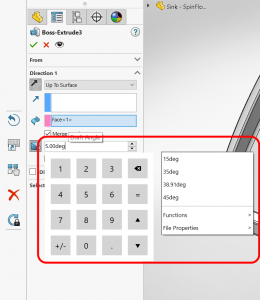 Combine all of this with the new Touch Based Sketching in 2018 (https://www.cati.com/blog/2017/09/solidworks-2018-whats-new-pen-touch-and-gesture-based-sketching/) and you actually CAN "work" in SOLIDWORKS on a touch screen!
If you have tried using SOLIDWORKS on a touch enabled device before and not been thrilled with what you could do, DEFINITELY give it a try in 2018! It's a great, new, FUNCTIONAL, experience that is SUPER FUN to use!
I hope this part of the What's New series gives you a better understanding of the new features and functions of SOLIDWORKS 2018. Please check back to the CATI Blog as the CATI Application Engineers will continue to break down many of the new items in SOLIDWORKS 2018. All of these articles will be stored in the category of "SOLIDWORKS What's New." You can also learn more about SOLIDWORKS 2018 by clicking on the image below to register for one of CATI's Design Innovation Summits.
Randy Simmons
SOLIDWORKS Elite Application Engineer