SOLIDWORKS 2018 What's New – Zeroes – #SW2018
SOLIDWORKS 2018 What's New – Zeroes – #SW2018
SOLIDWORKS 2018 now gives you more flexibility for displaying trailing zeroes in your dimensions. This delivers greater control of the precision of our dimension values. In SOLIDWORKS 2018 you can now independently control the behavior of the trailing zeroes for dimensions, tolerances, and property values. These new options exist under the file's document properties settings.
In the previous releases of SOLIDWORKS you can set the behavior of trailing zeroes. This is a document property, so it is only applied to the active document. This setting would affect every dimension in the open file.
In SOLIDWORKS 2018, we still have the document property to control the behavior of the trailing zeroes. It has now been broken down into three different categories. These categories are Dimensions, Tolerances, and Properties.

The "Properties" settings apply to the numeric values for Mass, Density, Volume, Surface Area, Cost, Center of Mass, and Block Tolerance.
The "Tolerances" settings applies to the tolerance values for Arc Length, Chamfer, Diameter, Hole Callout, Linear, Ordinate, Radius.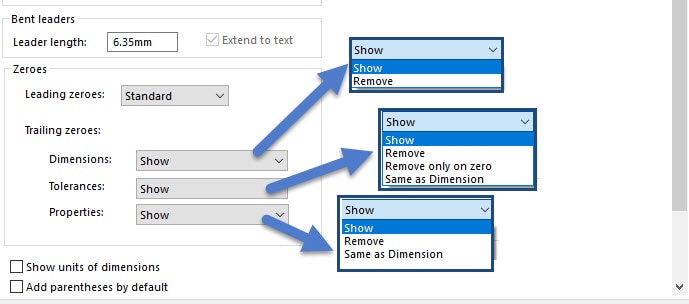 If you are opening a 2017 file in SOLIDWORKS 2018, the legacy behavior is carried over. These new options will be set by your document templates and will be present in your newly created files.
I hope this part of the What's New series gives you a better understanding of the new features and functions of SOLIDWORKS 2018. Please check back to the CATI Blog as the CATI Application Engineers will continue to break down many of the new items in SOLIDWORKS 2018. All of these articles will be stored in the category of "SOLIDWORKS What's New." You can also learn more about SOLIDWORKS 2018 by clicking on the image below to register for one of CATI's Design Innovation Summits.
Greg Buter
Application Engineer