SOLIDWORKS 2020 What's New – Assembly Envelope Publisher
Envelopes have been a very useful tool in SOLIDWORKS for years, providing two main functions: you can use envelopes as reference components in assemblies and as selection tools. Because envelopes do not appear in the bill of materials, they are great to use for sizing and positioning purposes at the assembly level.
With the release of SOLIDWORKS 2020, we now have a new top-level assembly tool called the Envelope Publisher. You can use this new tool to include components from your top-level assembly as envelopes in a subassembly.
You can find the Envelope Publisher command under Tools > Envelope Publisher. The command is only available when the assembly you have open has subassemblies in it.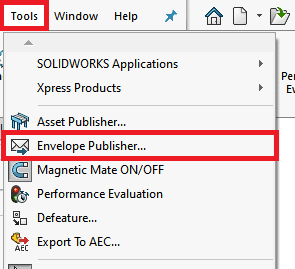 Tech Tip: If you still don't see the Envelope Publisher, make sure you are not in Large Assembly Mode and that you are able to create External References. The settings that control External References can be found in Tools > Options > System Options > External References. Under Assemblies, select:
Allow creation of references external to the model
Any component for Reference component type
Top level assembly for In the context of
Once the command is launched, you will need to select which components are going to be used as envelopes and the destination subassembly. This can be done either graphically or by using the Secondary Feature Tree.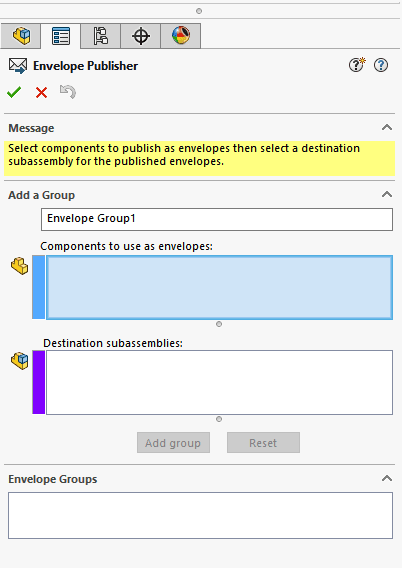 Tech Tip: For Components to use as envelopes, you can use both individual components and subassemblies, and you can select one or more Destination subassemblies at a time.
I am going to select two individual components and a subassembly for my Components to use as envelopes and a single subassembly for Destination subassemblies as shown below: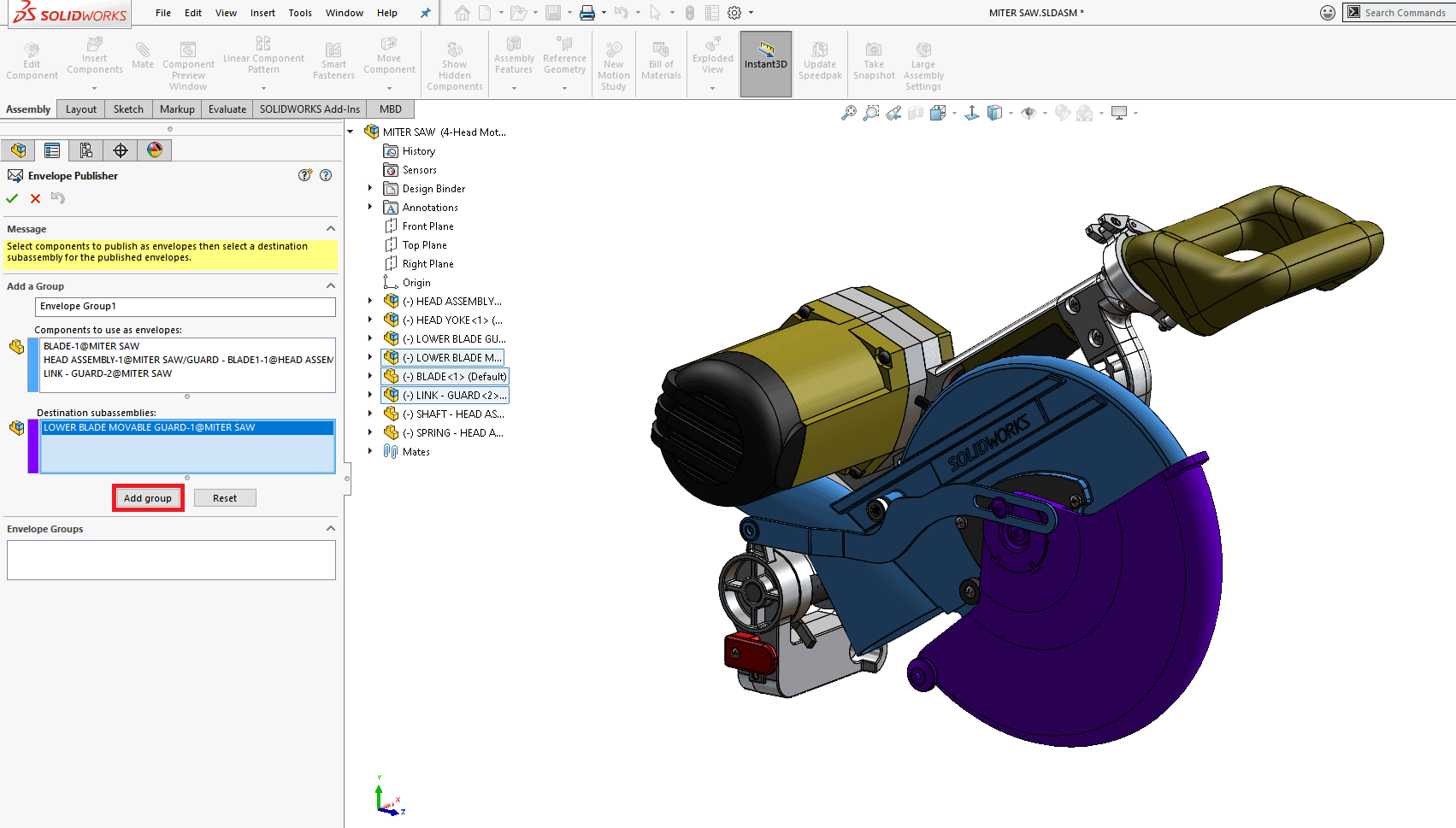 Make sure to hit the Add group button to save your Envelope Group before exiting the command. Hitting the Reset button will clear the Property Manager fields.
Tech Tip: When making changes to an existing Envelope Group you may see a Done button instead. This will save any changes you've made to your Envelope Group.
You can add multiple groups by performing the same actions after adding your first group. Once you accept your envelope selections by hitting the green checkmark, your envelopes will be created, and the command will close.
Tech Tip: You cannot select the following subassemblies as a destination:
Subassemblies that are a destination for a different envelope group.
For assemblies that contain multiple instances of a subassembly, you can use only one of the instances as a destination subassembly.
Subassemblies that are already included as a component in an envelope.
Opening the destination subassembly shows the enveloped components with the External References symbol in their own folder in the Feature Tree named Published Envelopes: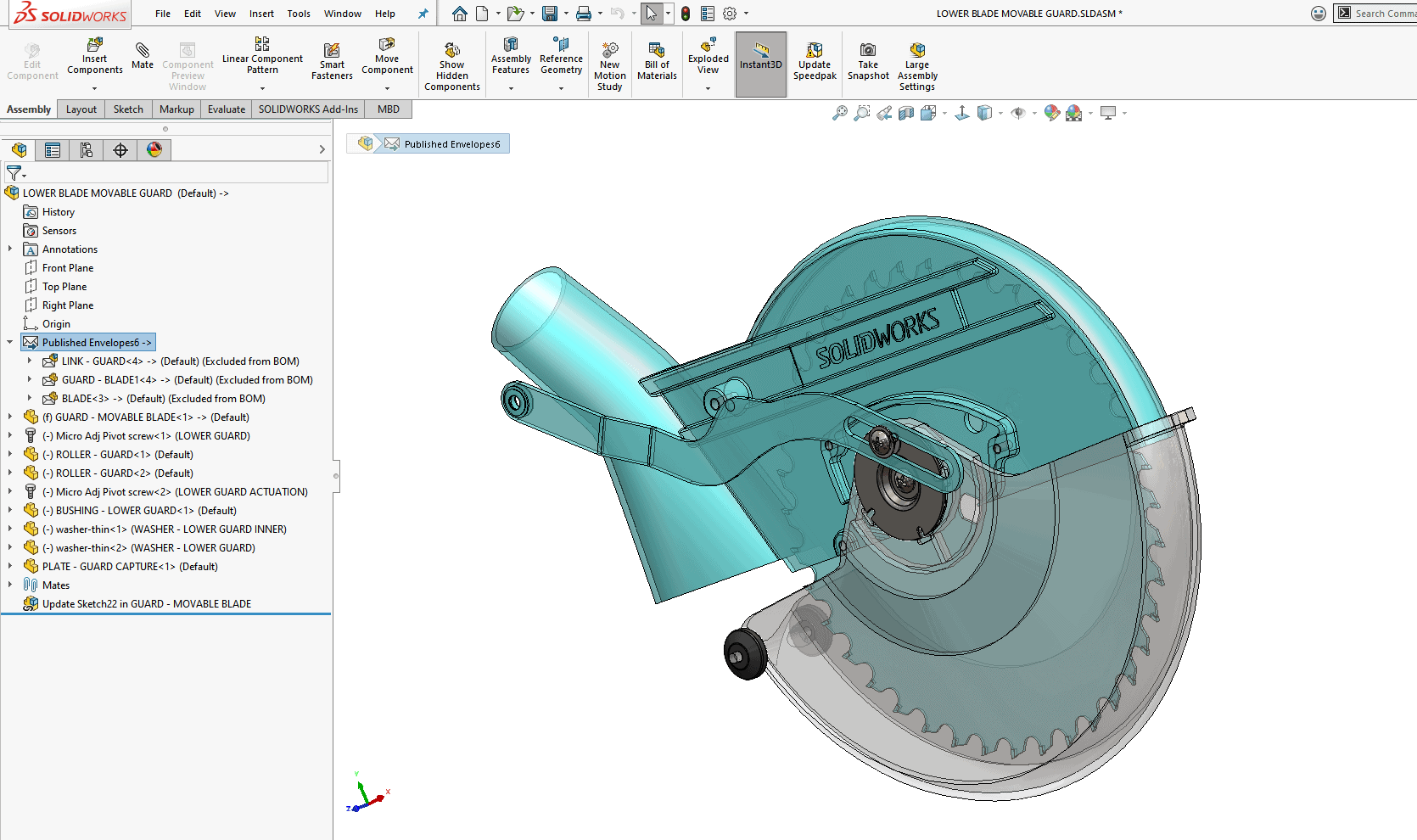 Because the components are External References to the top-level assembly, they will automatically update with any top-level changes.
There are also new Hide/Show toggles for envelopes in View > Hide/Show and in the Hide/Show Items pull-down in the heads-up display: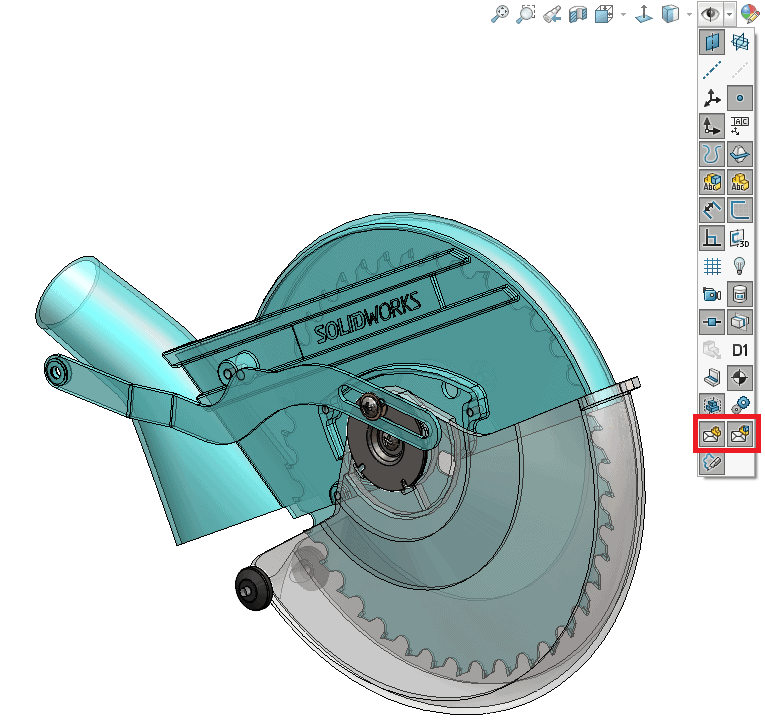 These will control the hide/show state of envelopes belonging to components, and envelopes belonging to assemblies at the top-level assembly.
Tech Tip: To delete or add any Published Envelopes, you will need to open the top-level assembly and re-launch Envelope Publisher in Tools > Envelope Publisher. Once the command is launched, you can Right-Click an individual Envelope Group and select Delete to remove it or continue adding another Envelope Group. Accepting your changes will add or remove the Published Envelopes from your assembly.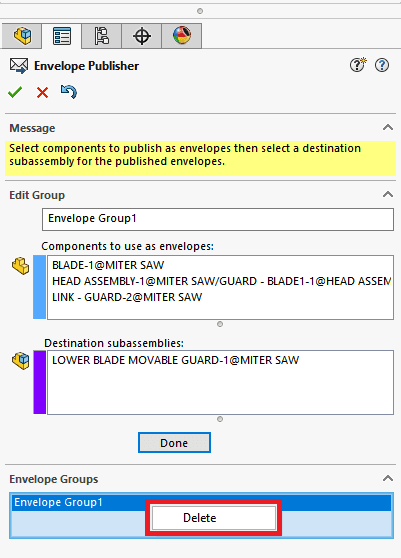 I hope you enjoy using the Envelope Publisher as much as I did and keep your eye out for other great enhancements in SOLIDWORKS 2020.
Happy modeling!
I hope this part of the What's New series gives you a better understanding of the new features and functions of SOLIDWORKS 2020. Please check back to the CATI Blog as the CATI Application Engineers will continue to break down many of the new items in SOLIDWORKS 2020. All these articles will be stored in the category of "SOLIDWORKS What's New."
Design Innovation Month – October 2019
What is DI Month? We're declaring October Design Innovation Month—again! It's a month-long series of special events focused on what's new in design and manufacturing technology. You'll learn about enhancements in SOLIDWORKS 2020 that deliver new capabilities for improved performance, streamlined workflows, and a connected design ecosystem. Find out what's new in 3D printing applications and 3D scanning to integrate into your design process. So, get ready to do things differently. It's time to innovate!
Jordan Puentes
Application Engineer
Computer Aided Technology, LLC