SOLIDWORKS 2020 What's New – Auto-Space Components in Explode Views
In SOLIDWORKS 2019, Exploded Views in SOLIDWORKS assembly files got a much-appreciated workflow overhaul. Prior to SOLIDWORKS 2019 when creating an exploded view as you moved components with the triad, you were required to then click in the graphics area to finish that step. In SOLIDWORKS 2019, there were several enhancements including a rollback bar, the ability to reorder steps, and a nice workflow change that prompts the user to select 'done' when completing each step.
In SOLIDWORKS 2020 the workflow enhancements go further as you are now able to choose multiple auto-spacing options, like by bounding box center, bounding box rear, and bounding box front. New to SOLIDWORKS 2020 is also the ability to enable Auto-space components for existing explode steps!
Let's take a look at the first great aspect of this enhancement, the multiple auto-space component options. This enhancement is amazing because you no longer need to worry about geometry when choosing components to auto-explode as in years past. There's a certain Application Engineer who shall remain nameless, never could quite get the hang of auto-exploding components to get the spacing he…or she, it wasn't me I swear…wanted. I would always have to go back and move the parts individually to get the spacing right…I mean that unnamed Application Engineer would always have to….
The second awesome part of this enhancement is the fact that the auto-space now works even after you've moved a group of components! If you've ever wanted to move a group of components, THEN auto-explode, worry no more. With SOLIDWORKS 2020, you can now move the components, and when you select the auto-space checkbox, all further dragging will do auto-spacing of the components!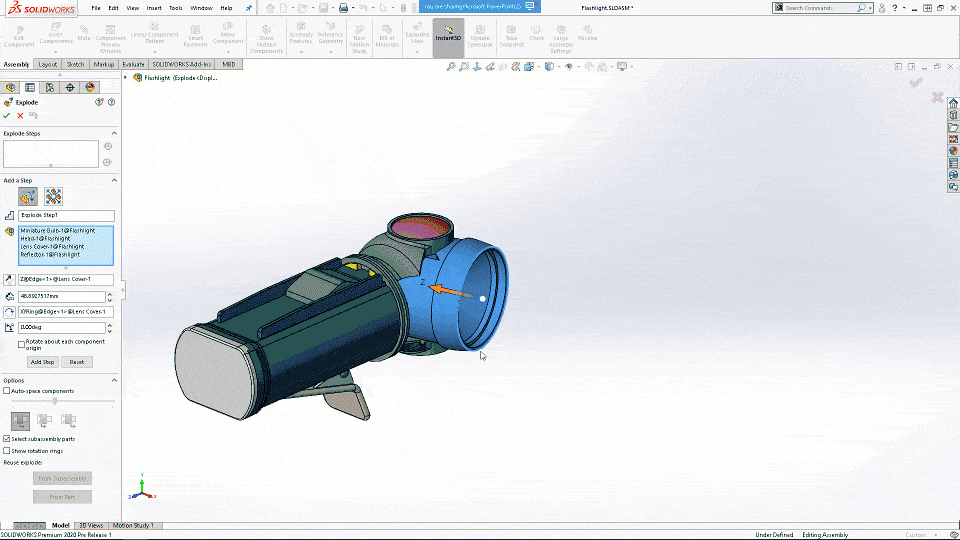 I hope this part of the What's New series gives you a better understanding of the new features and functions of SOLIDWORKS 2020. Please check back to the CATI Blog as the CATI Application Engineers will continue to break down many of the new items in SOLIDWORKS 2020. All these articles will be stored in the category of "SOLIDWORKS What's New."
Design Innovation Month – October 2019
What is DI Month? We're declaring October Design Innovation Month—again! It's a month-long series of special events focused on what's new in design and manufacturing technology. You'll learn about enhancements in SOLIDWORKS 2020 that deliver new capabilities for improved performance, streamlined workflows, and a connected design ecosystem. Find out what's new in 3D printing applications and 3D scanning to integrate into your design process. So, get ready to do things differently. It's time to innovate!
Brandon Nelms
Application Engineer – CSWE, Field Technical Services
Computer Aided Technology, LLC