SOLIDWORKS 2020 What's New – Checking 3D Printer Size
In SOLIDWORKS 2020, if you have multiple 3D printer options it is possible to select a printer from a list to quickly determine if a model fits within the build space. A printer can also be marked as a favorite through the Print3D PropertyManager. When a printer is added as a favorite, the following read-only information appears: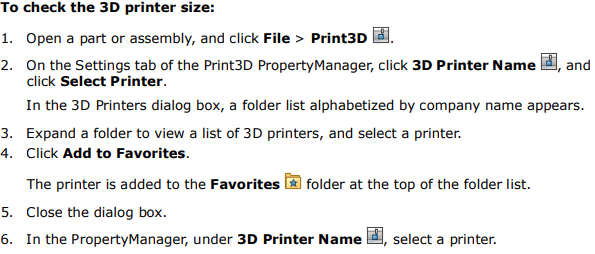 I hope this part of the What's New series gives you a better understanding of the new features and functions of SOLIDWORKS 2020. Please check back to the CATI Blog as the CATI Application Engineers will continue to break down many of the new items in SOLIDWORKS 2020. All these articles will be stored in the category of "SOLIDWORKS What's New."
Design Innovation Month – October 2019
What is DI Month? We're declaring October Design Innovation Month—again! It's a month-long series of special events focused on what's new in design and manufacturing technology. You'll learn about enhancements in SOLIDWORKS 2020 that deliver new capabilities for improved performance, streamlined workflows, and a connected design ecosystem. Find out what's new in 3D printing applications and 3D scanning to integrate into your design process. So, get ready to do things differently. It's time to innovate!
James Carlin
Support Engineer
Computer Aided Technology, LLC