SOLIDWORKS 2020 What's New – DimXpert and MBD updates
SOLIDWORKS 2020 has some new updates in the area of MBD (Model Based Definition) and DimXpert annotations.
The first couple updates are just to the DimXpert tool which EVERY SEAT of SOLIDWORKS has regardless of whether you own the MBD add-in or not…
The names of the DimXpert annotations now follow a new format which adds the feature name and dimension value (@feature_name(value)).

Individual annotations are now listed in subfolders for each annotation view to help visualize the relationship between annotations and the view on which it was assigned.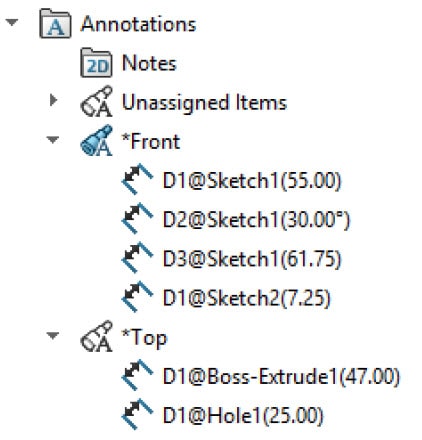 By default, annotations appear in subfolders that correspond to the view to which they belong, but can also be sorted by annotation type, such as Dimensions, Datums, Notes, and Symbols, for better organization. When you select an annotation in the FeatureManager, it's highlighted in the graphics area and annotations can now be easily hidden or shown.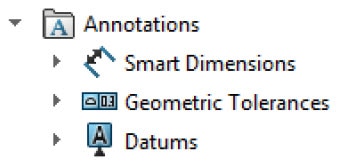 You can now also create DimXpert hole callouts for pipe threads and many types of compound holes. The look of these is all controlled from the …Program FilesSOLIDWORKS CorpSOLIDWORKSlangenglishtxcalloutformat.txt file.
This last update you DO have to have the MBD add-in because it has to do with the 3D PMI COMPARE tool. In SOLIDWORKS 2020 the tool will now more thoroughly look at reference dimensions to identify more similarities based on geometry. It will also not check annotation notes and geometric tolerances.
I hope this part of the What's New series gives you a better understanding of the new features and functions of SOLIDWORKS 2020. Please check back to the CATI Blog as the CATI Application Engineers will continue to break down many of the new items in SOLIDWORKS 2020. All these articles will be stored in the category of "SOLIDWORKS What's New."
Design Innovation Month – October 2019
What is DI Month? We're declaring October Design Innovation Month—again! It's a month-long series of special events focused on what's new in design and manufacturing technology. You'll learn about enhancements in SOLIDWORKS 2020 that deliver new capabilities for improved performance, streamlined workflows, and a connected design ecosystem. Find out what's new in 3D printing applications and 3D scanning to integrate into your design process. So, get ready to do things differently. It's time to innovate!
Randy Simmons
Application Engineer
Computer Aided Technology, LLC