SOLIDWORKS 2020 What's New – Free Body Forces for Nonlinear Studies
A neat new feature that has been added to SOLIDWORKS 2020 is the ability to interrogate free body forces after running a nonlinear static or nonlinear dynamic study. The ability to compute and interrogate free body forces in SOLIDWORKS as part of simulation post-processing has existed for a long time but has been limited in previous versions of the software to linear static or dynamic studies.
The first step in the process is to make sure the button for Compute free body forces is turned on. This button is found in the Study Properties dialogue box. Since nonlinear studies typically take a long time to run, double-check that this button is turned on before running your study!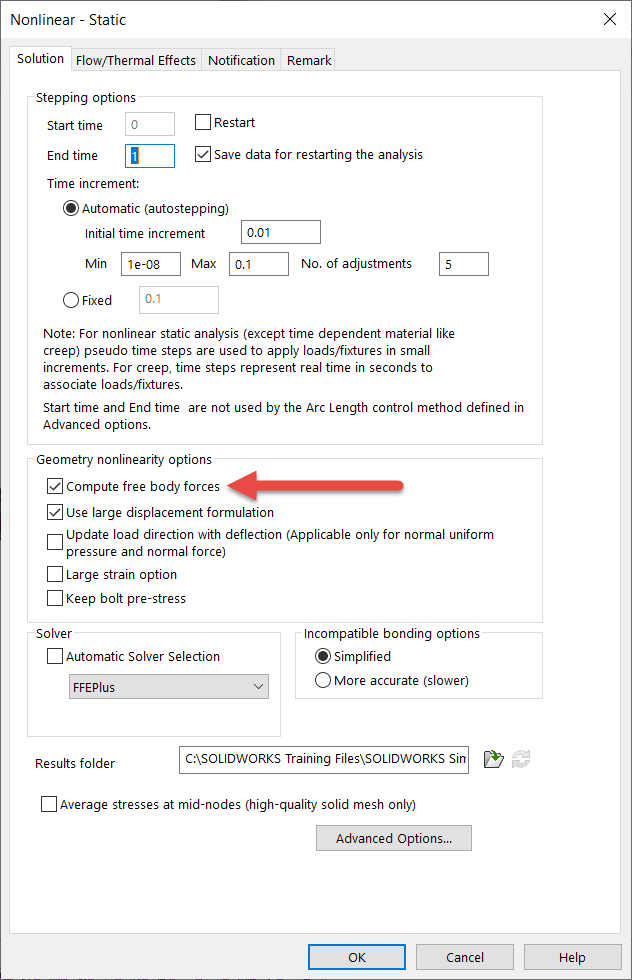 Once your analysis is complete, right-click Results, and click List Result Force. Under Options select Free Body Force.
For nonlinear studies, free body forces can be computed at each solution step. Geometric entities can be faces, edges, vertices or entire bodies. The free body forces can be the result of contact, external loads, restraints or connectors.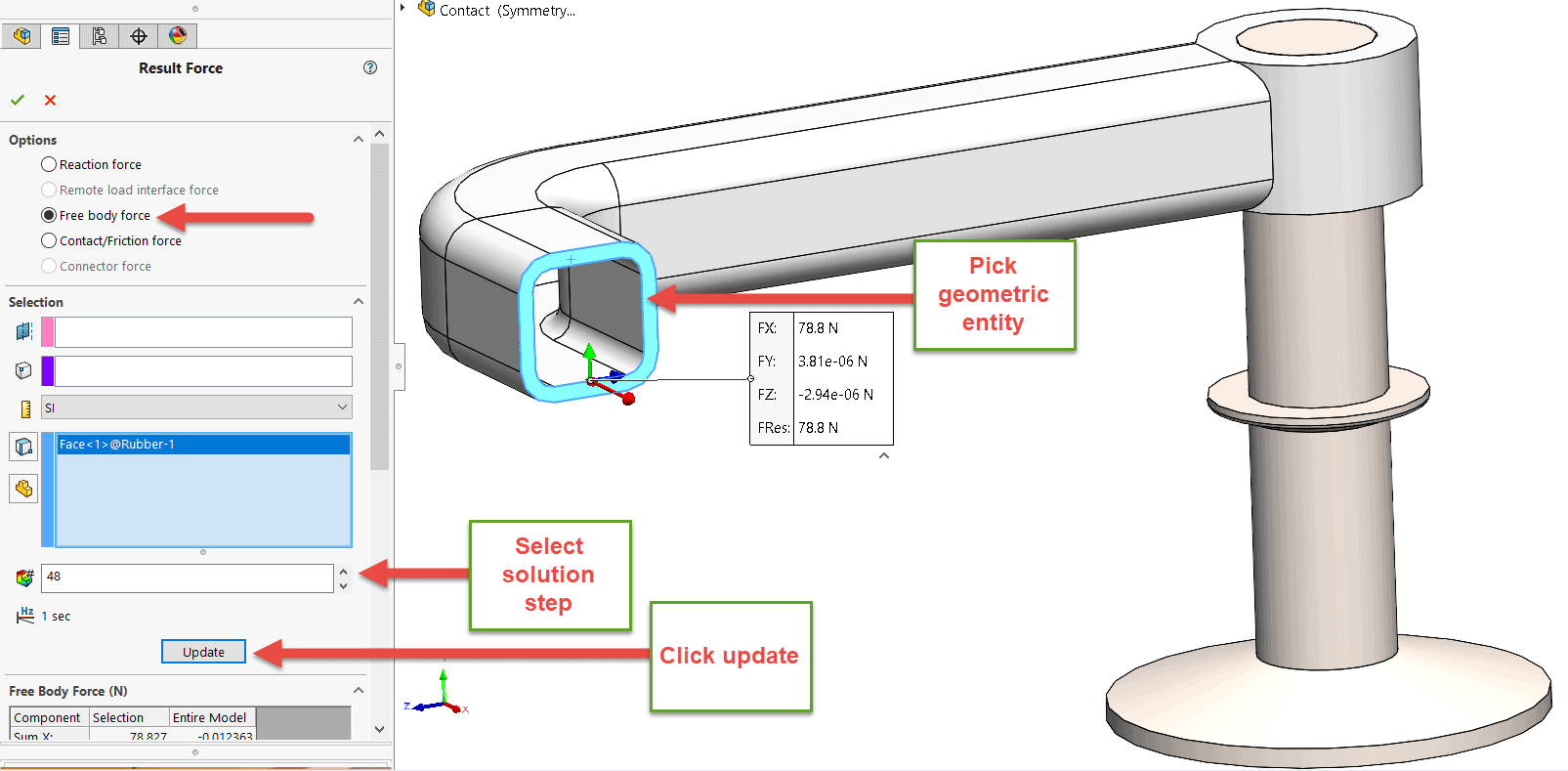 The results are displayed in the graphics window as well as in tabular form in the command manager. Output can easily be saved to a .csv or .txt file using the Save to file button under the Report Options section of the Result Force command manager.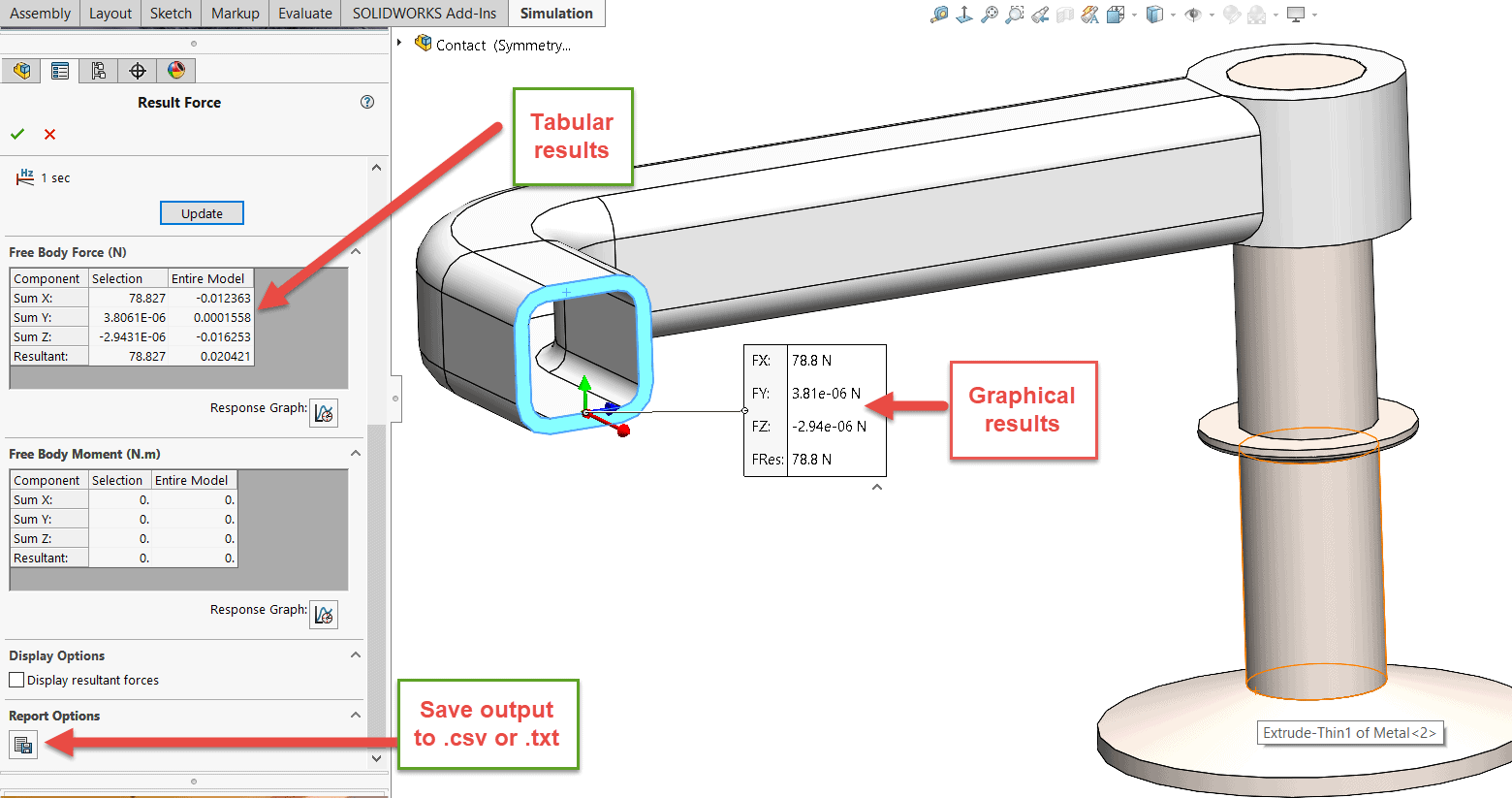 The capability to interrogate free body forces on geometric entities in nonlinear studies should provide users with significant insight into areas of interest in their nonlinear studies, leading to improved design and performance.
For more information regarding SOLIDWORKS Simulation contact CATI, check out our Blogs and Videos.
I hope this part of the What's New series gives you a better understanding of the new features and functions of SOLIDWORKS 2020. Please check back to the CATI Blog as the CATI Application Engineers will continue to break down many of the new items in SOLIDWORKS 2020. All these articles will be stored in the category of "SOLIDWORKS What's New."
Design Innovation Month – October 2019
What is DI Month? We're declaring October Design Innovation Month—again! It's a month-long series of special events focused on what's new in design and manufacturing technology. You'll learn about enhancements in SOLIDWORKS 2020 that deliver new capabilities for improved performance, streamlined workflows, and a connected design ecosystem. Find out what's new in 3D printing applications and 3D scanning to integrate into your design process. So, get ready to do things differently. It's time to innovate!
Alon Finkelstein
Product Specialist, Simulation
Computer Aided Technology, LLC