SOLIDWORKS 2020 What's New – Logging out of PDM from Windows Explorer
How familiar is this scenario? You are going about your workday, using SOLIDWORKS PDM to help you with your productivity, when you get that frantic call from a co-worker: "I need to get into PDM ASAP, but there aren't any available licenses! I need you to log out so I can get in!" Now, to do that, you have to first remember where that log off menu is located. Once you do, you have to move your mouse all the way down to the Windows System Tray in the bottom right of your screen. What if you are working with two (or three) monitors? Don't you wish there was an easier way?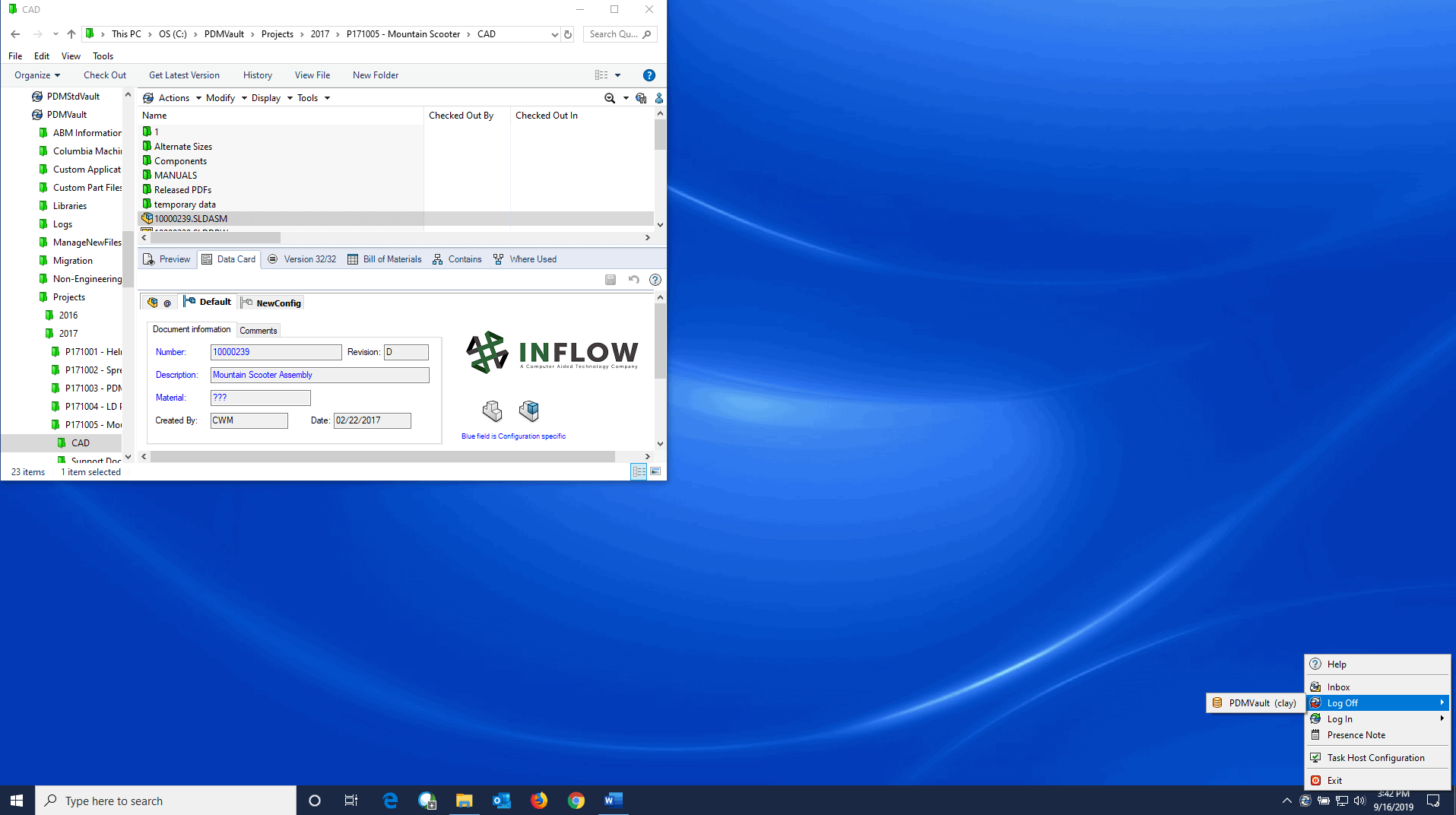 You want me to move my mouse how far???
Okay, I may have oversold that scenario a little bit (If you really are experiencing that scenario frequently, contact your CATI salesperson about getting more licenses). Perhaps a bit more common is remembering to log out of PDM when you are finished with your work in a shared license environment. However, we have heard from a number of customers that having the log off menu located in the System Tray is not an optimal location.
SOLIDWORKS PDM 2020 introduces a more convenient method for logging out of PDM (For those of you keeping up to date with your Service Pack Releases, you may have noticed that this was "soft launched" in 2019 SP3, but 2020 is the official introduction). Now, when you are working in a PDM vault through Windows Explorer, there is a new icon

next to the embedded search button in windows explorer. If you hover your mouse over it, it will show you the current logged in user

When you click on the little blue person icon, you are now able to log out of PDM right from within the Windows Explorer box.
Having the ability to log out of SOLIDWORKS PDM from within Windows explorer, provides a more convenient way to log yourself out of PDM, saving you time and mouse clicks. Every little bit helps, allowing you to be more productive.
I hope this part of the What's New series gives you a better understanding of the new features and functions of SOLIDWORKS PDM 2020. Please check back to the CATI Blog as the CATI Application Engineers will continue to break down many of the new items in SOLIDWORKS PDM 2020. All these articles will be stored in the category of "SOLIDWORKS What's New."
Design Innovation Month – October 2019
What is DI Month? We're declaring October Design Innovation Month—again! It's a month-long series of special events focused on what's new in design and manufacturing technology. You'll learn about enhancements in SOLIDWORKS 2020 that deliver new capabilities for improved performance, streamlined workflows, and a connected design ecosystem. Find out what's new in 3D printing applications and 3D scanning to integrate into your design process. So, get ready to do things differently. It's time to innovate!
Clay Mosher
InFlow PLM Services Manager – West
Computer Aided Technology, LLC