SOLIDWORKS 2020 What's New – SOLIDWORKS 3D Interconnect
Originally introduced in SOLIDWORKS 2017, 3D Interconnect replaces SOLIDWORKS' current translation capabilities with new technology and workflows for working with third-party native CAD data.
You can:
Insert proprietary CAD data directly into a SOLIDWORKS assembly without converting it to a SOLIDWORKS file.
Open the proprietary 3D CAD format in the SOLIDWORKS software with its associative link to the original part.
Update changes in the SOLIDWORKS file if you update the proprietary CAD data in its authoring application by maintaining all downstream features created in SOLIDWORKS.
Break the link of the inserted part file with the original part file.
The following formats and their versions are supported in 3D Interconnect:
Formats
File Formats
Format Versions
ACIS
.sat, .sab, .asat, .asab
r1-2018 1.0
Autodesk® Inventor
.ipt (V6 – V2018)

.iam (V11 – V2018)

V11 – 2018
CATIA® V5
.CATPart, .CATProduct
V5R8 – V5-6R2017
IGES
.igs, .iges
Up to 5.3
JT
.jt
JT 8.x, 9.x, and 10.x
PTC®
.prt, .prt.*, .asm, .asm.*
For Pro/ENGINEER® 16 – Creo 4.0
Solid Edge®
.par, .asm, .psm
V18 – ST10
STEP
.stp, .step
AP203, AP214, AP242
NX™ software
.prt
11 – NX 11
New to SOLIDOWORKS 2020, you can insert non-native (*.catpart, *.ipt, *.par, *.prt) or neutral (*.iges,*.igs, *.jt, *.sat, *.step, *.stp) CAD files into an active SOLIDWORKS part or assembly file.
You can also drag a non-native or neutral CAD file into an active SOLIDWORKS part or assembly file as a derived part!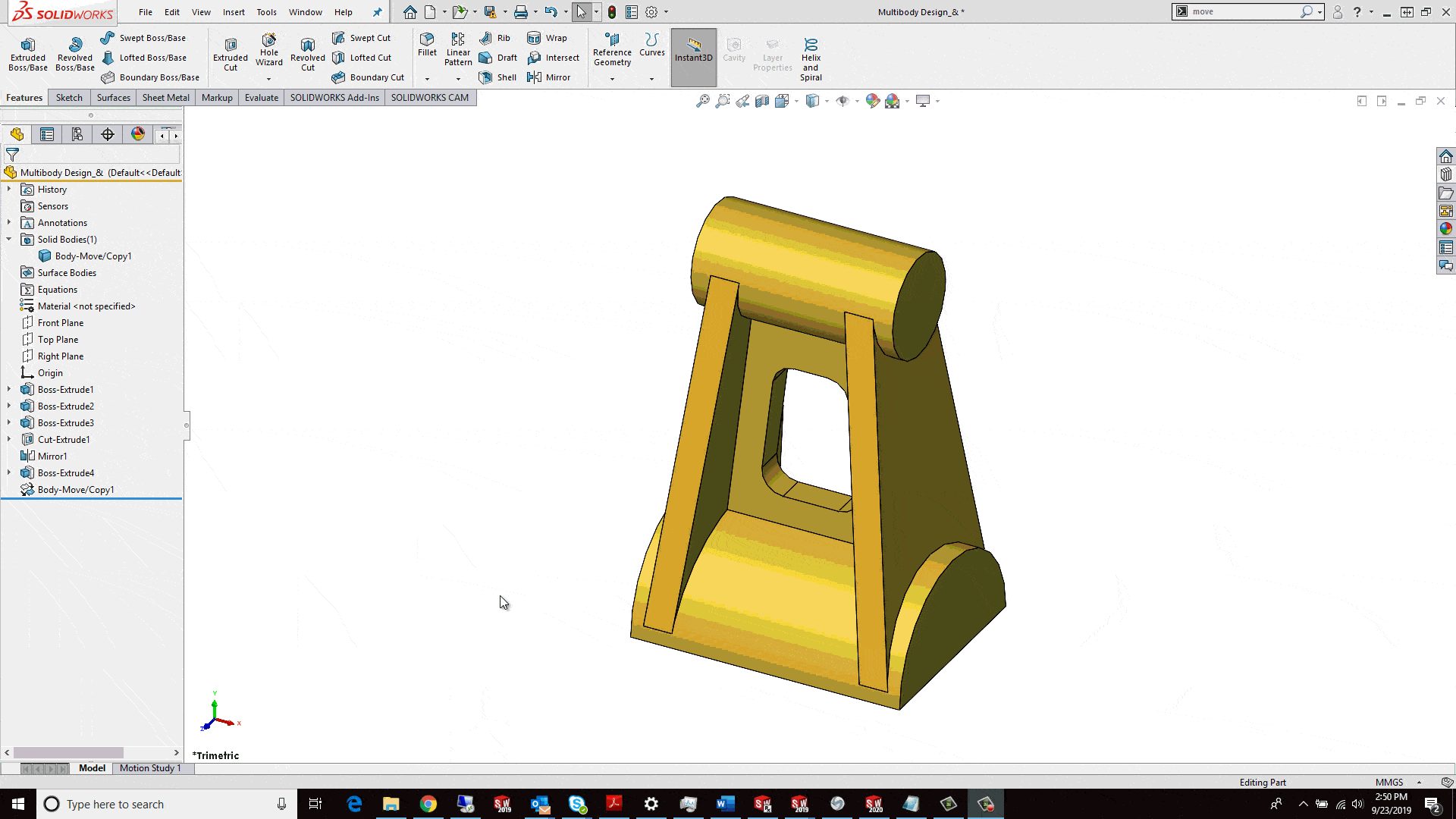 I hope this part of the What's New series gives you a better understanding of the new features and functions of SOLIDWORKS 2020. Please check back to the CATI Blog as the CATI Application Engineers will continue to break down many of the new items in SOLIDWORKS 2020. All these articles will be stored in the category of "SOLIDWORKS What's New."
Design Innovation Month – October 2019
What is DI Month? We're declaring October Design Innovation Month—again! It's a month-long series of special events focused on what's new in design and manufacturing technology. You'll learn about enhancements in SOLIDWORKS 2020 that deliver new capabilities for improved performance, streamlined workflows, and a connected design ecosystem. Find out what's new in 3D printing applications and 3D scanning to integrate into your design process. So, get ready to do things differently. It's time to innovate!
Will Kefauver
Application Engineer – CSWE, Field Technical Services
Computer Aided Technology, LLC