SOLIDWORKS 2020 What's New – Using the Decimate Mesh Tool
Since the use of handheld 3D scanners has increased there has been a growing demand to import, modify and reuse the mesh files that are being produced. Until recently there was no ability within SOLIDWORKS to easily manipulate mesh bodies imported from .STL (Standard Tessellation Language).
When a mesh file is imported into SOLIDWORKS it is converted into a mesh body and represented as a solid or surface composed of many triangles. This is what a small mesh body would look like using a shaded display style.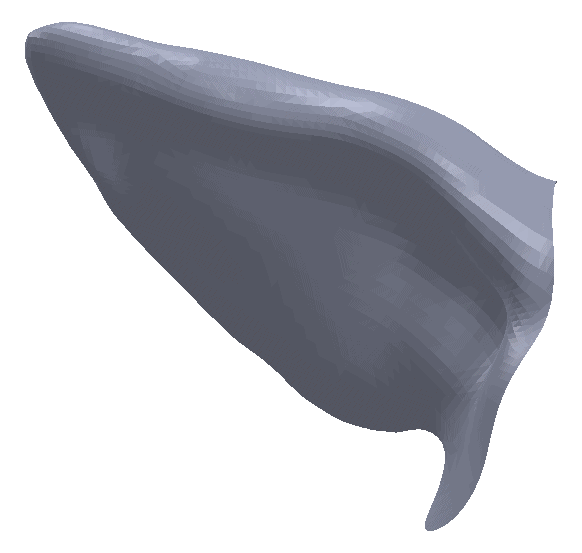 And this is what it looks like using Shaded with Edges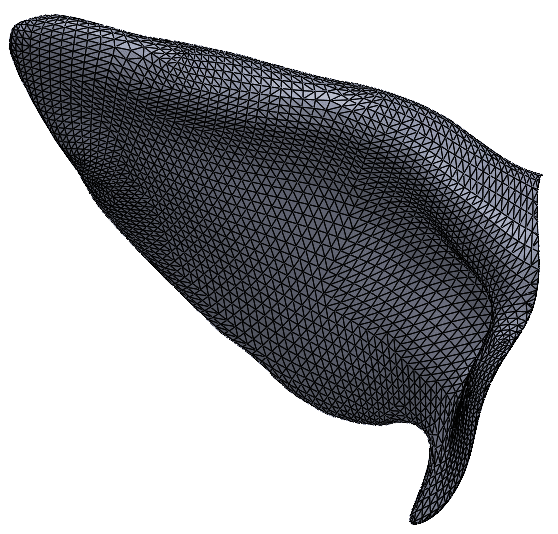 As you can see the mesh is quite complex.
This is a portion of a much larger mesh file that I am using for demonstration. If I were to try and work with the entire mesh file, it would place an incredible strain on the SOLIDWORKS resources. Since I have imported this section of the mesh, I can show you a new tool for SOLIDWORKS 2020 called "Decimate Mesh Body"
SOLIDWORKS has added tools specifically for working with mesh bodies to a tab in the Command Manager called "Mesh Modeling".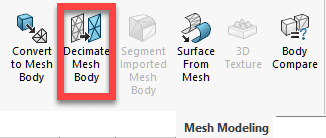 They can also be found in the Insert – Mesh sub-menu.
The Decimate Mesh Body tool is used to reduce the number of triangles in a mesh body to reduce the amount of resources required from SOLIDWORKS.
The interface looks like this: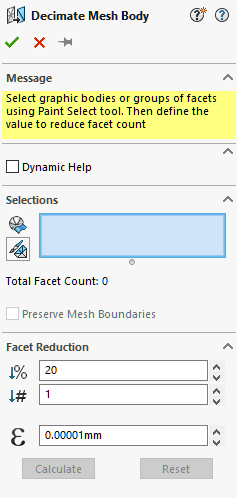 Once the mesh body is selected SOLIDWORKS calculates how many triangles are present and allows the user to reduce the facets by a percentage. (in this case, I chose 50%).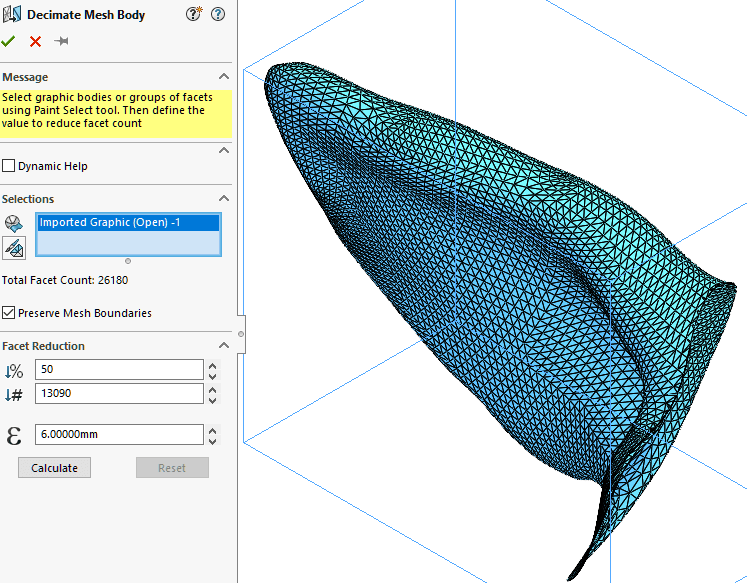 When the Calculate button is clicked the process begins and these are the results.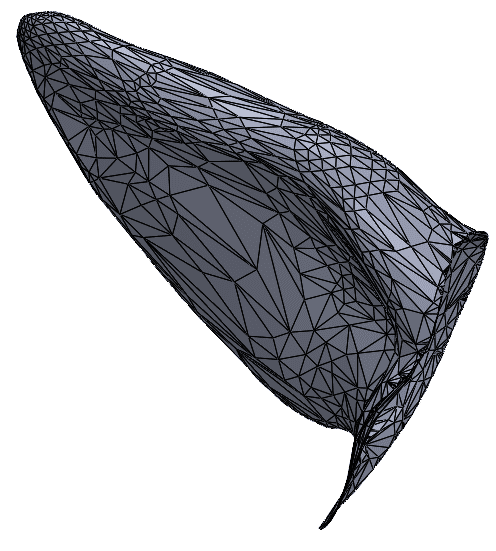 From this point, it should be easier to modify the mesh body or even convert it to a surface or solid.
Be sure and take a look at Jordon Puentes Blog article SOLIDWORKS 2020 What's New – Mesh Support for More Features
I hope this part of the What's New series gives you a better understanding of the new features and functions of SOLIDWORKS 2020. Please check back to the CATI Blog as the CATI Application Engineers will continue to break down many of the new items in SOLIDWORKS 2020. All these articles will be stored in the category of "SOLIDWORKS What's New."
Design Innovation Month – October 2019
What is DI Month? We're declaring October Design Innovation Month—again! It's a month-long series of special events focused on what's new in design and manufacturing technology. You'll learn about enhancements in SOLIDWORKS 2020 that deliver new capabilities for improved performance, streamlined workflows, and a connected design ecosystem. Find out what's new in 3D printing applications and 3D scanning to integrate into your design process. So, get ready to do things differently. It's time to innovate!
Dennis Barnes
Applications Engineer
Computer Aided Technology, LLC