SOLIDWORKS 2021 What's New – Inspection
SOLIDWORKS Inspection is great application to use for your quality control teams inspection documentation needs. With the release of SOLIDWORKS 2021 you now have better ways to leverage your inspection template file default locations, more customizable grids, the ability to open SOLIDWORKS parts with 3D annotations, and lastly you have better VDA balloon control in your ballooned drawings.
SOLIDWORKS Inspection Add-In:
In SOLIDWORKS 2021 you can now go into your System Options and map your Inspection Project and Report templates to a location of your choice. You can also choose an Inspection Default Export Folder. These new options give you more freedom to save your custom-made templates in a location other than a core SOLIDWORKS file location and allows you to choose a default file location where you would like your inspection reports to save out to. See Figure 1 below.
VDA style inspection balloons are a lot easier to use than before. Now in SOLIDWORKS 2021 you can rotate a VDA style balloon while keeping the number in the balloon vertical and you also have the ability to adjust the font size in the VDA style balloon. See Figure 2 below.
SOLIDWORKS Inspection Standalone:
In a large drawing with many balloons, it may be difficult to quickly find a particular balloon. SOLIDWORKS Inspection standalone enables you to set up a grid on the drawing and allows you to extract drawing zone locations. The grid tool in SOLIDWORK 2021 has been enhanced to give you more freedom to customize your grids. You can now change the font style and size of zone markers. You also can also choose to display your grids as dashed lines which reduces interference with dimensions. Lastly, you now can adjust the column width and row height independently which helps users create inspection documents from legacy PDF files that might not have equal spaced columns and rows. See Figure 3 below.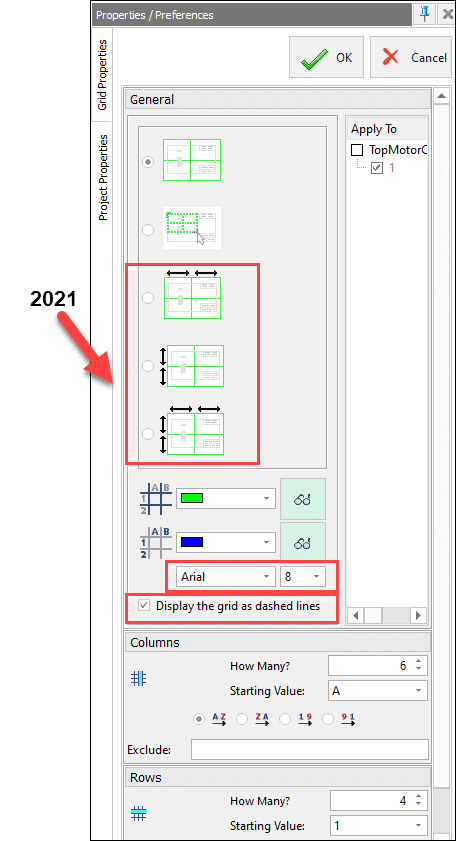 Fig. 3 Grid property differences
Lastly, in SOLIDWORKS 2021 Inspection Standalone you now have the ability to open SOLIDWORKS parts with 3D annotations attached to the part. With this ability you are able to read and extract 3D annotation information quickly to create First Article Inspection (FAI) report using the Smart Extract tool. See Figures 4 and 5 below.
I hope this part of the What's New series gives you a better understanding of the new features and functions of SOLIDWORKS 2021. Please check back to the CATI Blog as the CATI Application Engineers will continue to break down many of the new items in SOLIDWORKS 2021. All these articles will be stored in the category of "SOLIDWORKS What's New."
Nick Pusateri
Application Engineer
www.cati.com
What is DI Month? We're declaring October Design Innovation Month—again! It's a month-long series of special events focused on what's new in design and manufacturing technology. You'll learn about enhancements in SOLIDWORKS 2021 that deliver new capabilities for improved performance, streamlined workflows, and a connected design ecosystem. Find out what's new in 3D printing applications and 3D scanning to integrate into your design process.