SOLIDWORKS 2021 What's New – REDO Support for Part Features
Like many of you, if I can undo something in SOLIDWORKS, I want the ability to redo some of my functions that I did an undo on. We've all been there, we go to the drop-down list a pick a large list of things to undo, only to find out we went WAY too far. A redo will step us forward to the correct spot in time. Finally, in SOLIDWORKS 2021 the redo function is useful.
In the Past, the redo function was only available for sketches in part and assembly documents. Once you exited the sketch, the redo functionality was lost.
Now the redo command can reverse UNDO changes one at a time by clicking the icon or multiples at once by clicking the down arrow next to the redo arrow. Something to keep in mind, the redo function can undo 60 Features and commands in Parts that you have selected. So you can undo more than you can redo.
Quick Keys:
UNDO = Ctrl + Z
REDO = Ctrl + Y
Note: not all part commands support redo in SOLDIWORKS 2021. This list includes:
Annotations
Hole Features
Instand3D Modifications
Mold Tools
Sheet Metal
Weldments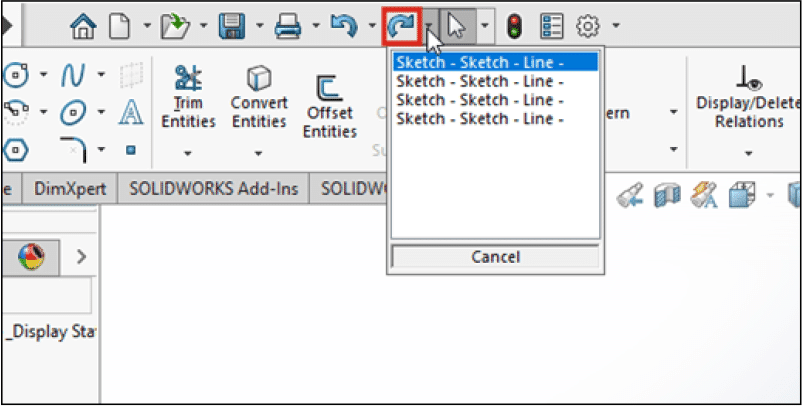 I hope this part of the What's New series gives you a better understanding of the new features and functions of SOLIDWORKS 2021. Please check back to the CATI Blog as the CATI Application Engineers will continue to break down many of the new items in SOLIDWORKS 2021. All these articles will be stored in the category of "SOLIDWORKS What's New."
Craig Maurer
Applications Engineer
www.cati.com
What is DI Month? We're declaring October Design Innovation Month—again! It's a month-long series of special events focused on what's new in design and manufacturing technology. You'll learn about enhancements in SOLIDWORKS 2021 that deliver new capabilities for improved performance, streamlined workflows, and a connected design ecosystem. Find out what's new in 3D printing applications and 3D scanning to integrate into your design process.