SOLIDWORKS 2022 What's New – Configuration Tables
SOLIDWORKS 2022 introduces new Configuration Tables that make managing configurations and their parameters much easier than before. If you look at the new Configuration Table and are thinking that they look familiar, you are correct.

In previous versions of SOLIDWORKS, a similar table was called the Modify Configuration dialog. There were very useful but had one big limitation. One must be diligent to "save the table" view or the table was lost. I cannot tell you how many times I lost a full table layout because I forgot to save the view. You can still use this older functionality but I don't think you will after using the new SOLIDWORKS 2022 Configuration Tables. While similar in appearance, these new tables greatly extend the previous functionality!
So, what makes these new tables so nice? They are automatically created when your part or assembly has more that one configuration. Every dimension, feature suppression state, material or property that are unique per configuration are in the table from the beginning.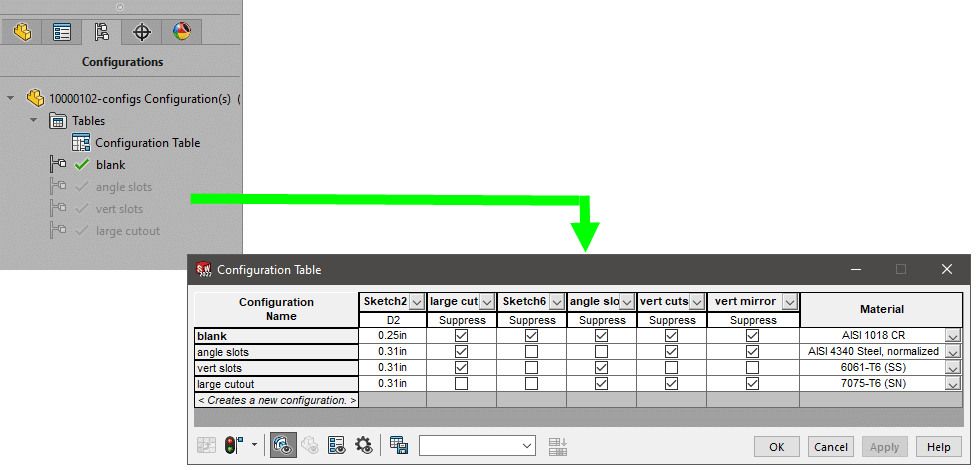 Besides the tables being automatically created, what else is new with Configuration Tables? Saving added parameters is much easer. New parameters are added by double clicking the feature or dimension in the FeatureManager tree. Once the parameter is modified, for example selecting suppress for Cut-Extrude1, those changes are automatically saved to the table. When new configuration names added to the table, they are automatically saved as well. Any change made is saved.

Buttons across the bottom hide and show different sections of the table to filter the information you are working with.

Hide/Show dimension values and suppressions
Hide/show Components states (assembly configuration tables)
Hide/Show Custom Properties
Hide/Show Configuration Parameters
While they share much of the functionality of the prior modify configuration dialog box, the new Configuration Tables are the automated upgrade we have wanted. Give them a try, I think you will appreciate the new functionality.
I hope this part of the What's New series gives you a better understanding of the new features and functions of SOLIDWORKS 2022. Please check back to the CATI Blog as the CATI Application Engineers will continue to break down many of the new items in SOLIDWORKS 2022. All these articles will be stored in the category of "SOLIDWORKS What's New."
Kris Dubuque
Application Engineer Manager
Computer Aided Technology
What is Design Innovation Month?
DESIGN INNOVATION MONTH 2021 – Webinars, Virtual Showroom, Contests
Design Innovation Month is CATI's massive "What's New in 2022" event for SOLIDWORKS, 3DEXPERIENCE, and 3D printing & 3D scanning technology.  That's six weeks of live and on-demand webinars, demonstrations, in-depth blog posts, and prizes!  Best of all, it's free of charge! Check the DI Month Hub for all the details and to sign up for your next event.