SOLIDWORKS 2023 What's New - Top Enhancements in Part Design
The part model is at the core of everything you do in SOLIDWORKS. As designs grow more complex, it's critical that you're able to create robust, manufacturable parts. SOLIDWORKS 2023 brings new enhancements in part design for hybrid modeling, equations, and more that'll help you work smarter to complete even your most challenging designs. If you'd prefer this info in video form, I've recorded that here:
Hybrid Modeling Part Design
SOLIDWORKS 2022 introduced a whole slew of hybrid modeling features. This allowed you to use standard SOLIDWORKS features to manipulate imported mesh BREP geometry from 3D scanners or other CAD software. SOLIDWORKS 2023 now adds many more features to that list, like Move Face, sweeps, and lofts.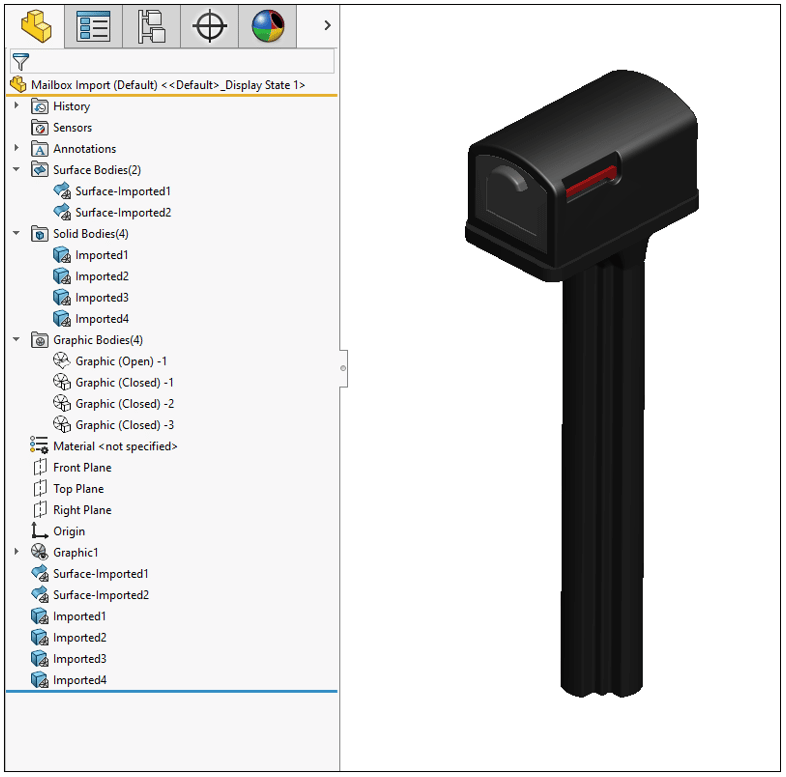 We want to expand the base of the mailbox shown above. It's an imported STL file, so we have to get creative. With these new developments in 2023, we can use the bottom face of the model directly as a loft profile—no extra sketches are needed. We can even create an exploded view using these mesh bodies. All this provides greater control and understanding for what have historically been pretty opaque and hard-to-manipulate files.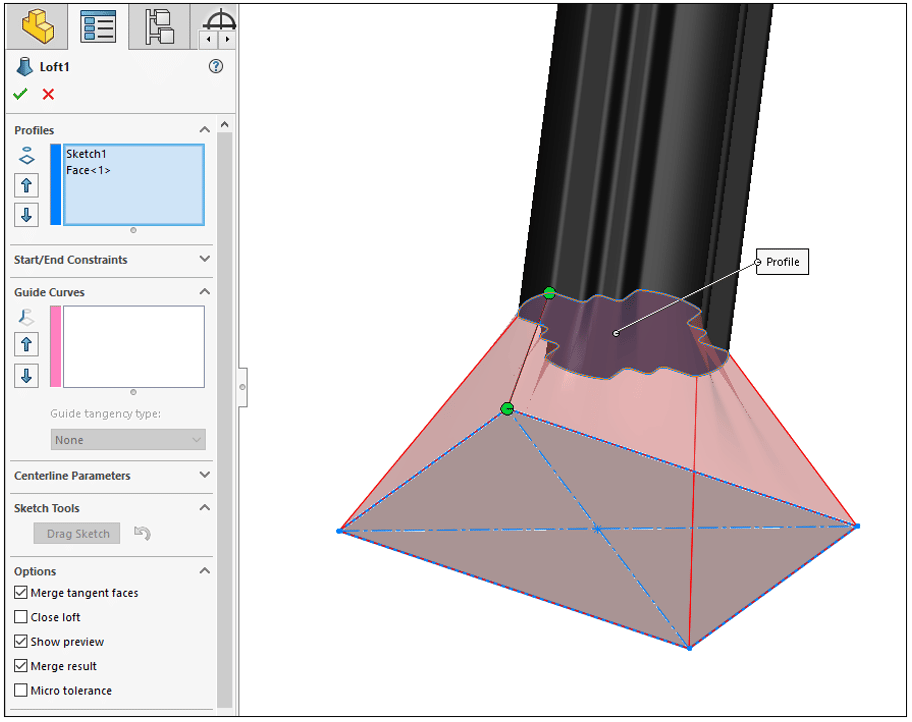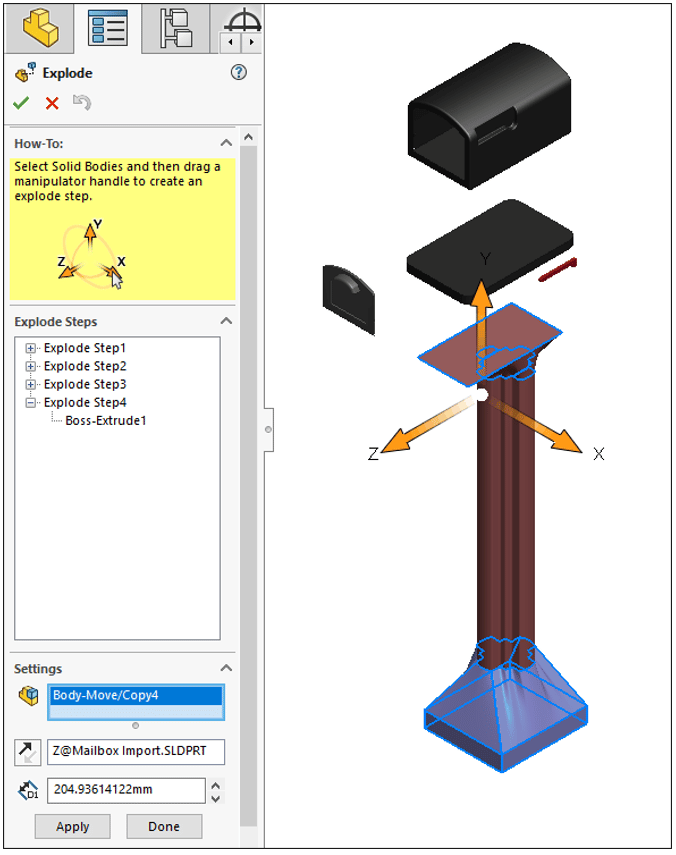 Coordinate Systems
Like hybrid modeling, coordinate systems got some attention in SOLIDWORKS 2022. SOLIDWORKS 2023 continues to develop our triaxial friends, letting you grab coordinate axes, planes, and origins for sketch relations, dimensions, mirror features, and other reference geometry. With these more versatile coordinate systems, you're able to locate geometry both precisely and efficiently, making your part design in SOLIDWORKS 2023 more accurate.
Move/Copy Body
Speaking of precisely locating geometry, the Move/Copy Body feature has a couple of big changes in SOLIDWORKS 2023. If you need to rotate a body, there's now an "Euler's angular rotation" option that lets you define the reorientation by its yaw, pitch, and roll. These fields also support equations and global variables so you can build ties to key parameters in the model. Additionally, if your model has multiple configurations, you can specify different values in different configurations, either through the PropertyManager or in a separate table.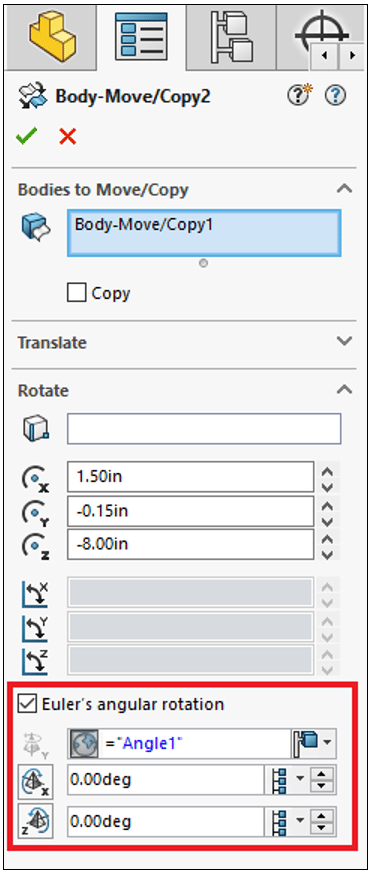 Note that translations in Move/Copy Body can also accept equations and be configured now. Building intelligence into your models like this is super helpful for maintaining design intent and keeping parts adaptable to future changes.
Defeature Your Parts
A great use for configurations is for simplified versions of parts. One of my favorite tools to reduce detail in a model is Defeature. Previously, the best you could do for parts was to save the defeatured model as a separate file. This could be problematic because it may not be clear which model you should use. Well not anymore! Coming in Service Pack 1 of SOLIDWORKS 2023, you'll be able to store that defeatured part as a derived configuration, just like you can do with assemblies. That'll make it way easier to quickly swap out the full part in an assembly for its lighter twin, ensuring you can get just the right level of detail in your design.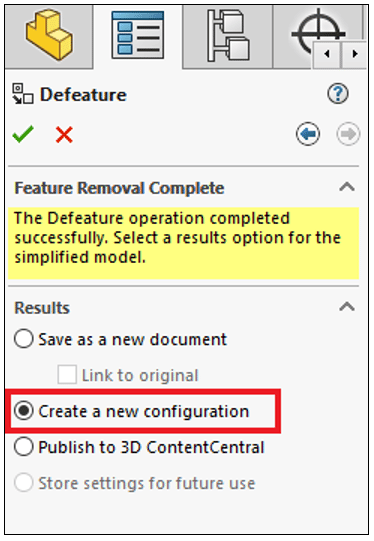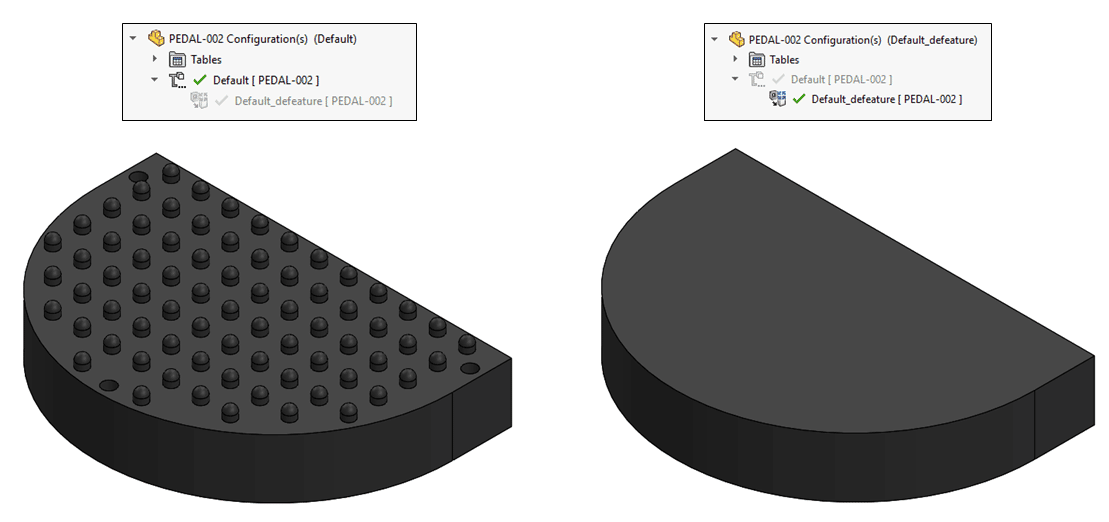 Wrap Text on Parts
Finally, the Wrap feature now supports the application of single-line fonts. These fonts, also called stick fonts, are perfect for engraving text onto your model. Simply add text to a sketch using a single-line font and activate the Scribe option for the Wrap feature. This generates edges on the scribed face, which can then be engraved on the physical part using a laser, a water jet, or other CNC equipment.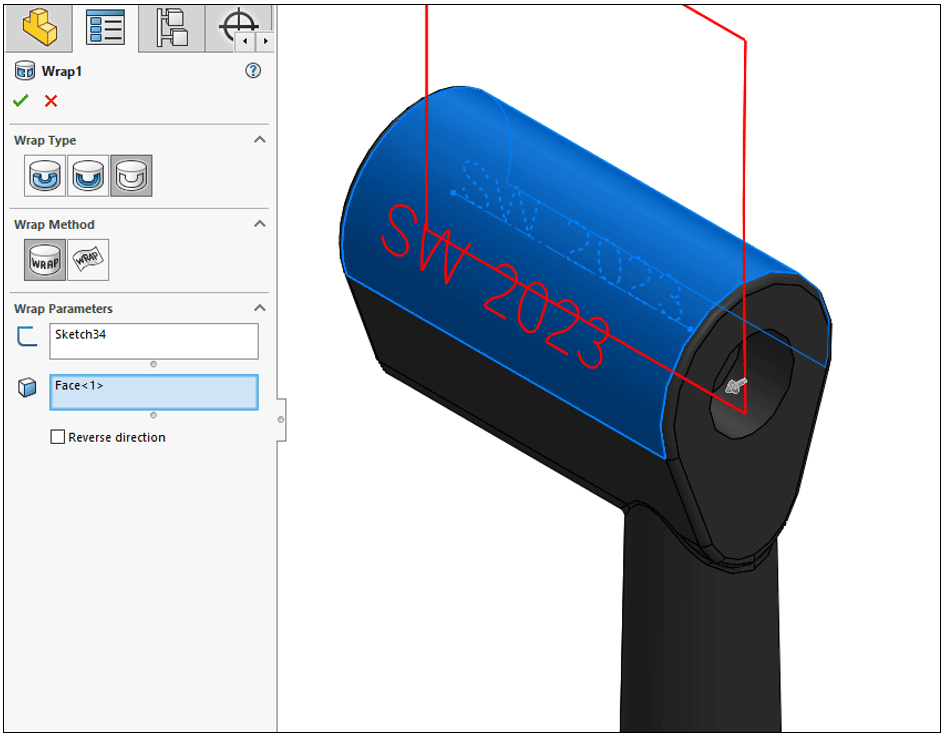 —————————————————————
As you can see, SOLIDWORKS 2023 expands a wide variety of part design capabilities, from detail reduction to text wrapping to hybrid mesh modeling. Whether you're working with native SOLIDWORKS data or not, you're sure to have an easier time generating robust, manufacturable parts.
I hope this part of the What's New series gives you a better understanding of the new features and functions of SOLIDWORKS 2023. Please check back to the CATI Blog as the CATI Application Engineers will continue to break down many of the new items in SOLIDWORKS 2023. All these articles will be stored in the category of "SOLIDWORKS What's New."
Anthony Sandri
Application Engineer
Computer Aided Technology
What is Design Innovation Month?
DESIGN INNOVATION MONTH 2022 – Live Events, Webinars, Virtual Showroom, Contests
Design Innovation Month is CATI's "What's New in 2023" event for SOLIDWORKS, 3DEXPERIENCE, and 3D Printing & 3D Scanning technology. This year we're going back to the future to bring you in-person events, live and on-demand webinars, demonstrations, in-depth blog posts, and prizes! Best of all, it's free of charge! Check the DI Month Hub for all the details and to sign up for your nearest live event.