SOLIDWORKS: Stop, Collaborate and Listen
In Part 1 of this blog series, we looked at Part Reviewer's capabilities and benefits for familiarizing yourself with another's design process. In Part 2 we will look at a useful tool to aid you in the editing process.
So, you inherit a file thinking you're just going to make a small change to one component or delete a no longer needed feature. Suddenly, your FeatureManager Design Tree is riddled with error messages. To avoid these editing mishaps, a deeper knowledge of feature relations is incredibly helpful. By enabling Dynamic Reference Visualization, you can quickly view all the Parent/Child relationships in your FeatureManager Design Tree. Parent feature means that other components are dependent on that feature. Child features are the features that are built upon an existing feature.
Dynamic Reference Visualization can be enabled by right-clicking at the top your FeatureManager DesignTree and then you can select:
Dynamic Reference Visualization (Parent) 


Dynamic Reference Visualization (Child) 


The picture below is a result of having both Parent and Child Visualization enabled. The arrows appear as you hover your cursor over each feature.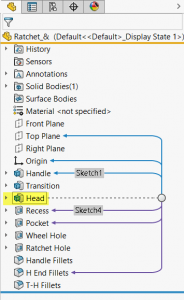 What does this tell you? Starting with the Parent relations we can gather:
Head feature is dependent on the Handle feature

The sketch used to create the

Handle

feature is named Sketch1

Handle feature is located on the Top Plane

Handle feature references the Origin
Now, looking at the Child relationships for the Head feature we can gather:
There are 3 Child relations

hips dependent on the Head feature

Child relationships show 2 extruded cuts

have been made to the Head feature

a

long with

1 applied

feature

The sketch used to create the Recess feature is named Sketch4
That is already quite a bit of information to take away from just enabling 1 tool but understanding what the information implies is where you're really going to avoid editing pitfalls. Below are some ways you can avoid errors based on our FeatureManager Design Tree example:
Cannot reorder Head feature above the Handle feature

or under a child feature

Cannot delete Handle feature without causing errors in Head feature

Cannot delete

the Head feature without causing errors in all the child features

Any edits made in a parent feature may affect all child features

Suppressing the Head feature will suppress all child features
Trying to reorder or delete Parent features will lose or break references and relations that were created in a specific order. The same principle applies to suppressing the Parent features.
Having Dynamic Reference Visualization enabled helps to make you more aware of the relationships between features. This way it will be visually easier to make edits and delete or suppress items. You can avoid having errors propagate throughout the FeatureManager Design Tree and have a better experience collaborating on parts and assemblies in SOLIDWORKS.
Sara Hollett
Application Engineer
Computer Aided Technology, Inc.