Preparing for SOLIDWORKS Workgroup PDM Retirement
If you use SOLIDWORKS Workgroup PDM to manage your product design files, the time to start planning your migration to either SOLIDWORKS PDM Professional or SOLIDWORKS PDM Standard is now. You are probably already aware that this juncture would come.
Dassault Systèmes SolidWorks Corporation gave ample time for customers to prepare for change when in the summer of 2015 it announced that it would phase out the aged product data management tool. SOLIDWORKS Workgroup PDM had reached the limit of what it could do with its architecture, the company said, along with advice that customers will be better served by migrating to either PDM Professional or PDM Standard.
Fast Forward to Now
Nearly a year and a half later, the timeline towards retirement grows shorter with each passing month. The last release of SOLIDWORKS Workgroup PDM will be in SOLIDWORKS 2017 and it will only be supported through 2018.
As the red arrow in the timeline below indicates, the window to migrate off of SOLIDWORKS Workgroup PDM is now, so that by the release of SOLIDWORKS 2018—around the corner really in 2017, you are already up and running in your SOLIDWORKS PDM Standard or SOLIDWORKS PDM Professional environment without interruption.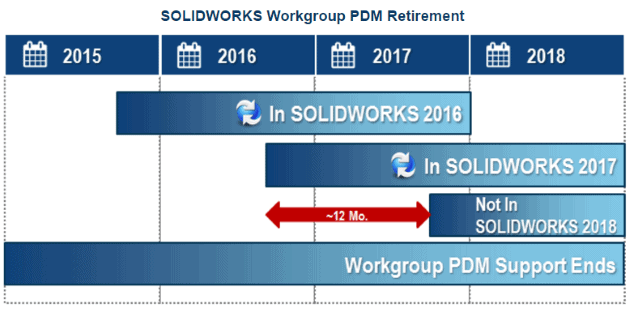 To keep the reminder front and center, information about the retirement of SOLIDWORKS Workgroup PDM is included in the installation splash screens of SOLIDWORKS 2016 and SOLIDWORKS 2017, as you can see in the images below: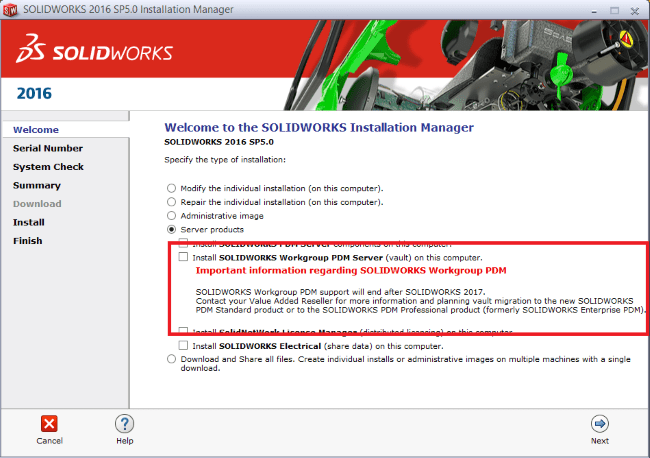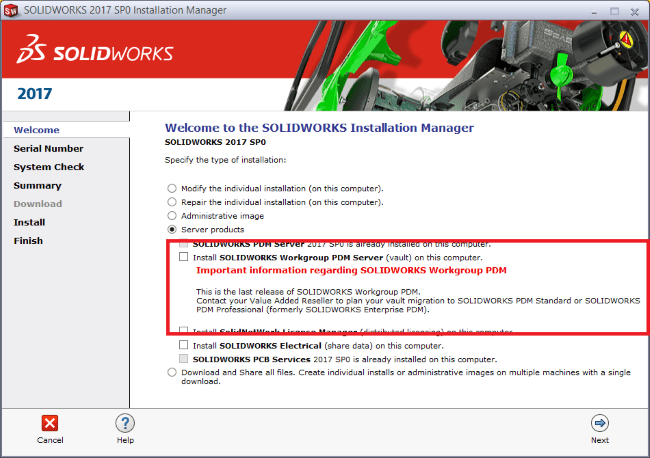 Your Next Step
Don't wait until the last minute to figure out if SOLIDWORKS PDM Standard or SOLIDWORKS PDM Professional is right for you. We have you covered—we have the tools and expertise to show you the difference between each PDM product and the experience with migrations to provide the most efficient and cost-effective transition process to get you up and running in your new PDM environment successfully.
Now you don't have to worry about the unknown. Let's discuss your product data management requirements and then take it from there.
Related Articles
Exploring SOLIDWORKS PDM Professional
Your Training Starts Here: Saying Goodbye to SOLIDWORKS Workgroup PDM
About the Author
Christa Prokos is a marketing manager at Fisher Unitech. She researches and writes about the latest business trends and technologies impacting manufacturers, including 3D printing, SOLIDWORKS 3D CAD design and product data management tools, product lifecycle management, virtual reality, and the Internet of Things. Christa has worked as a high tech marketing and communications professional since 2000. You can follow her on Twitter: @ChristaProkos.