Stratasys F120: A Conscious Choice for a Unique Industry
In 2019 and into 2020, it appears that Stratasys is making some big changes that the titan of the industry had previously overlooked. Starting with their DAP machine that I discussed previously, as well as their new SLA machine, Stratasys is working tirelessly to keep themselves on the cutting edge.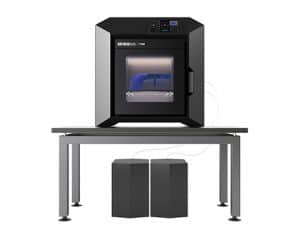 While not a massive departure in tonality nor completely revitalized, the Stratasys F120 fills a unique market and offers affordable, industry-grade printing for a larger demographic with a few key features that keeps the price of the system down while maintaining the high level of accuracy, repeat-ability, and consistency of its cousins in the 170, 270, and 370. It still uses the exact same high-performing ABS and ASA material, so you know you're getting the highest grade of material available from a trusted and consistent source.
Key stats:
Build Size: 10x10x10″
Material Options: ABS, ASA, SR-30 soluable support material
Material Delivery: 2 Large Coil Boxes, 200ci each located external to the printer
Accuracy: Parts are produced within an accuracy of +/- .200 mm (.008 in), or +/- .002 mm/mm (.002 in/in), whichever is greater.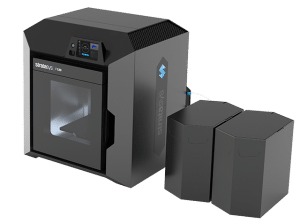 The machine also features GrabCad software just like its cousins and can simply be placed on a counter top while the material boxes sit below. The machine is very unique in that instead of mechanical material bays below the machine, the material is collected in large boxes that are able to hold more than two times the amount of a traditional spool. This results in less downtime between jobs and batches of jobs which means you can feel safe running this machine much longer. The material runs into the side of the machine via a small rubber dongle that contains the RFID chip, similar to Stratasys's other material bundles. Load times are extremely fast as well with the material reaching the head in a matter of seconds.
If you're looking for a more affordable option for your classroom, or a second machine to build up your additive manufacturing lab, we can help you answer any further questions about the Stratasys F120 you may have. Don't hesitate to reach out to us at CATI and we hope you have a great holiday season. See you all soon in 2020.
Robb Lauer
Application Engineer
Computer Aided Technology, LLC