Teaching Kids About 3D Printing and Robotics at BUILD IT by Pathway x Events
"How many FIRST robotics teams are there in Michigan?" Melissa Wilson asks a group of Ferndale Middle School students who are on a field trip at an event called BUILD IT: Construction! Without missing a beat she says, 520, and draws their attention to a group of kids behind her.
It's Ferndale High School's FIRST Team 1025—the Impi Warriors, an exhibitor at the BUILD IT event produced by Ferndale, MI-based Pathway x Events, an organization founded by Melissa Wilson and Sarah Cook.
Pathway x Events mission is to connect companies, schools, and families to industries in Michigan and the nation that are facing a talent and skills gap. Their goal is to expose middle and high school age youth to career paths through hands-on experiences and using a series of events and other outreach programs.
Melissa and Sarah's enthusiasm is contagious. With partners and sponsors spanning such industries as Construction, Manufacturing, Healthcare, Information Technology and Energy, the opportunity for Pathway x Events to spark interest and open career paths for youth is inevitable.
And they are just getting started. BUILD IT: Construction! held on March 20th was their first event and they couldn't have picked a more appropriate venue – a warehouse in Michigan's Pleasant Ridge Iron Ridge development. If you aren't familiar with Iron Ridge, this urban revitalization development is transforming 13 acres of vacant industrial sites into desirable business and living spaces — and ultimately into a vibrant community. Fisher Unitech's headquarters are in Iron Ridge.
Using robotics and 3D printing technology in skilled trades
When Fisher Unitech became a sponsor of Pathway x Events, Melissa introduced us to Vern Siple, a mentor of Ferndale High School's FIRST team. The Impi Warriors would exhibit next to us at the BUILD IT: Construction! Event. While their robot didn't directly apply to the building construction industry, they planned to make some connections through knowledge of pneumatics, hydraulics and low voltage control wiring, which are all skilled trades fields.
Fisher Unitech also planned to make the connection of using 3D CAD design and 3D printing technologies in skilled trades. We would bring a 3D printer as part of our interactive exhibit to show the kids' parts being 3D printed before their very eyes, as well as a whole table of intriguing examples that they could pick up and feel and discuss with us to learn how additive manufacturing methods with 3D printing are used in different industries.
What better way to show kids the connection between 3D printing and robotics than to print a part for the Impi Warriors robot. They could see the part in action every time the FIRST robotics team demonstrated the robot for the 8th graders at the event.
3D printing parts for Ferndale High School's FIRST team, the Impi Warriors
Impi Warriors mentor Vern, worked with Fisher Unitech 3D printing experts, manager Nick Licari and application engineer Dan Erickson, to get one of the robot's green wheels printed. In the image above, you can see how the green wheels are like hands on the robot to carry and throw the FIRST foam brick. By printing a wheel onsite in front of the 8th graders and showing the robot's wheels in action they could easily understand the application of 3D printed parts on a robot.
And it worked! About 200 8th graders attended the BUILD IT event and stopped by the Fisher Unitech exhibit to see what was going on inside the 3D printer and what the Impi Warriors robot could do at its exhibit next to us. Not only were they exposed to the connection between robotics and 3D printing, but they were exposed to FIRST Robotics.
Kids who get involved with FIRST Robotics gain first-hand experiences in the areas of science, technology, engineering, and math (STEM), and grow skills in teamwork, leadership and problem solving. They also have a lot of fun.
Impi Warriors team wages war on technological illiteracy through FIRST robotics
At the BUILD IT event, Ferndale High School members of the Impi Warriors FIRST team and Vern, were more than happy to show the 8th graders different processes they used to program, design and build their robot. And they demonstrated how the robot could carry and throw the FIRST foam brick, which they coined "ca-chunking".
The Impi Warriors team started in 2007 working out of an old woodshop room with very little knowledge of FIRST within their school and community. Now, in its eleventh year, they have spread the message of FIRST throughout their school district. As they put it, they are "forever working toward our mission as a team of waging a war on technological illiteracy through the use of FIRST robotics programs." They've also won a lot of awards at FIRST Robotics competitions over the year and at the time of the BUILD IT event ranked 9th in the top 10 out of 520 teams in Michigan. They like to say they've "ca-chunked" their way to the top, said Vern.
Each year, in addition to building a robot in six weeks for competition meets, the team fund-raises and releases PR information and newsletters. Students have the opportunity to work in CAD and animation software, perform demonstrations and Lego camps, and to learn programming and electronics. As a result of the team's success, Ferndale schools now offer after school coding classes, Kindergarten robotics day, and summer MarketFaires for kids in the community.
Back at the BUILD IT: Construction! event, I got to witness the Impi Warriors influence on the 8th graders. "What they do is really cool," a girl told me. She was holding one of their brochures they had set out on a table. The open curiosity in her face as she watched the kids demonstrating the robot epitomized Pathway x Events mission to introduce career paths to youth in Michigan.
"I'm going to do that," the girl said. "I'm going to get into robotics next year when I go to Ferndale High."
Image of Melissa Wilson and Sarah Cook courtesy of Pathway x Events.
FIRST Team 1025 Image courtesy of Impi Robotics.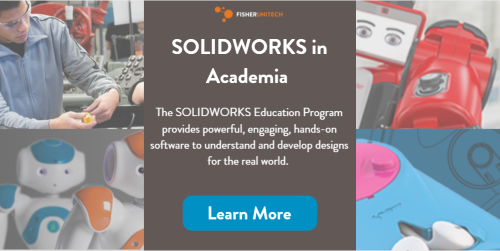 Related Articles
The Dundee Vi-Borgs Prepare for 2018 FIRST Robotics Competition
The ThunderChickens Use SOLIDWORKS and 3D Printing to Design Their FIRST Robotics Team Robot
About the Author

Christa Prokos is a marketing manager at Fisher Unitech. She researches and writes about the latest business trends and technologies impacting manufacturers, including 3D printing, SOLIDWORKS 3D CAD design and product data management tools, product lifecycle management, virtual reality, and the Internet of Things. Christa has worked as a high tech marketing and communications professional since 2000. You can follow her on Twitter: @ChristaProkos.