The ThunderChickens use SOLIDWORKS and 3D Printing to design their FIRST Robotics Team Robot
On July 14th and 15th First Robotics Indiana Robotics Invitational (IRI), took place just outside of Indianapolis, IN. This event is an off season competition of the best performing team in the FIRST Robotics Competition (FRC), from around the world. Each team was hand picked from those that applied for their outstanding robot performance during the official FRC season.
First Robotics is an organization dedicated to inspiring students to participate in STEM and STEAM related fields. FIRST offers competition levels for elementary through high school students, in the form of Junior FIRST Lego League (Jr. FLL), FIRST Lego League (FLL), FIRST Tech Challenge (FTC), and FIRST Robotics Competition (FRC). These are broken down into elementary, middle, and high school level competitions.
My involvement in FIRST
I've been involved with FIRST for 14 years, from watching my sibling take part when I was still in a stroller to taking part in both FLL and FRC. FIRST has become part of my everyday life. I was part of Team 217, the ThunderChickens throughout my four years in high school, serving as pit crew chief for all four years and lead of design for three years. After graduating, I returned as a design mentor for the team and have been teaching the students how to apply SOLIDWORKS and 3D printing to robotics.
ThunderChickens
The ThunderChickens are an FRC team out of Sterling Heights, Michigan, and consists of high school students from Utica Community Schools. The team was founded in 1998 and next season will mark our 20th year. Each year FIRST releases a new challenge at the beginning of January, and the teams are given six weeks to go from concepts to complete Robot. Having partaken in this, I can tell you it is no small task. Moving from concepts through prototyping, design, fabrication, wiring, and programming in just six weeks can cause for some late nights, great laughs, and a lot of hard work.
With a complex challenge these students are bright and creative to overcome it. Trying countless ideas, working to make each design work flawlessly, these students are truly dedicated. But even the most dedicated and creative of students become overwhelmed from time to time. Luckily mentors are on always ready to help guide the students and give them advice and teach them valuable lesson.
Using SOLIDWORKS to design a robot
ThunderChickens is divided into departments that specialize in certain aspects of the robot such as mechanical, electrical, and programming. The group that I mentor is the design team. The design team is typically one or two dedicated students that are interested in learning how to use a Computer Aided Design software (CAD), to make a 3D model of the robot. This group is responsible for designing how the robot is going to be made and assembled based on the prototypes that the team decides on.
To prepare the students for the season we require the new students to take an entry level SOLIDWORKS 3D CAD course to teach them the basics of the program and how to use it. Fisher Unitech has been involved with the team by providing an instructor for the course over the past few year, and has had a tremendous impact of the students.
Last year Dan Erickson came to teach the students after their school days for a week and did and amazing job, teaching both new and returning students tips and tricks while designing in SOLIDWORKS. This is a extremely valuable resource that the students can take with them for the rest of their lives.
Once the students learn how to design in SOLIDWORKS, it's time to create a robot from scratch. When designing the robot, the students tend to use sheet metal features, weldments, and assemblies for a majority of their work. Luckily companies like Vex Robotics provide CAD data for common motors and transmissions that they sell so we don't have to replicate existing parts. The majority of the work comes down to designing the frame of the robot, any assemblies that interact with game pieces, how everything will package in the given volume, and making sure to keep all the weight restrictions and rules in mind. It's a tough balancing act that takes a lot of careful planning and a few iterations.
Thanks to SOLIDWORKS we can produce complex parts and efficient assemblies digitally before we ever committed anything to metal, saving us valuable time and material. Once the design is complete it's time to create a parts list, send out the sheet metal to be cut and bent, machine axles and shafts, and cut tubing and channel to length.
FDM 3D Printing
Each year it seems that we inevitably end up with some idea that seems too crazy to be produced or have a part that needs a one-off custom part. Trying to do these by mill or lathe often would take too long for or be too costly for the team. Luckily we have access to FDM 3D printers, and it has opened up a new world of design and fabrication potential to us. Being able to redesign simple parts such as encoder brackets or complex prototypes is such a great help to the team.
In past almost the entire structure of the robot was aluminum sheet metal and axles and steel gears and chains. Now with 3D printed parts, simple pieces such as encoder brackets are now easily customizable and lighter than before. Before, our encoders were limited to being held on by sheet metal plates with hex standoffs, but now we are able to create more compact and uniquely shaped mounts that better fit the robot. Each year we find more and more uses for 3D printed parts such as mounts of air tanks, electrical mounts, spacers, and timing belt pulleys.
Having 3D printing available to the team has also been a great inspiration for the students. It allows them to think of ideas more freely knowing that complex designs can be produced. Even students that tend not to work on the robot, or have never seen a 3D printer have shown interest. Our public relations team was ecstatic to learn how to use a 3D Printer and to print keychains and giveaways for competitions.
Learn More
SOLIDWORKS in academia bridges the gap between ideas and technology for educators, students and researchers. Are you interested in using SOLIDWORKS in your school?
Related Articles
The Camobots FIRST Robotics Team Climbs, Catches, and Overcomes Obstacles in 2017
Steampunks, STEAMworks, and SOLIDWORKS in the FIRST Robotics Competition
Dundee FIRST Robotics Team Goes From Concept to Competition with SOLIDWORKS
Like what you see?

About the Author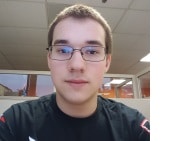 Ryan Henigan is the Thunderchickens FIRST Robotics team design mentor and alumni out of Sterling Heights, MI. He was lead design for three years while on the team and a pit crew lead for four years. Currently he is a sophomore at Lawrence Technological University studying mechanical engineering with heavy interests in 3D printing.