What's New 2017: SOLIDWORKS Electrical | Super Parts – #SW2017
SOLIDWORKS Electrical: Super Parts
With the release of SOLIDWORKS 2017, several enhancements of the software have been created. This includes the development of new features in SOLIDWORKS Electrical 2017. Of the many new features, one of these enhancements is the introduction of super parts. Often times when developing in SOLIDWORKS Electrical, we come across manufactured parts that require several auxiliary parts. This means during our design, we need to add these extra parts to our components to ensure that they will exist on our automated bill of materials. Although there are methods to expedite this selection process, we found that this process felt too manual for our users. So, in SOLIDWORKS Electrical 2017, we've created a way to bundle these parts together! Now, when you define a manufacture part, you can select to define a super part instead.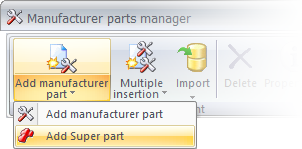 These super parts are a collection of all parts needed in your design. For example, let's say we're designing with a MIL SPEC CONNECTOR and that part needs to be ordered with several auxiliary parts.

Instead of selecting each part individually, we can have the super part contain all parts needed. This allows us to design with this component without worrying if we added the correct number of auxiliary parts!
I hope this part of the What's New series gives you a better understanding of the new features and functions of SOLIDWORKS 2017. Please check back to the CATI Blog as the CATI and MCAD Support Teams will continue to break down many of the new items in SOLIDWORKS 2017. All of these articles will be stored in the category of "SOLIDWORKS What's New." You can also learn more about SOLIDWORKS 2017 by clicking on the image below to register for one of CATI's or CATI's Design Summits.
Brian Do
Applications Engineer, Electrical
Computer Aided Technology