What's New in SOLIDWORKS Simulation 2018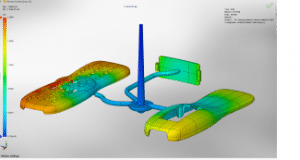 There are so many new features and enhancements in SOLIDWORKS 2018 that we're excited about. Our "What's New" blog series takes you through the entire what's new in SOLIDWORKS 2018 portfolio. In this blog, we will be covering some of the great new features in the SOLIDWORKS Simulation 2018 portfolio.
Do you want a demonstration? I hosted an in-depth webcast on the newest release of SOLIDWORKS Simulation 2018 covering solutions from stress/deflection, electromagnetics, topology optimization, injection molding scenarios, casting simulation, and more. Let's get started!
Who has access to SOLIDWORKS Simulation 2018?
SOLIDWORKS Simulation 2018 is available in a variety of SOLIDWORKS CAD packages ranging from
– SOLIDWORKS Premium
– SOLIDWORKS Simulation Standard
– SOLIDWORKS Simulation Professional and
– SOLIDWORKS Simulation Premium
The features I'll further discuss in this blog will be across all packages of SOLIDWORKS Simulation and will be explicitly called out when discussed.

What are the top enhancements for SOLIDWORKS Simulation 2018?
SOLIDWORKS 2018 released many new exciting features for SOLIDWORKS Simulation 2018. In this blog, I'll be discussing what I feel are the most significant upgrades in the latest release.
Topology study
New to SOLIDWORKS Simulation 2018 is the ability to create a topology study. This feature is available within SOLIDWORKS Simulation Professional and SOLIDWORKS Simulation Premium. A topology study performs nonparametric topology optimization of parts. In previous versions of SOLIDWORKS Simulation, users could only utilize parametric optimization. Now in SOLIDWORKS Simulation 2018, users will have access to both topology and parametric optimization methods.
Topology studies work by minimizing mass through a designated domain and criteria. Starting with a maximum design space (which represents the maximum allowed size for a component) and considering all applied loads, fixtures, and manufacturing constraints, the topology optimization seeks a new material layout, within the boundaries of the maximum allowed geometry, by redistributing the material. The optimized component satisfies all the required mechanical and manufacturing requirements.
For example, you can optimize the part of a pulley as shown in the image below in blue. The parts of the pulley shown in blue are pieces of material that could be removed while still maintaining the structural integrity of the overall pulley.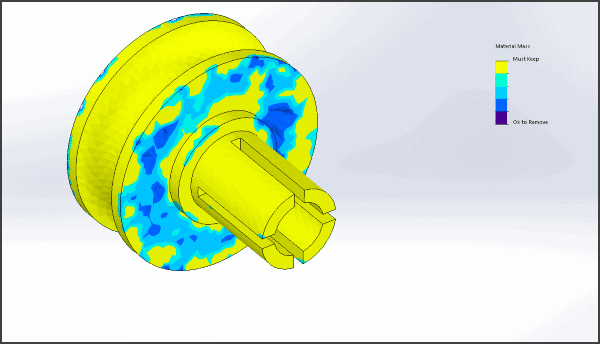 Email notification for completed analyses
Now in SOLIDWORKS Simulation 2018, users have the ability to set up a notification for simulation studies that are running. Users will be now able to obtain notification of a simulation run if it completes or fails due to numerical difficulties. This feature is available across all SOLIDWORKS Simulation licenses.
The method of setting up the notification is very easy. Simply go the the SOLIDWORKS Simulation "Options" menu, then go to the email notification to set up where notifications can be sent. It should also be noted that if a study has numerical difficulties and cannot finish, that it will still send an email notification to the user.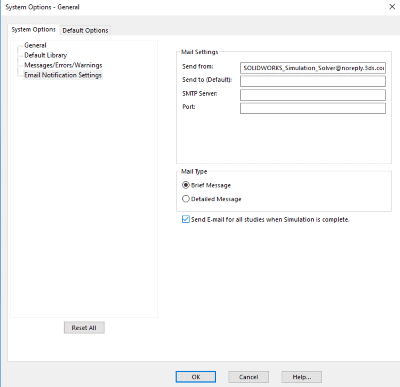 Improved pin connector
In SOLIDWORKS Simulation 2018, users can now define a pin connector through more than two cylindrical surfaces in one pin connector definition. An improved user interface allows the definition of a single pin connector applied to multiple cylindrical faces (maximum ten). Select all coaxial cylindrical surfaces that are attached to the pin in a single selection box.
For example, for the two models shown below, you can define two pins (one for each model) to connect the two rotating parts and the six cylinders of a hinged plate.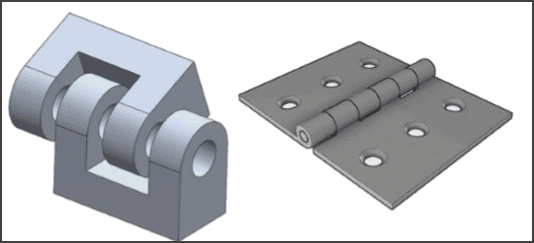 Import Simulation study features into assemblies
When creating a new static study, users can now copy simulation features defined on a part of sub-assembly document into the new study created on an assembly document. The simulation features users can now import are:
– Material
– Element types
– Contact
– Connectors
– Fixtures
– Loads
– Mesh control definitions from static studies
Users can also import all simulation features or select which features to import into the new assembly study.
Create a results plot from imported data
Now in SOLIDWORKS Simulation 2018, users can create simulation results plots by importing data from an external file. Previously, you would have to do a pack and go and load a CWR file to import results. Now, users can import an input file that can be either a text *.txt file or a comma/space delimited *csv file. The current mesh of the active study and the mesh form which the imported results are derived must be identical.
See SOLIDWORKS Simulation 2018 in action
As I stated above, the enhancements discussed in this blog are only brief descriptions. I explained more depth on all of the above features in my webinar.
Related Articles
'Tis the Season to Get Your End-of-Year SOLIDWORKS Discount
Top 10 CAD Enhancements in SOLIDWORKS 2018
About the Author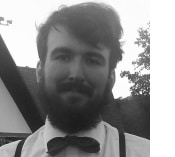 Drew Buchanan earned a BS in Mechanical Engineering from the University of Pittsburgh, and a MS in Mechanical Engineering from Villanova University. He has been working with Computer-Aided Engineering (CAE) tools since the mid-2000s when he was an engineering coop with Siemens Power Generation. Upon graduation, Drew worked in the Energy industry for six years working as a design and analysis engineer for design and analysis applications. He joined Fisher Unitech in 2015.