Where is the SOLIDWORKS Command That Lets Me Do…
A common lament among new SOLIDWORKS users, and especially of those coming to SOLIDWORKS from another 3D CAD platform, is "Where is the command that lets me do…" You know the action you want to perform but you can't remember where the command icon is located to let that happen.
SOLIDWORKS has a search tool for just such questions and coincidently it's called "Search Commands". In this blog, I'm going to give you a quick tip on where you can find this tool, how to use it, and how to keep it handy for further use.
The Search Command can be found in the upper right corner of the View area: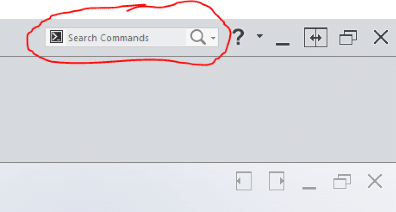 Let's say for example you're looking for the Center of Mass icon. Left click inside the rectangular window of the Search Commands tool and begin to type the words Center of Mass.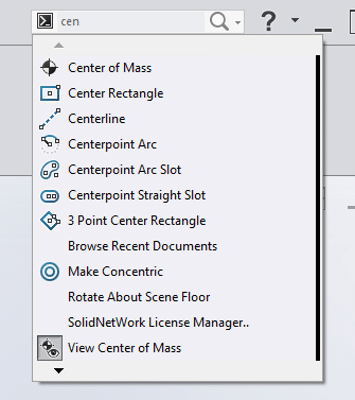 As you begin typing, SOLIDWORKS begins searching for commands containing the same letters.
If you Left Click on the image of the Eye, SOLIDWORKS will open any and all windows and drop downs to show you where the command is located. If you don't move your cursor, when it arrives at the command location, SOLIDWORKS creates a bright red arrow showing the location and places your cursor on the command.

If you simply wish to execute the command, in this case find the Center of Mass in my model, left click on the text.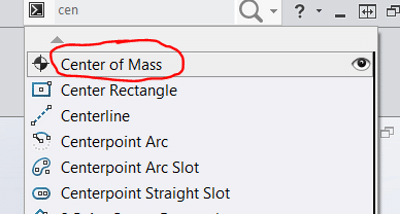 Finally, if you'd like to add the icon to your Toolbar, in this example the Center of Mass, left click on the icon itself and hold the left button down then drag the icon to your toolbar before lifting your finger off the left mouse button.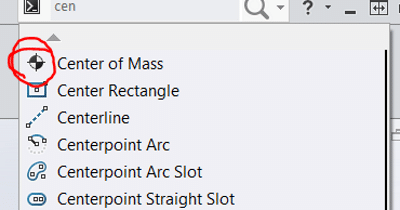 I hope you found this quick tip helpful. You can find more tips and tricks listed below.
More tips & tricks
SOLIDWORKS Network Licensing: Installing/Upgrading the SOLIDWORKS SolidNetWork License Manager on the Server
How to Utilize the SOLIDWORKS Customer Portal
Setting Parts Colored and Opaque When Editing in SOLIDWORKS
Don't forget to subscribe
About the Author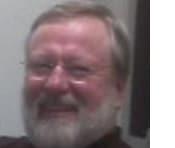 Paul Kutolowski joined Fisher Unitech in 2008 and is a SOLIDWORKS expert and Application Engineer. His career as a mechanical engineer spans over 38 years with experience in machine and product design for both consumer and industrial products. Paul holds two patents.