Autodesk Inventor Users: It's Now Much Easier to Switch to SOLIDWORKS
If you've ever tried importing third-party 3D CAD data into your native 3D CAD software, you've probably most commonly associated this process with one word: pain. Your 3D CAD platform of choice has many disparate features that come together to present you with the interfaces you associate with terms like "Creo files," "Inventor files," and so on. This includes the modeling kernel in use, the information set, and versioning concerns.
About four years ago, I presented at a SOLIDWORKS User Group on a topic I titled, "Imported Geometry: The Dirty Laundry of CAD." Back then, third-party CAD data was exactly that. No one wanted to deal with it. It made the process of switching to a new 3D CAD system a painful process. Until now. I presented a webcast on how easy it is today to "Convert Autodesk Inventor CAD Data to SOLIDWORKS." In this blog, I cover why but be sure to view my recoreded webcast to see how easy it is to use native Inventor files right in SOLIDWORKS today.
Using Autodesk Inventor 3D CAD data in SOLIDWORKS – better than ever
The presentation I gave on imported geometry almost a half decade ago was fine (well, some people clapped!), but the methods I was forced to use to integrate the imported geometry was, at best, hacky and kludgy.
I did my best to show how you could use the Import Diagnostics tool to diagnose topological issues on the model at import. While this was informative, it was undoubtedly underscored by the inconvenient truth that most people in the room felt all of this should "just work better."
Using Autodesk Inventor in our example, one used to have to go through a rather arduous process if they desired to import raw geometric data (and nothing more) into SOLIDWORKS prior to the 2017 release. This process typically went as follows:
– Ensure that Inventor or Inventor Viewer is installed on the client PC.
– Attempt to normally open the Inventor part and/or assembly inside of SOLIDWORKS 3D CAD.
– Frankly, hope the translation worked properly, and that you didn't run into an issue at a geometric or software translation-specific level that would be difficult to diagnose.
As a Senior SOLIDWORKS Support Engineer, I ran into my fair share of these types of cases over the years, so I certainly speak from experience. This process… wasn't great.
What happened in SOLIDWORKS 2017 and SOLIDWORKS 2018, and why Autodesk Inventor users should care
With the release of SOLIDWORKS 2017, SOLIDWORKS introduced a groundbreaking technology called SOLIDWORKS 3D Interconnect. This utility was made available to every SOLIDWORKS user, which, for Autodesk Inventor users, practically eliminated the need for the following:
– You no longer needed Inventor/Inventor Viewer installed on client PCs to attempt to open .ipt and/or .iam files inside of SOLIDWORKS 3D CAD.
– Translation errors became much more infrequent (more on this later, as we get into the specifics of what SOLIDWORKS 3D Interconnect does for us).
– The need to re-import data if/when changes were made in Inventor to the native CAD media practically disappeared in a single release.
In SOLIDWORKS 2018, in addition to performance improvements, there was extra functionality added for Autodesk Inventor files. SOLIDWORKS 3D Interconnect can read custom properties, metadata, or user-defined attributes from Inventor CAD files and map them to the custom properties of SOLIDWORKS 2018. It can also read unconsumed sketches or curve data.
How does SOLIDWORKS 3D Interconnect make working with Autodesk Inventor files easier?

SOLIDWORKS 3D Interconnect works to automatically establish and maintain a closer, dynamic linkage to Inventor files when they are opened inside of SOLIDWORKS.
In the past, as with most 3D CAD software packages, when non-native files like Inventor files are opened, SOLIDWORKS used to basically import the geometric data into its own modeling environment (i.e. a SOLIDWORKS part or assembly file) while severing any real relationship to the source CAD media.
While this was nice, this would often result in model translation issues that were hard to get around unless tools like Import Diagnostics were able to fix them. If not, if you needed/wanted to fix the errors, you'd probably need to try your hand at this manually with direct editing and/or surface modeling techniques.
With SOLIDWORKS 3D Interconnect, the SOLIDWORKS part and/or assembly environment merely acts as a holder for the directly linked .ipt and/or .iam file. There is no real need to "translate" this data into the SOLIDWORKS modeling kernel, and any changes that are made inside of Inventor to this file will automatically be shown in SOLIDWORKS.
Last but not least, these changes can and will be shown in any environment these parts/assemblies are featured in within SOLIDWORKS. This means that even Inventor files, using SOLIDWORKS 3D Interconnect, will dynamically update in the assemblies or drawings they are featured in within SOLIDWORKS.
Recorded Webcast: Converting Autodesk Inventor CAD Data to SOLIDWORKS
During this 30 minute webcast, SOLIDWORKS expert Sean O'Neill demonstrates how the 3D Interconnect tool in SOLIDWORKS allows you to work natively with your Autodesk Inventor data right in SOLIDWORKS, avoid costly data translation, and more.
Related Articles
eBook Reveals How to Successfully Implement a New 3D CAD System
What's New in SOLIDWORKS 2018 3D Interconnect
Jon Hirschtick Talks Platform Shifts and Online Security
About the Author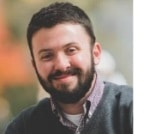 Sean O'Neill is a Senior Support Engineer at Fisher Unitech. He is a Certified SOLIDWORKS Expert (CSWE), a SOLIDWORKS World Presenter, and a former SOLIDWORKS VAR Marketing Manager. You can follow him on Twitter: @ServicePackSean