What's New Series - SOLIDWORKS 2018 3D Interconnect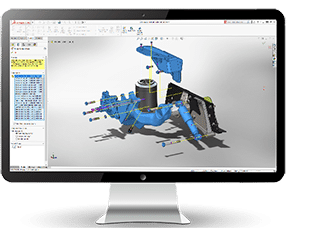 There are so many great new capabilities in SOLIDWORKS 2018 to cover. In this blog we highlight what's new in SOLIDWORKS 2018 3D Interconnect.
When 3D Interconnect was introduced in the new SOLIDWORKS release last year, users could now collaborate with customers and suppliers regardless of CAD tools.
SOLIDWORKS 3D Interconnect made it possible to open third-party CAD files from design tools such as Siemens NX, SolidEdge, CATIA, Autodesk Inventor, PTC Creo, etc. directly in SOLIDWORKS and use them the same as native SOLIDWORKS files. SOLIDWORKS 2018 3D Interconnect has even more capabilities for viewing, editing and manipulating third-party CAD files.
SOLIDWORKS 2018 3D Interconnect enhancements include import of neutral file formats
There are several new enhancements to the versatile 3D Interconnect capabilities in SOLIDWORKS 2018. The first thing you will notice is support for neutral file formats. These include STEP, IGES, ACIS and JT file formats.
The files no longer need to be translated and instead can be simply inserted into your SOLIDWORKS assemblies and used like other components. This works the same way native 3rd party CAD files can with 3D Interconnect.
These neutral files will recognize when the files are changed or replaced. And like native third-party CAD files, they can be easily updated without the need for deleting and re-importing the files. However, neutral files do not support the same intelligent face ID mapping that native third-party files do.
Third-party CAD file reference geometry supported in SOLIDWORKS 2018 3D Interconnect
Other new enhancements take your third-party CAD files further, including support for reference geometry. Reference planes are useful for mating and useful as sketch planes. Likewise, unconsumed sketches can be used just like SOLIDWORKS sketches enabling you to reference and create features from these files created outside of SOLIDWORKS. This will allow you to do more with existing files from other 3D CAD design tools eliminating the need for time consuming migration of data.
SOLIDWORKS 2018 3D Interconnect reads custom properties from third-party CAD files
Custom properties are now supported for legacy third-party CAD files. Either opening a third-party file or inserting it directly into an assembly. This means that your bill of materials and drawings can now automatically read and populate themselves using the information previously defined in their native 3D CAD design tool.

SOLIDWORKS 2018 3D Interconnect continues to allow you to leverage third-party CAD design data from whatever source you like without compromising on capabilities. For more information on what's new in SOLIDWORKS 2018 check out the articles below and visit your SOLIDWORKS 2018 resource center.

Related Articles
Introducing SOLIDWORKS CAM 2018 – What's New in SOLIDWORKS 2018 Series

Top 10 CAD Enhancements in SOLIDWORKS 2018

What's New in SOLIDWORKS 2018

About the Author

Christa Prokos is a marketing manager at Fisher Unitech. She researches and writes about the latest business trends and technologies impacting manufacturers, including 3D printing, SOLIDWORKS 3D CAD design and product data management tools, product lifecycle management, virtual reality, and the Internet of Things. Christa has worked as a high tech marketing and communications professional since 2000. You can follow her on Twitter: @ChristaProkos.