How to Pick the Right Product Data Management (PDM) Solution For Your Company
Have you ever heard the phrase, "you get what you pay for?" Although the connotation can be limited, it's important to know when it's true – especially when it comes to software tools for your business. Companies who want to scale and remain profitable need to know when the benefits outweigh the costs and how to make the right investments for their long-term growth.
We've mentioned before that not using a PDM solution at all can result in longer cycle times, lost or inaccessible data, and much higher costs. A study by the Aberdeen Group found that PDM users saw a 15% decrease in development time, and were able to reuse data 10% more than non-PDM users. Even businesses who initially hesitated to adopt PDM due to worries over cost and setup have found PDM to be a cost-effective timesaver for their employees.
When it comes to asking the right question, then, it isn't about WHY you should be using PDM software – it's about WHICH PDM software you should use. Picking data management software, like any tool, is about finding the best fit for your particular company. The PDM tool you ultimately decide on should provide the functionality you need while still being cost-effective; unfortunately, many companies take a shortsighted view when it comes to software selection. Be sure to consider all of your options (as well as your PDM strategy) before making a choice.
SOLIDWORKS PDM Standard vs SOLIDWORKS PDM Professional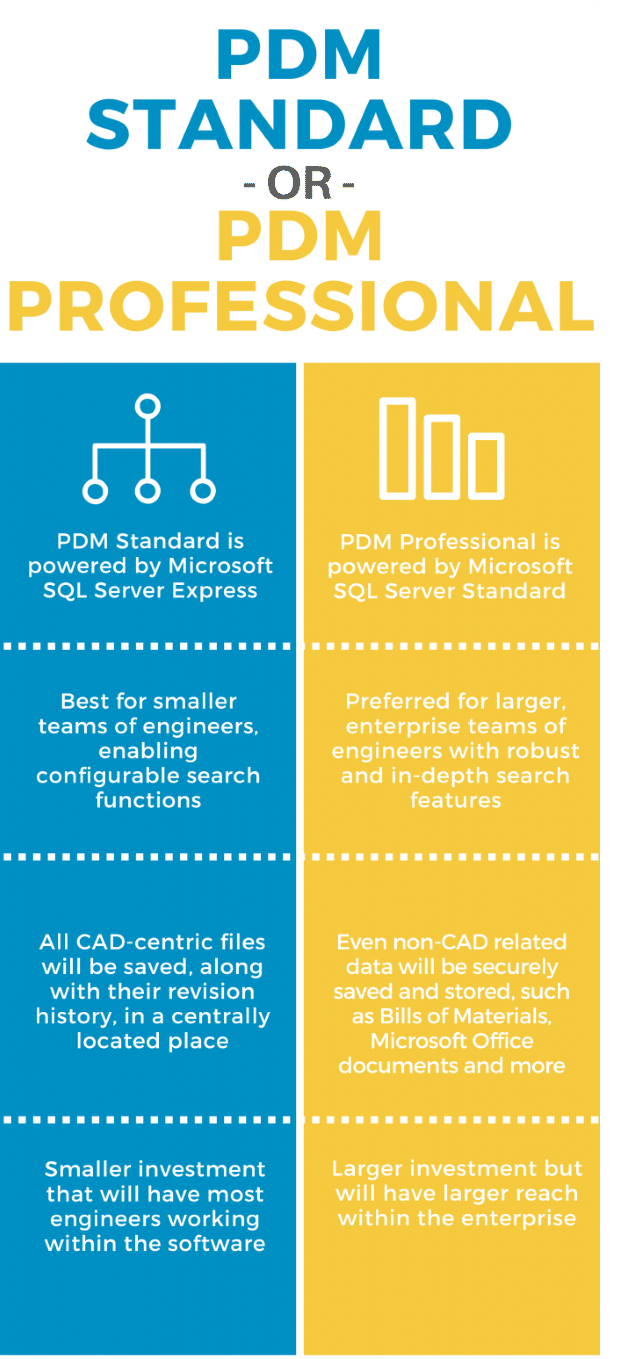 Companies buying PDM software often stick with the simplest solution. SOLIDWORKS PDM Standard has been included in the SOLIDWORKS Professional and SOLIDWORKS Premium licenses since 2016 and offers an easy-to-use interface, secure file management, and collaboration capabilities. This makes it a great choice for smaller workgroup environments in a single location who can get away with bare bone capabilities, or who might not otherwise be able to afford PDM software.
Unfortunately, many growing companies are also settling for PDM Standard when they should be using Professional – and that could be hurting their bottom line. Although SOLIDWORKS PDM Standard handles the basics well, a company looking to grow in size and profitability will need a more robust PDM solution that can handle its changing demands. Even if you believe SOLIDWORKS PDM Standard will "do for now," it's best to have a long-term vision and strategy when it comes to managing your data.
– Does your company plan on acquiring another company in the future?
– Are you opening multiple locations?
– Are you working across state lines or country borders?
– Why about simply scaling up the number of projects you're working on?
If you answered yes to any of these questions, SOLIDWORKS PDM Professional is your most efficient and cost-effective solution.
Why SOLIDWORKS PDM Professional?
SOLIDWORKS PDM Professional is well-equipped to handle the evolving demands of a growing company by offering a number of extended capabilities not available with PDM Standard, and these can be crucial when it comes time to grow. Unlike PDM Standard, PDM Professional offers scalability and custom configurations, allowing you to tailor your software to your unique company structure without sacrificing speed or efficiency. This adaptability is crucial for companies who want to keep processes moving as smoothly as possible as they grow – with PDM Professional, they don't have to worry about switching software or upgrading because they ran out of capabilities.
Likewise, PDM Professional is important for companies with multiple locations, especially if they operate in more than one country. SOLIDWORKS PDM Professional supports both remote access and document/drawing vault replication over a WAN, making current design information immediately available worldwide. Granting data access to different personnel around the globe gives your employees more flexibility when it comes to how and when they do their work, and although research is still being done, studies are indicating that flexible work programs can help employees be more productive. It also makes logistics much simpler by limiting geography's impact on the workflow.
Because of this, SOLIDWORKS PDM Professional will ultimately save you more money than SOLIDWORKS PDM Standard because its additional capabilities lend themselves to more efficient processes (and employees). Companies that are growing or looking to grow will be able to better configure their systems to work well with their current and future structures while utilizing features that reduce friction for employees. Skimping on a PDM system will only lead to eventual barriers that will force you to build workarounds or scramble to upgrade – it's better to buy now and not have to worry later.
Related Articles
What's New Series – SOLIDWORKS PDM 2018
Don't let Mismanaged Product Data Hold You Back
Quick Lesson on the Value of Product Data Management
About the Author

Christa Prokos is a marketing manager at Fisher Unitech. She researches and writes about the latest business trends and technologies impacting manufacturers, including 3D printing, SOLIDWORKS 3D CAD design and product data management tools, product lifecycle management, virtual reality, and the Internet of Things. Christa has worked as a high tech marketing and communications professional since 2000.