What's New Series - SOLIDWORKS PDM 2018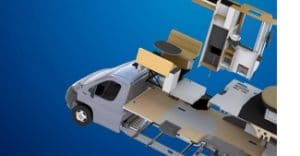 Today in our blog series about what's new in SOLIDWORKS 2018 we're covering SOLIDWORKS PDM 2018. If you're not familiar with SOLIDWORKS PDM, it's product data management software used by organizations large and small to improve product development collaboration and automate workflows.
New features in SOLIDWORKS PDM 2018 include design branching and merging, which will help users improve the process of handling various design change scenarios such as engineering change requests, working with external vendors, and more.
How SOLIDWORKS PDM 2018 branch and merge tools work
Exploring new ideas is an important way to refine a design, and now with the new branch and merge capabilities in SOLIDWORKS PDM 2018, this task is a breeze. Regardless of its release state, your parts, assemblies or drawings can be branched and their structure reorganized. The destination folder can be defined as well as a prefix or suffix for the file name and individual files can be included or excluded from the branch. The branch file is identical to its source.
Branching an existing file structure is similar to Copy Tree, but SOLIDWORKS PDM 2018 maintains the history of source files and branched files. This means that you can create new versions of the source files from the modified versions of branched files, regardless of whether they have been moved or renamed.
The video above shows a demonstration of creating and defining multiple design branches and merging the preferred design back into one. SOLIDWORKS PDM 2018 will recognize the source file and merge it as a new version even if it is renamed or moved. When the assembly is opened you can see that the refined design is in place. Error-prone copy, change and overwrite techniques are no longer needed now with the new branch and merge tool at your fingertips.
Branch, merge and revision table capabilities with SOLIDWORKS PDM 2018
Tracking design changes is often done with revision tables. Now the revision table has a direct integration with SOLIDWORKS PDM. As a new revision is added, the revision number is indicated with an asterisk. That is because this change has not been approved and the revision number is controlled by SOLIDWORKS PDM. Comments can be added to the revision table, but the approved field remains blank.
When the drawing is checked-in all information is extracted from the drawing including the information from the revision table. After the approval process is complete, the workflow transition sets the revision number and the approver and updates all fields on the drawing. The revision callouts and the title block are all up to date.
Check out this article by Fisher Unitech SOLIDWORKS expert, Sean O'Neill, for more information about how best to use design branching and merging capabilities now in SOLIDWORKS PDM 2018.

Related Articles
What's New in SOLIDWORKS 2018 – SOLIDWORKS Manage
Top 10 CAD Enhancements in SOLIDWORKS 2018
About the Author

Christa Prokos is a marketing manager at Fisher Unitech. She researches and writes about the latest business trends and technologies impacting manufacturers, including 3D printing, SOLIDWORKS 3D CAD design and product data management tools, product lifecycle management, virtual reality, and the Internet of Things. Christa has worked as a high tech marketing and communications professional since 2000. You can follow her on Twitter: @ChristaProkos.