Benefits of SOLIDWORKS Simulation Standard
As the SOLIDWORKS Simulation Product Specialist at Fisher Unitech, I generally blog about tips and tricks using our analysis tools. Today's blog covers one of the biggest engineering crimes that I witness these days: Trying to make your engineering problem fit the tools that you have, rather than using the right tool for the job.
Many engineers recognize the power and value of simulation but are limited to SOLIDWORKS Simulation Xpress only. As long as we understand and recognize the Xpress tools' limited capabilities and use them correctly, there's no harm in using them. However, Simulation Xpress is limited by the number of bodies, interactions between the bodies and how we hold onto them. It does not fit every problem. The problem is that many users that use the Xpress tools may not realize what they were overlooking. To help our customers use better tools more wisely, Fisher Unitech is offering some great training and software incentives based around Simulation Standard.
Contact analysis in Simulation Standard. A square peg in a round hole.
SOLIDWORKS Simulation Standard offers a very cost effective solution to this problem. The Simulation Standard package includes the most widely used solvers for most industries—from automotive and aerospace to machine design and packaging.
Motion analysis is used to predict motion, forces and overall system behavior. Motion studies are often run prior to finite element analysis (FEA) to understand loading.
Linear static FEA helps engineers understand the strength and deflection of assemblies under static loading. Simulation Standard includes a whole complement of contacts and connectors to create realistic analysis models, as well as specific element types for sheet metal and weldment structures for efficient analysis. Once we have run our analysis Simulation Standard includes factor of safety check plots to help us review our stress and connector results more quickly and accurately.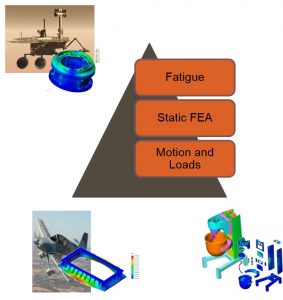 Fatigue: Simulation Standard includes a high cycle fatigue solver. What this means is that we can quantify the life of a part based on combinations of applied stress cycles, "we didn't bend the part but when will it crack?" These are full featured solvers that do not have the limitations of Simulation Xpress. Direct integration means we can run design studies using our CAD parameters as variables. This means we can set the model up once and try out multiple variations with little added effort. Lastly, Simulation Standard includes the trend trackerwhich tracks key metrics as you make design changes to help you understand the effects of your design changes.
If you are shopping for a new SOLIDWORKS CAD seat and tired of trying to shoehorn your problems into an Xpress tool, this is a great time to get the right tool for the job: Simulation Standard
I created this quick five minute video to give you an overview of Simulation Standard. You can also watch our recent recorded webinar, "Simulation, Which Package is Right for You?" for more information. Happy simulating!
Related Articles:
About the Author:
David Roccaforte earned a BS and MS in Mechanical Engineering from the University of Michigan-Dearborn. He has been working with Computer-Aided Engineering (CAE) tools since the mid-1990s when he was an engineering coop and later a product engineer with Automotive System Laboratory. Seeing the value that CAE brings to the engineering process inspired him to concentrate on CAE during his graduate studies. While finishing his graduate studies, he worked for Mechanical Dynamics as an engineering intern running vehicle dynamics analysis.
After finishing his graduate studies, David worked in the automotive Industry as an Engineering Analyst with Karmann Technical Development supporting the design of convertible roof systems for North American OEM's. From there Roccaforte joined MSC Software, one of the top companies in engineering simulation, where he worked as a Senior Application Engineer until he joined Fisher Unitech in 2010.