SOLIDWORKS 2017 What's New: SOLIDWORKS Electrical 3D Assemblies – #SW2017
SOLIDWORKS Electrical 3D Assemblies
New to SOLIDWORKS 2017 Schematic is the ability for users to associate existing (external) SOLIDWORKS assembly files to the project or locations needed. We no longer have to create a brand new assembly file with some random number just to work with SW Electrical (Read my previous blog here). We can simply point to an existing assembly.
The SOLIDWORKS cabinet layout tool in the Process tab is renamed to SOLIDWORKS assembly.
This is particularly important for existing customers who already have a specific naming scheme that cannot be changed. Users of PDM particularly will find this a great enhancement as this fits into their file creation and naming workflows.
When users now associate external assemblies, the application creates a shortcut to the assembly in the document tree, the SOLIDWORKS Electrical project folder, and the SOLIDWORKS assembly dialog box. These shortcuts let you maintain company folder structures or naming workflows. The associated files are not copied to the project folder.
To associate external SOLIDWORKS assemblies:
Click the Process tab and click SOLIDWORKS assembly.
In the dialog box, in Select existing file, select the assembly to add to the project. A shortcut is created in the document tree and project folder.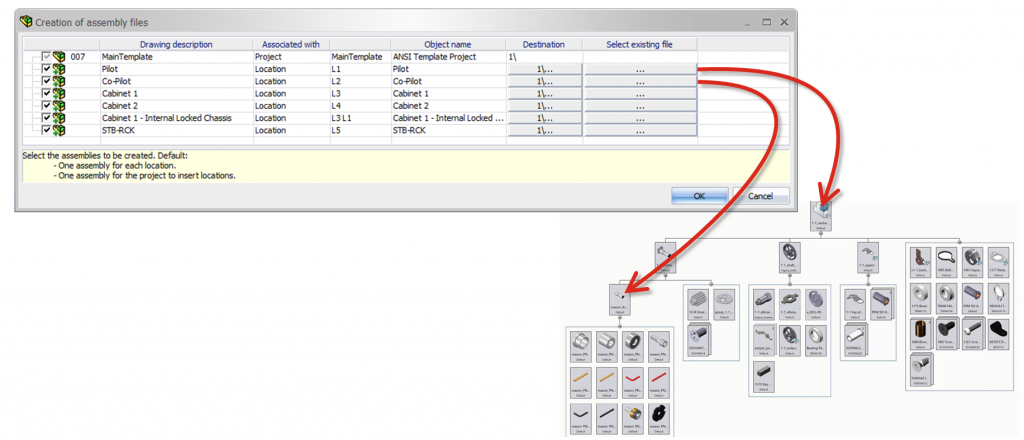 Now it is time to start routing wires!
I hope this part of the What's New series gives you a better understanding of the new features and functions of SOLIDWORKS 2017. Please check back to the CATI Blog as the CATI and MCAD Support Teams will continue to break down many of the new items in SOLIDWORKS 2017. All of these articles will be stored in the category of "SOLIDWORKS What's New." You can also learn more about SOLIDWORKS 2017 by clicking on the image below to register for one of CATI's or CATI's Design Summits.
Corey Kubichka
Electrical Product Manager
Computer Aided Technology