SOLIDWORKS 2021 What's New – SOLIDWORK CAM


All the new features I talk about in this article are available in 2021 SOLIDWORKS CAM Standard and Pro. Along with all license packages of CAMWorks 2021 as well.
Additional Stock Types Available in Stock Manager
Before SOLIDWORKS CAM 2021, there was not an easy way to define stock as a cylindrical shape for programming mill parts. Now in SOLIDWORKS CAM 2021, you can easily define the stock material by the part Bounding Box by a cylindrical shape for mill parts in the Stock Manager. This new round stock definition feature is available when programming mill parts in a part file or in an assembly file.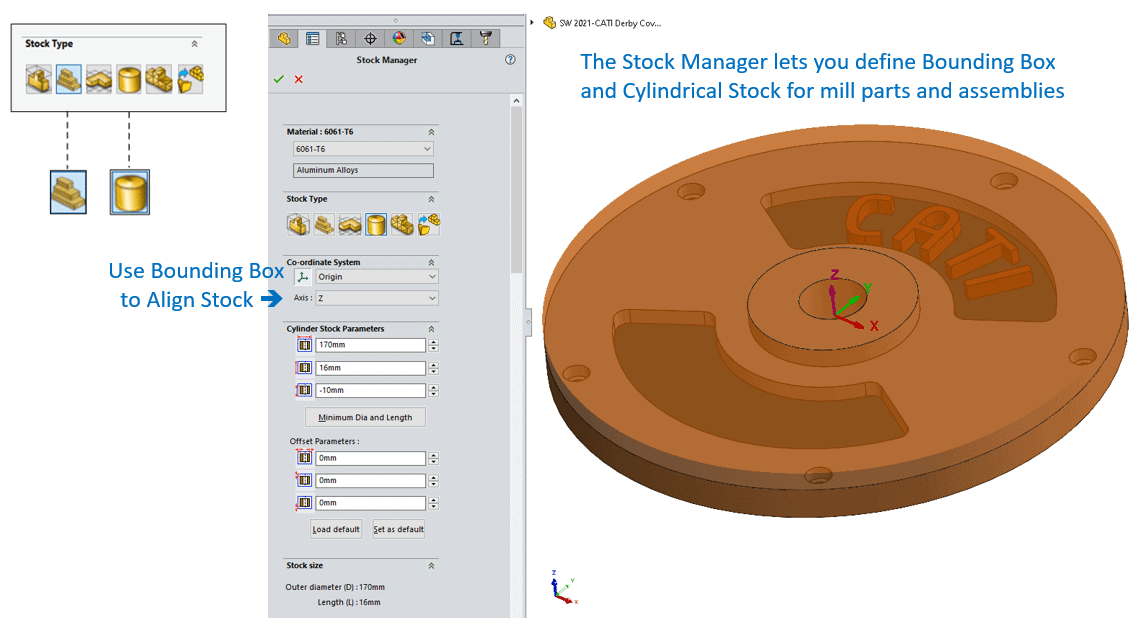 Easily adjust your round stock shape by based on the part bounding box by an alignment as it relates to the SOLIDWORKS file's coordinate system (corner triad).
Now in SOLIDWORKS CAM 2021 you can quickly create and access standard stock sizes based on unique material types which can be stored in your SOLIDWORKS CAM Technology Database (TechDB).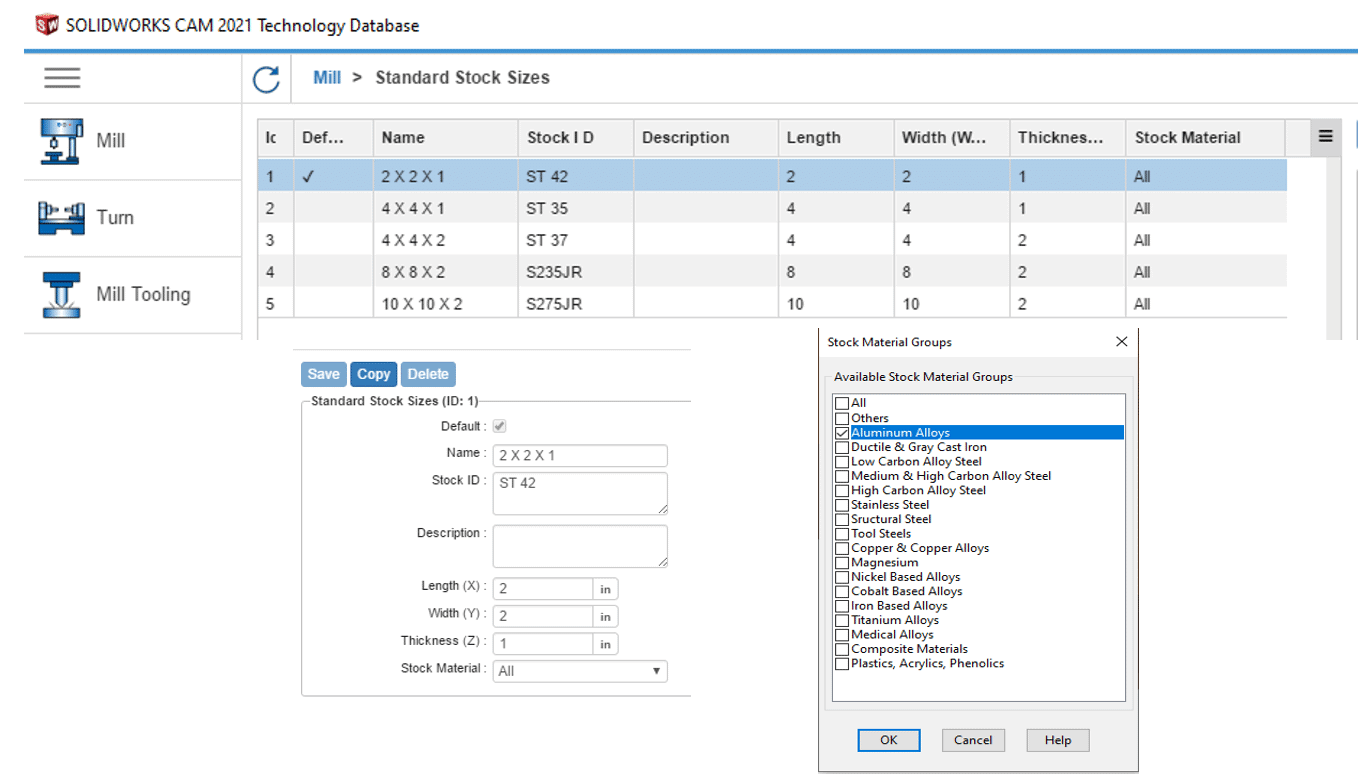 You will be amazed with the ease and enhanced control for defining your cylindrical stock parameters with the ability to define the following parameters cylinder length, center axis, origin, diameter, and cylinder offsets.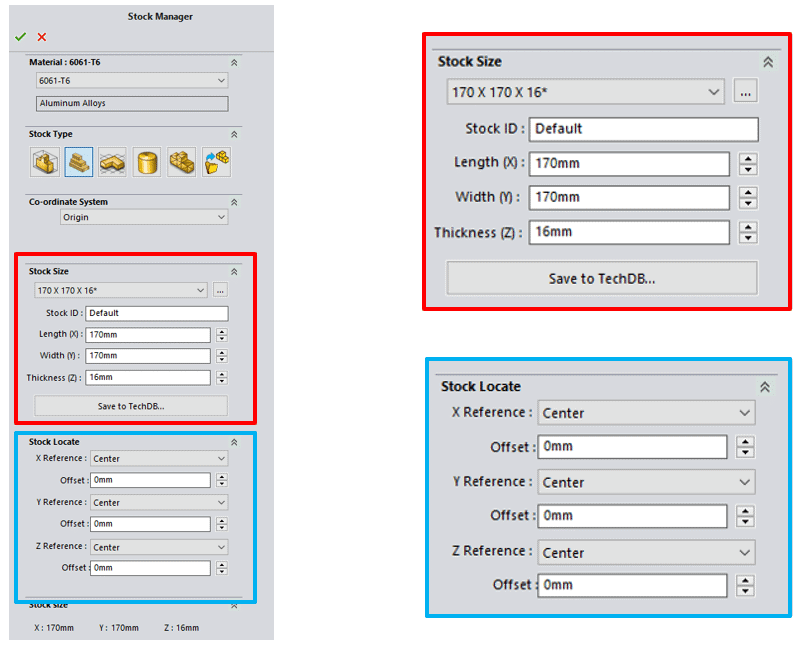 Rebuild Data When Stock Parameters are Modified
If you change any of the following entities, such as coordinate systems, mill part setups, features, and operations you get a dialog prompt to rebuild these items. Prior to 2021, there was not an option to turn on or off a prompt on rebuild for when you modify stock parameters after generating features, options, or toolpaths, a warning lets you rebuild data for entities affected by the change. If you decide not to rebuild, exclamation marks appear over the entities' icons in the CAM Feature Tree and Operations Tree. To find out what trouble is, you need to RMB click on the item in the CAM Tree and select 'What's Wrong' in the context menu so you can rebuild the CAM data.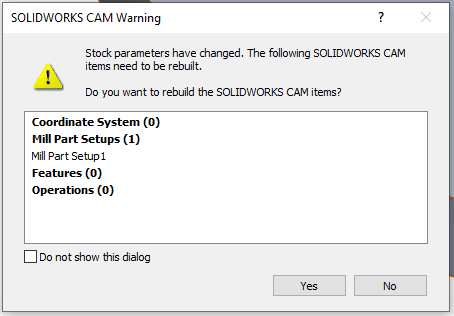 This warning message is enabled by default in the SOLIDWORKS CAM Options dialog box, under the Update tab and under 'Prompt to Rebuild', uncheck 'On stock parameters modification'.

End Conditions for Part Perimeter Feature
You can store end condition settings for the part perimeter feature in the Technology Database. This data is helpful in automating and maintaining consistency between parts that are similar when programming.

Modify Path to Post Processors in the Technology Database

Defining Peck Amounts for Point-to-Point Operations
You can define peck amounts for point-to-point operations as a percentage of the diameter or the flute length of a tool, as well as an absolute value.
I hope this part of the What's New series gives you a better understanding of the new features and functions of SOLIDWORKS 2021. Please check back to the CATI Blog as the CATI Application Engineers will continue to break down many of the new items in SOLIDWORKS 2021. All these articles will be stored in the category of "SOLIDWORKS What's New."
Don Glaske
CAM Product Manager
www.cati.com
What is DI Month? We're declaring October Design Innovation Month—again! It's a month-long series of special events focused on what's new in design and manufacturing technology. You'll learn about enhancements in SOLIDWORKS 2021 that deliver new capabilities for improved performance, streamlined workflows, and a connected design ecosystem. Find out what's new in 3D printing applications and 3D scanning to integrate into your design process.