SOLIDWORKS 2021 What's New – SOLIDWORKS Composer Display Enhancements
SOLIDWORKS Composer 2021 introduces new settings which give users more display options within the Composer environment. We now have document level control over displaying hidden edges for both Highlighting and Selecting geometry actors. Let's take a look at these new settings and how they'll help us while using SOLIDWORKS Composer
These new settings are in: File, Properties, Document Properties or Default Document Properties and Selection.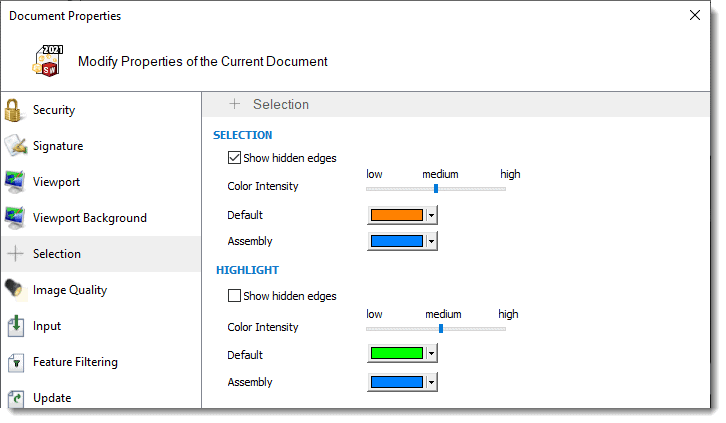 We can individually control the visibility and the intensity with the slider, for static selection and dynamic highlighting. Below, I have a few screens of how changing these settings effect the display in the Composer graphics window.
First are the default settings: Show hidden edges is enabled and Color Intensity around medium. This setting really shows the internal details but may overwhelm the image if there are too many hidden edges to show. Even at a medium intensity, the selected component is bright orange.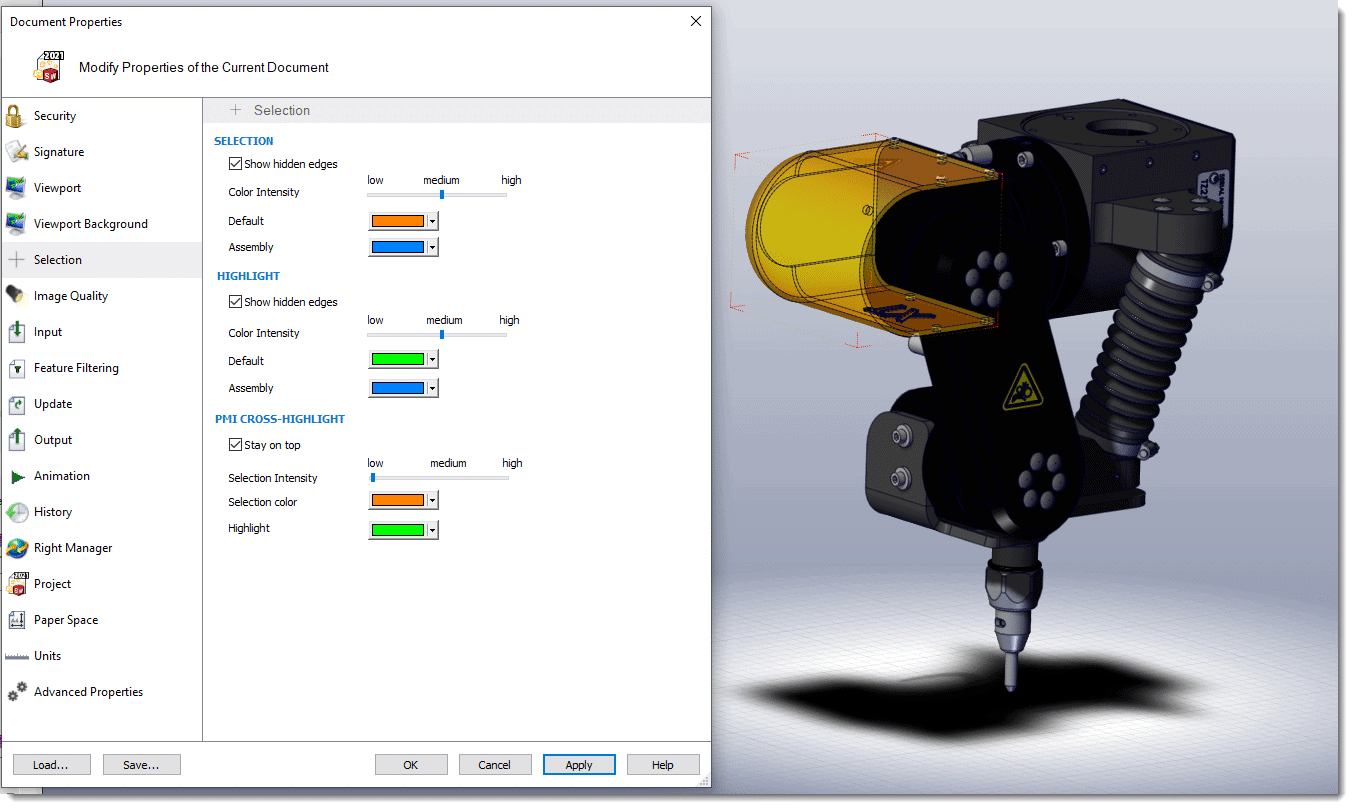 In this next example, I turned off the display of hidden edges and you can really see the different in the image. The selected part is still bright orange but lacking a bit of depth without the hidden edges.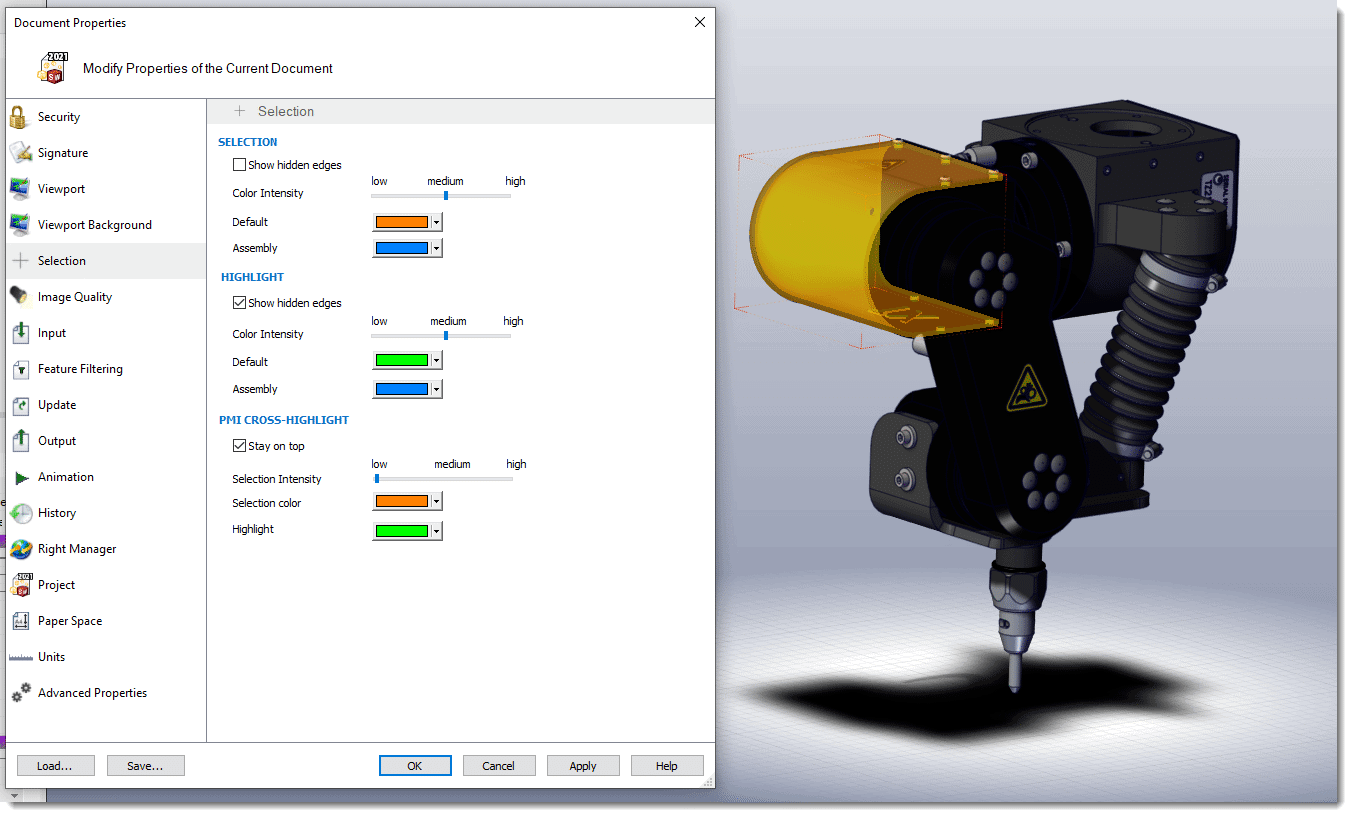 In the final image, show hidden edges is enabled and the Color Intensity slider is much lower. As a result, there is very little of the orange color on the selected component.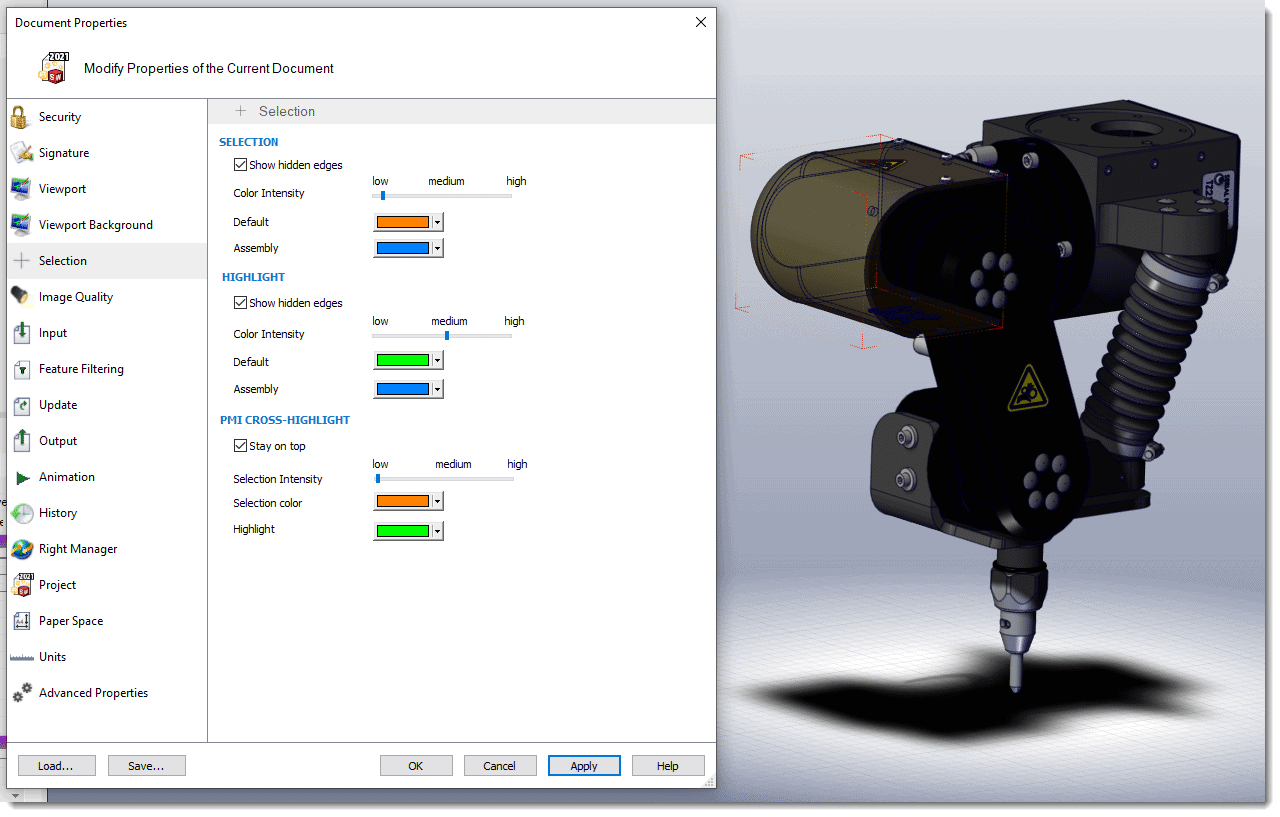 The settings for component Highlight will behave in the same manner as shown for the new Selection settings. Here is an example with Show hidden edges enabled and Color Intensity low.
Give these new settings a try and find a combination that works for you. Because these settings are now included with the Document Properties, each Composer document can have individual settings that work best for that document.
And now for an extra Composer 2021 enhancement. The setting in the Document Properties can be save and shared with all Composer user in your organization. This is going to make standardizing settings a piece of cake. These new options are "hiding" in each of the previous images of the Document Properties.

Simply save the settings file as a Profile (.docPropSet) and you are good to go.
I hope this part of the What's New series gives you a better understanding of the new features and functions of SOLIDWORKS 2021. Please check back to the CATI Blog as the CATI Application Engineers will continue to break down many of the new items in SOLIDWORKS 2021. All these articles will be stored in the category of "SOLIDWORKS What's New."
Kris Dubuque
Managing Application Engineer
www.cati.com
What is DI Month? We're declaring October Design Innovation Month—again! It's a month-long series of special events focused on what's new in design and manufacturing technology. You'll learn about enhancements in SOLIDWORKS 2021 that deliver new capabilities for improved performance, streamlined workflows, and a connected design ecosystem. Find out what's new in 3D printing applications and 3D scanning to integrate into your design process.