SOLIDWORKS Simulation 2019: Nonlinear Pins & Topology Study
Simulation studies usually begin with a static study set up but they often need to move into non-linear studies. New for SOLIDWORKS Simulation 2019, static studies with contact and connectors can be copied or dragged and dropped into nonlinear and dynamic studies.
All the connectors in contact sets come across and can be edited. In addition, pin connectors can now have up to ten faces inside of nonlinear studies similar to how they are in linear studies today. Now, when we move to our results, we have new options for these nonlinear pins to see the forces at each segment along the pin helping to save you a ton of time in generating reports and understanding the assemblies behavior.
SOLIDWORKS Simulation 2019 Topology Study
Whether optimizing existing designs to cut weight or quickly gaining insights on new projects, SOLIDWORKS Simulation 2019 topology study offers designers many new options to speed the development of highly optimized products. Many designs have constraints beyond stiffness and weight. Design failure from frequency response is a very common issue. Topology study in SOLIDWORKS Simulation 2019 includes a frequency constraint to ensure the resulting topology will meet your designs vibration requirements.
Users can specify a single or multiple mode shape and have options for frequency ranges to stay within or exclude. Additionally, users can apply a stress or factor of safety constraint to ensure the resulting topology will meet this design goal.
Using the compare results tool, we can quickly visualize the topology differences from adding a150hz minimum frequency constraint. Finally, the smooth mesh results can be directly exported to a solid mesh body for easier use in downstream processes.
With topology study, finding the ideal shape to meet your design's requirements is easier and faster than ever hastening the design to manufacturing process.
To see topology in SOLIDWORKS 2019 in action, check out the video below.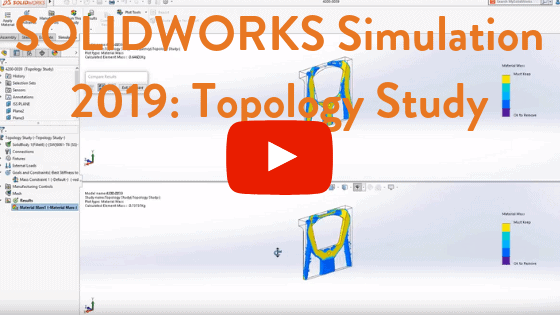 Related Articles
Get a Sneak Peek of SOLIDWORKS 2019
SOLIDWORKS 2019 Graphics Performance Boost
Uninterrupted Workflow: SOLIDWORKS 2019 User Experience Enhancements
About the Author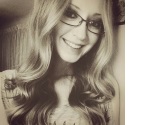 Angelle Erickson writes about how companies are using innovative technologies, such as 3D printers and SOLIDWORKS software to increase productivity, improve product development processes, and maximize business potential.