Training at CATI
You have the tools you need—now what do you do with them? SOLIDWORKS training through Computer Aided Technology provides our customers with a rich set of comprehensive classes and flexible delivery from our certified training centers.
SOLIDWORKS provides powerful tools, but without the right know-how, the full potential of these tools cannot be attained. CATI instructors are certified by SOLIDWORKS, Stratasys, and our other partners to provide their complete catalog of course offerings. We have also developed unique classes to meet the needs of our customers. We offer introductory and advanced classes in design, simulation, data management, design automation, 3D printing, and more.
Classes can be purchased individually. This offers the most flexibility for those with specific needs. Our CATalyst program offers full access to all of our classes. This is the best option for an individual in need of broad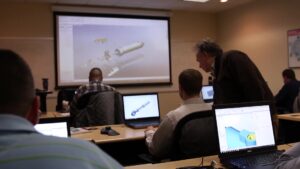 exposure and complete support. For organizations that want to address the training needs of a group, the CATI Professional Development Program provides flexible access to training at an economical rate.
In addition to online and classroom training, CATI offers eLearning solutions from SOLIDWORKS and SolidProfessor. MySolidWorks gives you access to hours of quality training materials online that you can go through at your own pace. SolidProfessor LMS is a comprehensive library of multimedia training delivered right to your desktop.
Can't find a training class on our schedule? Can't find dates or locations that work for you? Contact us and let us know your name, location preference, and the class or classes that interest you. We will contact you and create training dates that can work with your schedule.
Upcoming training classes for October and November:
Colorado
Illinois
Indiana
Iowa
Kentucky
Minnesota
Missouri
New Mexico
Ohio
Oregon
Washington
Wisconsin
Virtual Classes
To learn more about our training offerings, visit cati.com/solidworks-training/, or talk directly to our training coordinator, Tina Haley, at tina.haley@cati.com.