The Value and Benefits of FDM Sacrificial Tooling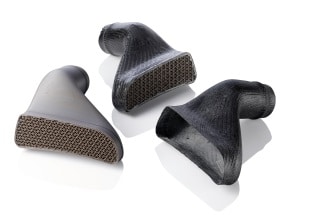 Sacrificial tooling allows designers and engineers to create hollow, seamless, and complex composite structures with smooth internal surfaces and simplified tool removal.
Some common sacrificial tooling technologies that use eutectic salts, ceramics, cast urethanes, or other similar materials can present several challenges: parts are difficult to handle due to fragile materials, the part requires additional tooling in order to produce, or limitations to create specific geometries occur due to production or removal methods.
How to Avoid Common Problems
Clamshell tooling can be used to avoid these drawbacks, but additional problems can arise. Clamshell tooling is performed by manufacturing two halves of the composite part in parallel which are then bonded together to make the hollow structure. For a complex part, where access is limited, the part must be cured in two halves and the bonded together in a post-processing step requiring additional manufacturing time and tooling resulting in a seam that could weaken the part requiring additional structural adhesives. FDM (Fused Deposition Modeling) sacrificial tooling can avoid these issues altogether.
How does FDM sacrificial tooling work?
FDM sacrificial tooling uses a dissolvable thermoplastic material called ST-130 which dramatically eases the production process of complicated composite parts with hollow interiors. FDM sacrificial tooling allows the production of a composite part without a bonded seam without any additional support tooling and is removed hands-free, shortening lead time from design to part.
FDM sacrificial tools can be built on the Stratasys Fortus 450 or Fortus 900 3D printers which allow for hands-free fabrication. It begins with the design of the tool, which is based on the design of the final composite part. The sacrificial tool is designed to fill the interior of the part and may include trim lines or location features. The sacrificial tool is then processed using Insight software, which uses a custom fill pattern that was developed specifically to promote fluid flow during the tool removal process. The sacrificial interior fill pattern also provides adequate strength under autoclave temperatures and pressures while shortening build time in the FDM system.
Once the tool is produced, limited preparation is needed besides surface sanding to improve the finish. The tool must be sealed to prevent resin from infusing into the surface, which will prevent dissolving in those regions. Once the composite part is fully formed and cured, removal of the tool is completed by submerging the part and tool into a Stratasys support removal detergent.
Additional benefits of FDM sacrificial tooling
In conclusion, FDM sacrificial tooling can save a lot of time and remove a lot of hassle that can occur from using other methods. Here are some additional benefits you can enjoy when using FDM sacrificial tooling:
High temperature and pressure resistance
Limited manual labor required for tool preparation
Design-to-part time of days instead of months
Short lead time
Cure up to 250 degrees Fahrenheit with no pressure
For more information about FDM technology or FDM sacrificial tooling, contact us.
Related Articles
3D Printing News: Top 10 Stories of 2017
Objet30 3D Printer Helps Nicomatic Speed Delivery: A Case Study
Stratasys 3D Printing Materials: FDM Thermoplastics and PolyJet Materials
About the Author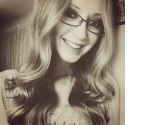 Angelle Erickson writes about how companies are using innovative technologies, such as 3D printers and SOLIDWORKS software to increase productivity, improve product development processes, and maximize business potential.