What's New Series: SOLIDWORKS 2018 User Experience
The user experience while using 3D CAD software can determine many factors including how your day starts off. Are you stressed that you often can't find what you're looking for? Do you have too many tabs and folders cluttering up your screen? These stresses can cause a waterfall of problems resulting in delays in your design and project completion date. Who wants that?
SOLIDWORKS 2018 introduces many enhancements to their interface that improve your day-to-day productivity and help you get your design task completed ahead of schedule. This blog will demonstrate some of these new features.
The new welcome screen in SOLIDWORKS 2018 is a one-stop shop to help you get right to work and create new parts, assemblies, or drawings. Recent folders and resources are located right here along with links to learning resources, tutorials, and samples appear in the learn tab, and finally you have immediate access to technical alerts keeping you up to speed with the latest developments. Of course, recent documents are a great way to get back to where you left off without browsing through folders.

Progress indicator improves SOLIDWORKS 2018 user experience
When opening an assembly, the new file open progress indicator lets you know exactly where SOLIDWORKS is up to getting your designs loaded. Not only do you see the elapsed time but SOLIDWORKS indicates how long you may have to wait by displaying a last time opened value.
Gaining deep insight into how your assembly is performing and which factors are slowing you down is where the new assembly performance dialog excels. SOLIDWORKS 2018 includes many more checks such as open time, shaded image quality, and number of graphics triangles.
In the video below, you can see several parts have been set to very high image quality which dramatically increases the number of graphics triangles which can have a detrimental effect on performance.
SOLIDWORKS 2018 User Experience offers top level transparency
To gain even deeper insight into the problems slowing you down, SOLIDWORKS 2018 now lets you clearly see all this performance information within the assembly visualization tool. This is a really fast and convenient way to display all kinds of SOLIDWORKS information and allows you to identify problem components.
SOLIDWORKS 2018 now introduces a new top level transparency option that gives you a one-step mode that turns every component transparent without the need to either set individually sub-assemblies transparent or to create a new Display State. This new mode lets you interrogate the model more thoroughly and removes extra steps needed to add transparency.
Companies widely use folders as a way to logically group parts and assemblies without creating more subassemblies. SOLIDWORKS 2018 now color-codes these folders based on whether they contain hidden or suppressed items. This gives you a simple visual cue to help identify these objects faster than ever before.
More flexible mouse gestures for SOLIDWORKS 2018 user experience
Mouse gestures are now more flexible than ever in SOLIDWORKS 2018. You can select two gestures, horizontal or vertical, right up to twelve. It's simple to drag new commands into the gesture, and you can even copy them between modes by dragging and holding the control key. You also have a handy printable guide to pin to your desk or office wall.
It is common when zoomed right into the model that you need to box or lasso select geometry or components. Previously, this required you to select an open space before dragging. Now in SOLIDWORKS 2018, a new option for select over geometry removes this limitation. You can either select in the drop down or use the T shortcut to enable it. You can even use the control key to box select multiple items.
These are just some of the enhancements that help you focus on your design and improve your everyday experience with SOLIDWORKS 2018. You can learn more about SOLIDWORKS 2018 in the articles listed below.
What's New Series
About the Author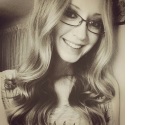 Angelle Erickson writes about how companies are using innovative technologies, such as 3D printers and SOLIDWORKS software to increase productivity, improve product development processes, and maximize business potential.