Antero 800NA: The High-Performance Thermoplastic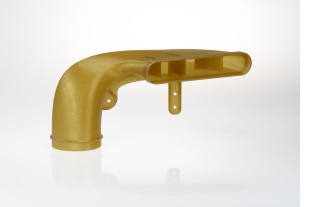 With the rapid adoption of 3D printing across industries, companies are continuously looking for new ways to incorporate additive manufacturing into their workflows and create more efficient processes. While in the past chemicals and other harsh environments would make 3D printing impossible, today companies like Stratasys are creating new materials to meet the requirements of almost every application. Stratasys' most recent release, Antero 800NA, is a heat and chemical resistant PEKK-based thermoplastic that manufacturers can use to cut costs and design more quickly.
What Are the Benefits of Antero 800NA?
Antero 800NA is different from other thermoplastics in that it can withstand contact with chemicals like hydraulic fluid or oil and still work efficiently. It offers high temperature and chemical resistance, as well as ultra-low outgassing for harsh environments where reliability is crucial. Combined with FDM technology, (in this case Fortus 450mc™ 3D Printers), Antero 800NA can be used to quickly create complex parts that are cheaper and lighter than their traditionally manufactured counterparts. And because they are used in additive manufacturing, Antero 800NA and other FDM thermoplastics offer more design flexibility, eliminating the large supply chain delays traditionally caused by design changes.
Antero 800NA: Common Applications and Industries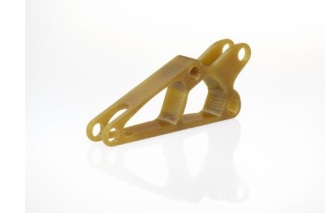 As a lighter alternative to aluminum and steel, Antero 800NA is ideal for aerospace, automotive, and industrial manufacturing applications. According to Stratasys, manufacturers looking to reduce costs in these industries can switch metal with plastics where possible, creating chemical-resistant parts such as tooling, brackets, and fuel components at a much lower price. Manufacturers can also use Antero 800NA in place of bulk PEKK for shorter lead times and reduced waste.
3D Printing with Antero 800NA and Other FDM Thermoplastics
If you're looking to save costs, reduce delays, and increase efficiency, additive manufacturing is your best bet. Easy-to-use FDM technology has made 3D printing more accessible than ever before, and a wide range of FDM thermoplastics can create everything from everyday commercial products to aerospace parts. The release of Antero 800NA opens up even more exciting opportunities to replace traditional materials and create better parts, faster.
Related Articles
The Value and Benefits of FDM Sacrificial Tooling
How to Keep Your 3D Printer in Tip-Top Shape
Stratasys 3D Printing Materials: FDM Thermoplastics and PolyJet Materials
About the Author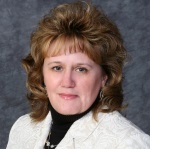 Lisa Hannon is a marketing manager at Fisher Unitech. She develops content for 3D printing topics that have an impact across all industries that are researching ways to maximize getting products to market faster as well as cost savings with 3D printing solutions. Lisa has worked as a marketing management professional since 1998, most recently with Stratasys.