Design Automation Tools: Finding Value for Your Business
If you work in design, you know there are often repetitive tasks that can become costly, time-consuming and frankly, boring. If you're looking for a way to work more efficiently in less time, there are solutions that exist – and when used correctly, they can provide a huge value to your business. Design automation software like DriveWorks can you save and time and money by reducing errors, streamlining processes, and automating redundant processes.
If you're in the market for a design automation solution or vendor, watch out 30-minute recorded webinar for case studies and real-world examples on the business value of DriveWorks. Expert Aaron Winthers will show you the quickest and easiest ways to capture SOLIDWORKS model information and generate automated parts, assemblies, and drawings, while also providing insight into how your business can lower costs and increase revenue with design automation.
Before you attend the webinar, here are some things you might want to know about DriveWorks software and the value it provides for business.
DriveWorks Software
DriveWorks comes with a number of features that helps you automatically generate the drawings, models, and documents you need. There are currently three different design automation options available: DriveWorks XPress, DriveWorks Solo, and DriveWorks Pro. While each software option offers the basic design automation processes you'll need to work faster and more efficiently, the one that gives you the most value will depend on the needs of your business.
DriveWorks XPress
A free rule-based tool that comes free with every seat of SOLIDWORKS, DriveWorks XPress is a great design automation tool that allows you to "quickly and accurately create multiple variations of your SOLIDWORKS parts, assemblies and drawings." Appropriate for any industry, DriveWorks XPress has a high value to your business because it offers design automation at no additional cost. If you need additional capabilities, it can be easily scaled up to DriveWorks Solo or DriveWorks Pro.
DriveWorks Solo
DriveWorks Solo can quickly generate 3D models, 2D drawings, Bills of Materials, sales quotes, and more – all from one simple input form. Users can save time by reusing data and automating repetitive tasks, then quickly customize documents and designs as needed. The ability to set design rules and preview work lets your designers easily check the quality of each design, and frees up their time to work on new projects. The cost and time savings DriveWorks Solo provides makes it a solid option for designers looking to automate their processes while still taking the reins when needed.
DriveWorks Pro
In comparison, DriveWorks Pro has all the features of DriveWorks Pro with the addition of a Custom Configurator that anyone can use. The ability to configure on any device, anywhere, gives everyone in your network – including customers, sales teams, and distributors – access and updates to the most recent data. Your team can, therefore, streamline processes to work and close deals faster, giving you a competitive edge. If you're looking to take a design to the next level or will be working with multiple stakeholders, DriveWorks Pro is likely the software for you.
Trying DriveWorks for Design Automation
If you would like to test DriveWorks as a design automation solution you can download and try DriveWorks Solo for free at www.driveworkssolo.com. Although the software is easy to use, the DriveWorks Community hosts free webinars, how-to videos, and online training so you can hit the ground running.
When it comes to purchasing, DriveWorks can be purchased through experienced vendors like Fisher Unitech, a SOLIDWORKS Elite Club Member with the largest technical team in the industry. With an average technical support wait time of under two minutes and a 4.5/5 star average customer satisfaction rating, the Fisher Unitech team can help you get the most out of your design automation investment and innovate as you do.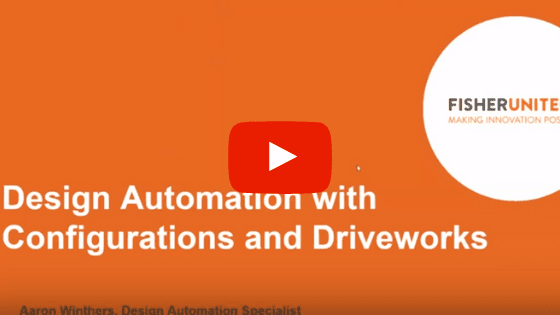 Related Articles
BKW Instruments Increases Productivity by 100% using DriveWorks Pro
DriveWorks SOLO Demonstration: Here's How it Works
DriveWorks Design Automation: Configure and Customize with a Click
About the Author

Christa Prokos is a marketing manager at Fisher Unitech. She researches and writes about the latest business trends and technologies impacting manufacturers, including 3D printing, SOLIDWORKS 3D CAD design and product data management tools, product lifecycle management, virtual reality, and the Internet of Things. Christa has worked as a high tech marketing and communications professional since 2000. You can follow her on Twitter: @ChristaProkos.