New SOLIDWORKS 2018 Touch Mode and Touch Sketching
Just because you're not on your laptop or desktop computer doesn't mean your designs and sketches should be put on hold. Living in a busy world, where everyone is constantly on the go, being able to work on your design and collaborate with your team efficiently should be simple regardless of where you are. SOLIDWORKS 2018 introduces some fantastic new capabilities for customers working on Windows touch enabled devices with SOLIDWORKS 2018 Touch Mode and Touch Sketching.
This blog shows you how to use these great new features, where they're located, and how you can start using them now.

What is SOLIDWORKS Touch Mode?
Accessible from the view menu, the new SOLIDWORKS 2018 Touch Mode places important shortcuts at your fingertips enabling users to maintain a high degree of productivity when using their device in tablet mode without a physical keyboard or mouse present.
With SOLIDWORKS 2018 Touch Mode enabled, the new touch toolbar is placed at the side of your screen for easy access and is configurable for right or left-handed users. Users can now work concurrently using both hands on the screen, manipulating the model with one and evoking commands with the other.
There is a handy lock rotate option that allows you to interact with geometry on screen without accidentally moving the model, and the quick access shortcut bar can be activated giving you instant access to common commands.
With the rotation locked, selections can now be made with just a single finger tap on screen and, with a finger drag, objects in your design can be moved with its range of motion. At any time, you can easily return to rotating and zooming the model with your fingers by tapping lock rotate on the touch toolbar to disable it.
When working in SOLIDWORKS Touch Mode, mouse gestures are another great way of accessing frequently used commands at your fingertips. With an onscreen finger, press and drag, and the mouse gesture ring is displayed, where you can simply move your finger over to the desired command to activate it.
Making modifications to a design using touch interactions in SOLIDWORKS 2018 is quick and intuitive. Say you want to change the configuration of your design. Following the same workflow as using a mouse, a single finger tap on a face is all that's required to select the entity and display the relevant context menu commands. Icons appear larger for easy selection with a finger or pen and right mouse button menu commands can be accessed via the down arrow.
SOLIDWORKS 2018 Touch Magnifier
Another SOLIDWORKS 2018 Touch Mode feature is the new touch magnifier, which is a great tool for enlarging a small area to make a selection while keeping the rest of your design in view. Just press your finger or pen on the screen for longer than two seconds and drag the magnifier into position. At the same time, dynamically adjust the zoom level using the controls on the touch toolbar and when your finger is released the object in the crosshairs stays selected – easy!
New touch number pad
When editing a feature or dimension, the new touch number pad makes it quick to enter values eliminating the need to use the Windows virtual keyboard that often takes up valuable screen space.
What is SOLIDWORKS Touch Sketching?
Now in SOLIDWORKS 2018, users can capture their design ideas even faster on a Windows touchscreen device by freehand sketching directly in a sketch. Start a sketch in either a plane or face and use the tools in the command manager to select your preferred pen style using the color pallet and thickness slider.
Different sketch modes enable you to choose how your gestures are interpreted in SOLIDWORKS 2018. Using auto shape, your captured pen or finger strokes are initially converted into true geometric shapes such as lines, arches, and circles – perfect for sketching out concepts. Switch to auto sketch entities and your strokes are converted directly into sketch entities as you draw them, making them immediately available for feature creation.
As you sketch, on-screen relations to surrounding geometry can be automatically inferred as you go, enabling instant capture of design intent. For instance, pen strokes that have been captured as shapes can be converted into sketch entities at any time by selecting them and using the new update to entities feature giving you complete flexibility as your ideas develop. When you're finished, the resulting sketch can be manipulated and modified just like any other.
Whether you're designing complex shapes or simple mechanical parts, touch sketching in SOLIDWORKS 2018 offers a completely new approach to catching rapid fire design ideas whether you're in the office or on the go.
See what else SOLIDWORKS 2018 brings to the table by checking out the related articles from this blog series below and be sure to visit your SOLIDWORKS 2018 resource center to explore even more.
Related Articles – What's New in SOLIDWORKS 2018 Series
New in SOLIDWORKS 2014: Sketch Features
About the Author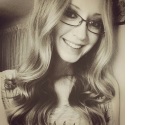 Angelle Erickson writes about how companies are using innovative technologies, such as 3D printers and SOLIDWORKS software to increase productivity, improve product development processes, and maximize business potential.