Successful Start to SOLIDWORKS Concept to Consumer Tour
The first stop on the SOLIDWORKS Concept to Consumer tour was a success! July 17th marked the first city of the tour presented by SOLIDWORKS and featuring URB-E kicked off in Detroit, MI. The company URB-E produces compact folding electric vehicles that provide stylish and quick transportation.
The event is a comprehensive presentation of what it takes to create market-ready products through SOLIDWORKS. A group of elite SOLIDWORKS engineers presented the URB-E vehicle in a way that walked the audience through its entire design process. The URB-E took shape before everyone's eyes and proved how essential SOLIDWORKS was in creating this product in a shocking six months.
The event itself was well-designed and showed just how many different tools SOLIDWORKS provides. The speakers created a presentation that allowed for the bouncing of ideas and highlighted each individual's skills. They proceeded in a way that permitted failures or design reworks so that the audience could see the different thought processes and what to do when things don't go right the first time. It was as if the audience was immersed in the creation process with the engineering team.
SOLIDWORKS Simulation picks up balance issues
An example of this was when the team initially started off with a three-wheel design. Sasi Sithambaram, an analyst expert, ran simulation tests and found that the design was less than ideal due to balance issues. It was then sent back to Todd Trein, a veteran designer, for a full rework of the back wheel. The audience got to experience how you won't always get it perfect the first time but how different SOLIDWORKS tools can help. It is important to realize that by using SOLIDWORKS Simulation and catching flaws early in the process one can save time and money on expensive prototypes. It is also important to know that geometry and pieces can be reworked exceptionally fast if you know which tools to apply.
The SOLIDWORKS Creation in Motion Tour in Detroit covered the entire SOLIDWORKS portfolio and demonstrated that complex designs can really utilize every single SOLIDWORKS tool. Brian Zias used SOLIDWORKS PDM (Product Data Management) to highlight the benefits of these tools in a way that can only be seen in the light of a complex engineering project. Having never used SOLIDWORKS PDM before, this presentation was a great way to learn all about it in context. Brian created Ghant charts, project deadlines, and individual tasks. When an engineer checks their PDM account, they are able to see what they have to do, when the task needs to be completed, and where their work is heading off to next.
SOLIDWORKS PDM and the PDM Vault
There is also a PDM vault that allows a team to upload their most recent revisions so that everyone is always on the same page. The SOLIDWORKS PDM vault keeps previous versions and everything in order automatically. It can also link different validations such as a simulation to prove that each step was engineered to perfection. During the entire presentation, SOLIDWORKS PDM was brought up to track progress and roadblocks where it could be dynamically changed to show new deadlines and new tasks.
Each step of the process was something new and posed its engineering challenges. The tour touched on layout sketches, sheet metal, surfacing techniques, injection molding, simulations of all kinds, CAM machining tools, inspection, renderings and selling tools. It wasn't like the team engineered every part and bolt of the whole URB-E in front of you, but they did take different aspects to give the feel of the design process while highlighting the power of SOLIDWORKS tools.
Still not convinced this event would be beneficial to you or your company? The Concept to Consumer tour is completely free, includes a complimentary lunch, and offers each attendee to win their very own URB-E. The speakers are intriguing and knowledgeable making the presentation very enjoyable. You will definitely take away something new, whether it be a technique, a tool, or even further knowledge of the overall engineering process.
It's not too late to reserve your spot on the Creation in Motion tour; sign up for a city near you.
There are still seven cities to go:
July 19 – Minneapolis, MN at Pinstripes
July 24 – Seattle, WA at Museum of Flight
July 26 – Portland, OR at Top Golf
August 7 – Dallas, TX at House of Blues
August 9 – Charlotte, NC at Old Meck Brewery
August 14 – Pittsburgh, PA at Phipps Conservatory
August 16 – Cincinnati, OH at Great Wolf Lodge
Related Articles
SOLIDWORKS Concept to Consumer Tour: Coming to a City Near You
Simulation with SOLIDWORKS: Is it Enough?
How to Pick the Right Product Data Management (PDM) Solution For Your Company
About the Author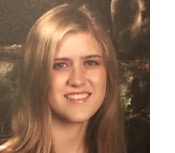 Madison Bryce is a sophomore at the University of Michigan. She is studying mechanical engineering with a minor in computer science. Madison has four years of CAD experience and joined the Fisher Unitech team to share and grow this knowledge. Madison is a Certified SOLIDWORKS Associate (CSWA), Certified SOLIDWORKS Professional (CSWP), and a Certified DriveWorksXpress Associate. Madison's dream is to one day become a roller coaster engineer. She is currently in a theme park engineering group at the University of Michigan.